Lutfi's has moved several times, most recently to 31st and Main St.
NOTE: Lutfi's has moved to 3360 Troost as of March 2010.
****
Until recently, Lutfi's operated out of a small shop near 35th and Prospect. I was never able to try it, but I have been hearing good reviews of the place for a few years now. Honestly I don't get over to 35th and Prospect that often, a truth that I'm not necessarily proud of, but the realities of blogging dictate that I often eat according to the vicious whims of convenience and utility. As a result, places that are close to my home or work are more likely to be reviewed here.
Well guess what? Lutfi's has relocated considerably closer to my residence, at the Landing Mall at Meyer Boulevard and Troost.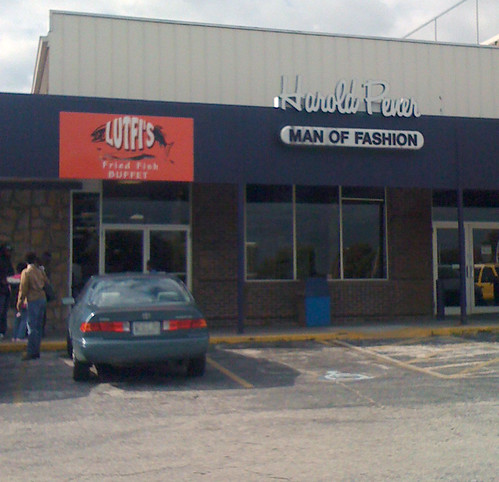 While you can enter some shops from the outside, you will want to go to the easternmost mall entrance to access Lutfi's. The place is really hidden and can't be seen from the street. In fact I had been looking for it while driving by for some time and could never find it. However a Twitter friend recently tipped me off as to the exact location and I was able to find it with no difficulty this past weekend.
Yes, I visited Lutfi's on a Saturday afternoon, so I can't tell you what the typical lunchtime trade is like, but it was deserted when I went. This is a spacious room that can seat a lot of people (not good with estimates) and I was one of three occupied tables.
When you enter the restaurant, there is a register where you either pay for the buffet or order one of the dinners from the kitchen. Fried fish does not hold up exceedingly well on a buffet, and since Lutfi's was empty, I decided to order a catfish dinner rather than take my chance with buffet items that were old. I also wanted to see the best of what they could offer.
I got a number for my order and sat down. Meanwhile a waitress came over to take my drink order. I was also informed that my dinner price included a "small salad" from the salad bar, which turned out to be quite limited, but extremely clean and stocked with fresh ingredients. The salad was fine, but not particularly notable. After a brief wait I was ready for the star of the show: fried catfish.
Seriously, this place takes the relatively subtle art of frying fish and more or less perfects it. They offer catfish, orange roughy and whiting with two sides for 10.99 a pound and 6.99 a 1/2 pound. This is fish in the southern style with crunchy cornmeal breading, and not a leavened batter like English fish and chips would have. Essentially we are talking soul food. The sides include stewed green beans, spaghetti mixed with marinara, macaroni and cheese, red beans & rice and fried okra that is good enough to knock your socks off.
Yes I really said that.
Some people are not crazy about okra, but for fans of the venerable and oft-lauded fruit, those at Lutfi's will quickly become an obsession.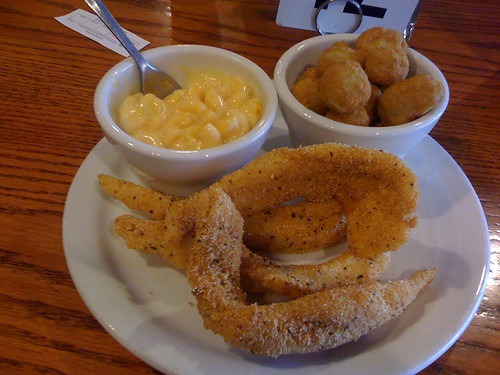 The macaroni and cheese is different from the dense, baked, homey version you see popping up at whitey joints all over town. Lutfi's is smooth and creamy, with no crust and what tastes like a healthy portion of velveeta. It reminds me of the mac at Peachtree buffet actually. Not my preferred preparation but hell, I ate every last bit of it.
Back to the catfish: it is not greasy in the slightest. There is no fishy undertone that you sometimes get with catfish. The crust is heavily flecked with black pepper and the flesh is moist and perfectly cooked. It is easy to overcook fish, particularly when frying it. These folks are professionals.
The big drawback to my experience is the fact that I don't like mayonnaise and thus could not stomach the thought of tartar sauce. I asked for lemon and they had none. So I settled for healthy drops of hot sauce and was more or less satisfied. The whole affair was a little dry because of all the breading but I still enjoyed it.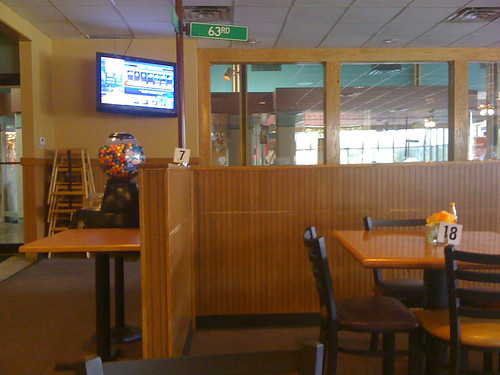 There is also a buffet at Lutfi's, which is the main thing that differentiates it from previous incarnations of the restaurant, of which there have been a few. I did not have the chance to get a snapshot of the buffet, but it is a small affair that is nonetheless packed with flavors. In addition to fish and all the sides you can get meatloaf, fried chicken and the salad bar.
But for 6.99 I got four pieces of fried fish, fried okra, mac & cheese and a salad. I couldn't fathom having eaten more than that on the buffet.
The atmosphere here is definitely a little strange. This space was certainly another restaurant previously and, while clean and well-maintained, is not even remotely stylish. There are a few big photos that adorn the front of the place and some mock street signs out in the dining area, but it needs a little more character.
Maybe if people start showing up to Lutfi's, and they stay in one place a while, they will get it.
[google-map-v3 width="350″ height="350″ zoom="12″ maptype="roadmap" mapalign="center" directionhint="false" language="default" poweredby="false" maptypecontrol="true" pancontrol="true" zoomcontrol="true" scalecontrol="true" streetviewcontrol="true" scrollwheelcontrol="false" draggable="true" tiltfourtyfive="false" addmarkermashupbubble="false" addmarkermashupbubble="false" addmarkerlist="1336 West Meyer Boulevard, Kansas City, MO{}restaurant.png{}Lutfis Fried Fish" bubbleautopan="true" showbike="false" showtraffic="false" showpanoramio="false"]