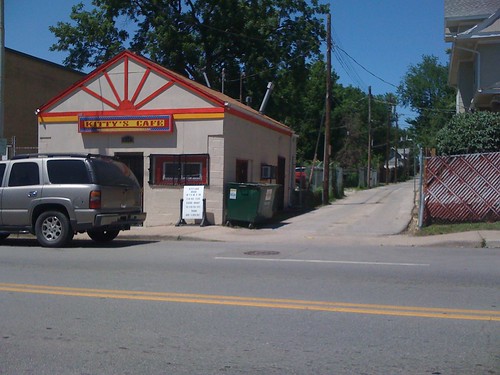 This place has been on my to-do list ever since I started this blog and was periodically suggested by faithful commenters (thanks Schweis and Mr. Jayhok). When I drove up and got a good look at Kitty's in all its humble glory I immediately wondered why it had taken me so damn long. After all, their pork tenderloin sandwich has a reputation as lofty as any foodstuff in town.
Founded by Paul and Kitty Kawakami, a Japanese-American couple who were interned out west during World War II and summarily shipped against their will to Kansas City afterwards, Kitty's has been in business since 1951 which, given its small size and location is pretty incredible. Located east of Martini Corner on 31st street in a somewhat run-down stretch of road full of abandoned storefronts Kitty's still does a nice business serving cheap eats to working folks, neighborhood characters and destination diners.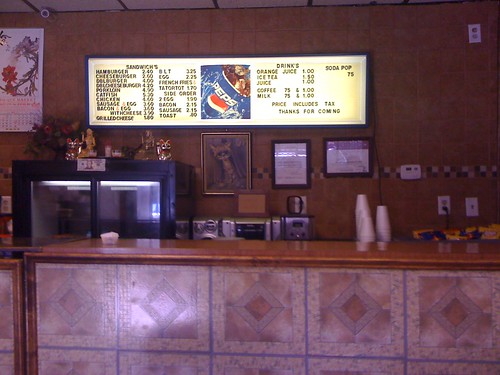 The gentleman who was behind the counter on my recent visit managed to joke and chat with customers, take money, and prepare all the food by himself. There probably isn't room for more than a couple people back there anyway. The restaurant's namesake retired in the late 1980s and died in 2003 but apparently her batter recipe is what keeps the delicious fried menu items so popular.
Kitty's isn't much to look at on the inside, a small lunch counter and a handful of stools around a shelf are all the seating available.
You should be fine during off-hours but I'd plan on getting lunch to-go. You can certainly call ahead with an order as well. A couple of Buddha statues and good-fortune cats reflect the Cafe's continuing management by Asians but the menu is sheer Americana: Burgers, Catfish, Grilled Cheese, Egg sandwiches and of course the vaunted pork loin ($4.90).
As opposed to the pork tenderloin's typical preparation, the one at Kitty's is comprised of three small breaded cutlets stacked on a rather unremarkable hamburger bun with lettuce, tomato, pickles and a glorious spicy red sauce.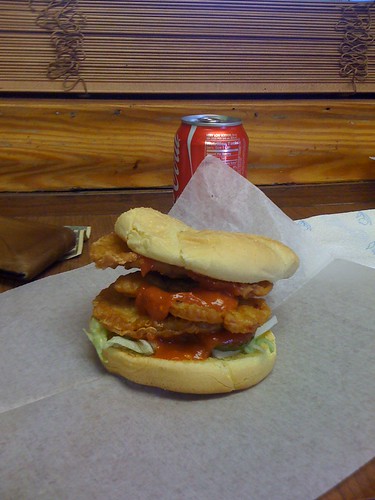 This is a darn near perfect sandwich–spicy, easy to eat, a good value, and fantastically crunchy. I can see what the fuss is about because this is some seriously good batter, reminiscent of tempura. Perhaps a greater revelation was the catfish sandwich ($5.30), which gets the same treatment and may in fact be superior to the pork loin because the fish flavor is a little more prominent.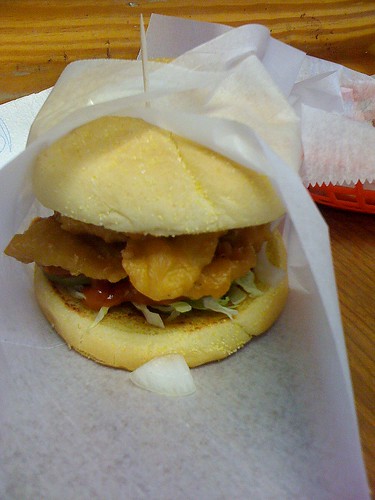 The fries and tator tots are typical frozen food service variety but still make a nice complement to their sandwiches. Kitty's also has eggs, bacon, toast and sausage for those seeking that lesser meal, breakfast.
What Kitty's lacks in class in makes up for in history. I love the fact that it has been around for nearly 60 years in a rather unassuming part of town. It's survival is no doubt due to the great pork loin sandwich which the owner will proudly tell you was mentioned in the New York Times in 1987. Next time you are tooling around midtown, visiting Costco or hitting up Martini Corner pay Kitty's a visit.
Further reading:
Mary Sanchez, "Cafe's history tells of struggle Kitty's restaurant holds memories reflecting owners and their stories." Kansas City Star Dec. 8, 1997. Link for Johnson County Library users. Link for Kansas City Public Library users.
Jonathan Probber, "Eating in Kansas City: Ultimate Un-Diet." New York Times. Jan. 14, 1987
[google-map-v3 width="350″ height="350″ zoom="12″ maptype="roadmap" mapalign="center" directionhint="false" language="default" poweredby="false" maptypecontrol="true" pancontrol="true" zoomcontrol="true" scalecontrol="true" streetviewcontrol="true" scrollwheelcontrol="false" draggable="true" tiltfourtyfive="false" addmarkermashupbubble="false" addmarkermashupbubble="false" addmarkerlist="Kittys, 810 1/2 E 31st St, Kansas City, MO{}restaurant.png" bubbleautopan="true" showbike="false" showtraffic="false" showpanoramio="false"]