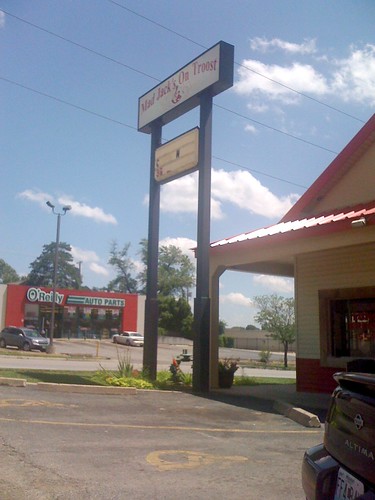 I have lived withing spitting distance of Mad Jack's for a few years but never had much desire to check it out. Yes, it looks a little seedy from the outside but God knows that has never stopped me before. Indeed I checked out a similar fish-oriented place across the intersection last year. People say good things about the Mad Jack's in KCK but I've never hear people say much of anything about the Troost outpost.
The place is setup like a fast food restaurant: menu on the wall, order and pay at the counter. The young woman at the register could not have been more friendly, she immediately greeted me when I came in (as she did every other visitor) and heartily recommended the day's lunch special. The "Po Jack" is basically a large catfish filet served on white bread with lettuce, tomato, onion and cheese at a cost of $5.99. As I ordered her father, who appears to be the owners was joking around and generally lightening the mood of the whole place. He also recommended the "peachy tea" to me which I found uncomfortably reminiscent of baby aspirin.
On to lunch. Curiously enough, the toppings for the Po Jack sandwich come on the side in a styrofoam box.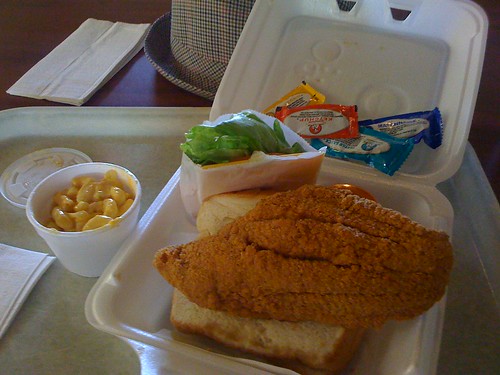 That little french fry bag contains the lettuce, tomato, onion and cheese. The condiments are simply packets of tarter sauce and mayonnaise. A little soufflé cup of hot sauce rounds out the meal. I found this kind of weird, I would much rather have them put the sandwich together for me but I dutifully plopped the toppings out and doused the sandwich with hot sauce.
It was looking good except for one thing: the American cheese was still in its individual plastic wrapping. I understand the desire to streamline restaurant workflow by pre-making these topping bags, but this was just a little too transparent. It was dumping the work squarely on to my shoulders. Plus the cheese didn't get the chance to deliciously melt over the catfish filet.
But the catfish is damn good. It was a nice, sizable portion of highly seasoned, cornmeal breaded fish. And much like barbecue, I found that I really preferred the white bread over the dense buns you see everywhere else. Fried fish with hot sauce is really a great combination. As a hater of mayonnaise and by extension, tarter sauce, I find that hot sauce cuts through the other flavors without making the breading soggy like lemon juice or vinegar tend to do.
I had ordered a little side of mac and cheese, but found it rather lackluster. I mean, I like it and it was only 89 cents, but it was only a step above easy mac.
The interior space is charmingly odd, with a corrugated metal wall behind the counter, three different menu boards, a mounted TV and a small DVD collection on a shelf. Also there are signs and flyers hung up everywhere. It feels like a heavily and amateurishly refurbished fast food restaurant, which is probably exactly what it is.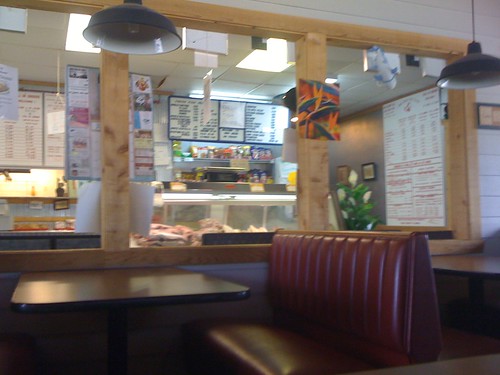 All in all, I would definitely go back and opt for one of the boxed fish meals which are just fried filets with bread, hot sauce and sides. I don't want to go through the sandwich assembly rigmarole again.
[google-map-v3 width="350″ height="350″ zoom="12″ maptype="roadmap" mapalign="center" directionhint="false" language="default" poweredby="false" maptypecontrol="true" pancontrol="true" zoomcontrol="true" scalecontrol="true" streetviewcontrol="true" scrollwheelcontrol="false" draggable="true" tiltfourtyfive="false" addmarkermashupbubble="false" addmarkermashupbubble="false" addmarkerlist="Mad Jacks On Troost, 6200 Troost Avenue, Kansas City, MO{}restaurant.png" bubbleautopan="true" showbike="false" showtraffic="false" showpanoramio="false"]