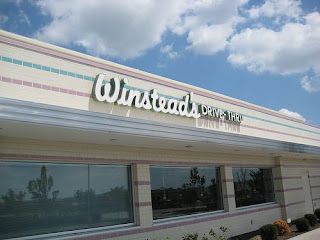 Hey guys, check out Winstead's awesome website. Go ahead and click, I'll wait…
Like anyone who's been around this long, Winstead's gets a pass on the technology front.
This local chain has been around since 1940 when Kathryn and Nelle Winstead moved from Illinois to open a drive-in burger joint on Brush Creek Boulevard near the Plaza. I can only assume that this is the same building as the one that sits there today, but it almost looks too well-preserved.
While it's not the best place for lunch in the world, Kansas City should be proud of Winstead's, particularly this original location. They serve cheap, old school food here and manage to pull off the nostalgia schtick without beating you over the head with it. Thin, griddled burgers are the staple, served with condiments pre-applied and thick slices of white onion. The latter is particularly notable because raw onion is not the most popular ingredient these days, much less 1/2 inch slabs of it. It takes balls to cap off a burger with something like that. Of course, you can always order your burger with grilled onions instead, which many people seem to prefer. Whatever.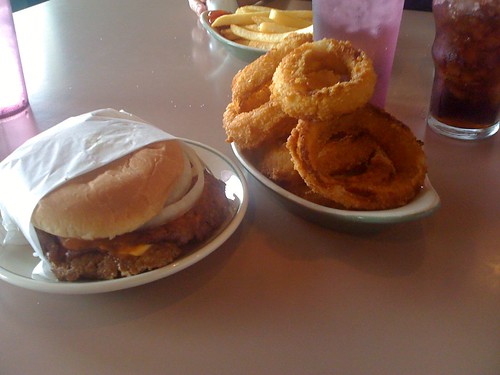 And the burgers are pretty good in my humble opinion. The patties are little free formed discs which are smashed flat on the grill. They arrive wrapped in wax paper on blue-accented Winstead's china. The burgers won't knock your socks off, but every once in a while I get a craving that only a double from Winstead's will sate.
The fries and onion rings are only slightly more than fast food quality and preparation. Not bad, but neither one really does it for me.
There are a bunch of other things on the menu including breakfast items which they serve until 10:30 a.m. This means if you show up hungover on a Saturday looking for breakfast at 10:45, you're getting a burger.
The interior space is very interesting, despite a somewhat unfortunate teal and puce color scheme. It is a wide open room with art deco homages like these ceiling lights.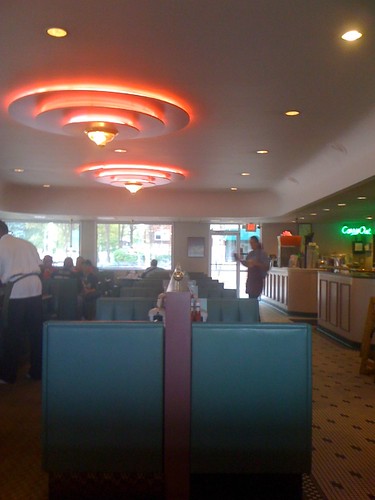 Winstead's is probably the cheapest place in town to offer waitservice as well. The servers here are pretty darn quick and know how to get you in and out in hurry.
Most people who read this blog have probably eaten at Winstead's, and I can't add much to your interpretation of the experience. But I enjoy checking it out once in a while. The burgers are good and the ambiance is pretty interesting. They have a few locations around the metro including one on Metcalf in Overland Park and one on Shawnee Mission Parkway. I enjoy the original location most of all. The people watching is pretty much unparalleled and the service seems to be better there.
I'd love to hear people's memories of Winstead's, good or bad. This place has been around for years and supposedly played a role in the social lives of many teen in the 60s and 70s.
If you want to learn more there is a nice, short bio of the founders on the Web courtesy of the Kansas City Public Library.

Top photo courtesy of Brandon Burke on Flickr.
[google-map-v3 width="350″ height="350″ zoom="12″ maptype="roadmap" mapalign="center" directionhint="false" language="default" poweredby="false" maptypecontrol="true" pancontrol="true" zoomcontrol="true" scalecontrol="true" streetviewcontrol="true" scrollwheelcontrol="false" draggable="true" tiltfourtyfive="false" addmarkermashupbubble="false" addmarkermashupbubble="false" addmarkerlist="101 Brush Creek Boulevard, Kansas City, MO{}restaurant.png" bubbleautopan="true" showbike="false" showtraffic="false" showpanoramio="false"]