First of all, I really have to thank phome for bringing this place to my attention in the comments of a previous post. I think it's fair to say that I would never have discovered it on my own. Olive Cafe is located in Southeast Kansas City, just east of ye olde Bannister Mall, in an area of town that frankly, is not known for its quality food establishments.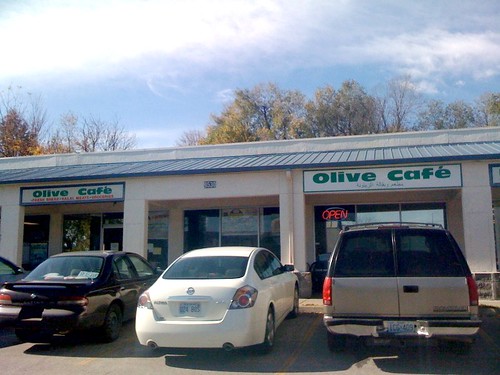 When you turn into the small strip mall that houses Olive Cafe, you will immediately see a bereft-looking storefront with paper over the windows that advertises itself as Olive Cafe. This is actually the bakery. Keep driving to the back of the shopping center and you will see the actual operating restaurant and grocery.
When you walk in, Olive Cafe seems a tad confusing as it is primarily a small grocery rather than a typical restaurant. It demonstrates coziness and organizational savvy roughly equivalent to your local auto repair shop. On the right of the entrance are a handful of tables across from shelves of foodstuffs and 20 lb. bags of rice and flour.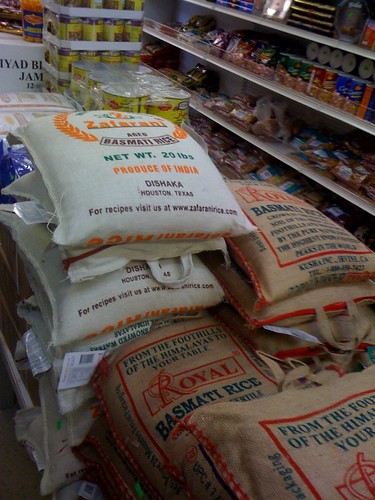 Beyond that, in a separate little storefront is a room of formica booths and tables that is well-lit and very "fast food" feeling. But make no mistake, this place is dishing out some of the finest Middle Eastern fare in town. The menu is small but flavors are huge at his place and the food is not an afterthought.
There were two gentlemen working the front counter at my visit and they quickly offered to take my order. The menu itself is small and fairly typical of middle eastern spots: gyros, kofta, shawarma, falafel, chicken kabobs, and even salads. You can make out a few things on this terribly mediocre photo: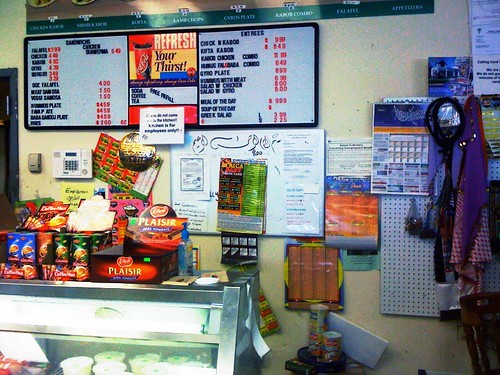 They have a regular soda fountain and a whole host of imported beverages and juices in cases strewn about the place. There was a man enjoying a small pot of hot tea as well. After ordering, we were instructed to sit down and pay after eating. The food came out in 10 minutes or so. The vegetarian platter was quite a lovely site: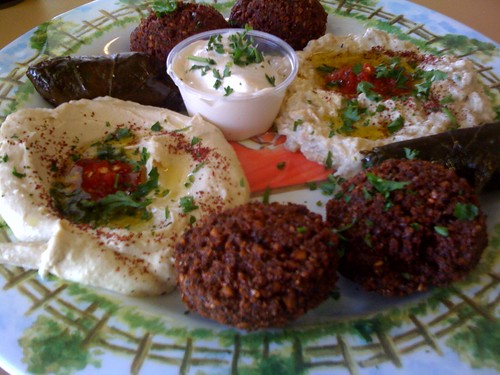 The kofta sandwich, not so much: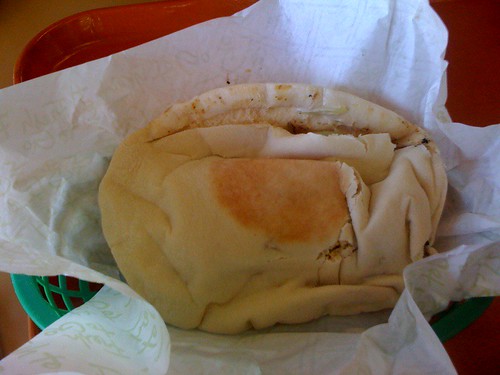 But beneath the surface was a hearty mixture of heavily seasoned lamb, onions, tomatoes and pickles. The sandwich was housed in a fresh, soft pita and dressed with tahini sauce.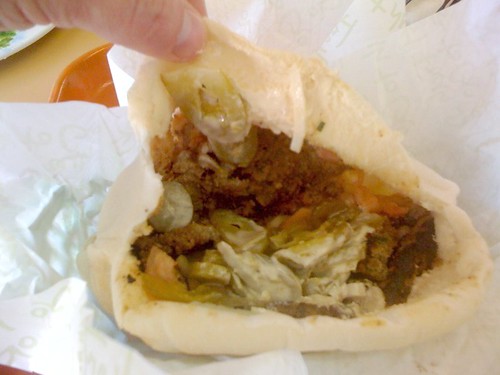 The falafel here is some of the best I've ever had. It's more coarsely ground and fried harder than you typically see, creating a thick brown crust on each patty. The baba ghanoush is simply fantastic at Olive Cafe. It has a very smoky taste probably due to grilling the eggplant. The hummus is fine, heavier on the tahini than I am used to, but I still enjoyed it. They added some stuffed grape leaves to the veggie platter for a dollar extra. They tasted like stuffed grape leaves always do, that is to say, kind of boring and texturally deficient. In general I think the folks at Olive Cafe know how to season their food quite well. If you have never understood the transcendent appeal of baba ghanoush or falafel, you should head down and try it.
I think Kansas City's best blogger, Meesha V. would like this place, and I encourage him to try it in his continuing quest to improve Jewish-Islamic relations.
And after your meal, you can walk the aisles looking at all manner of interesting imported grocery items catering to a Mediterranean, middle eastern and south Asian clientèle.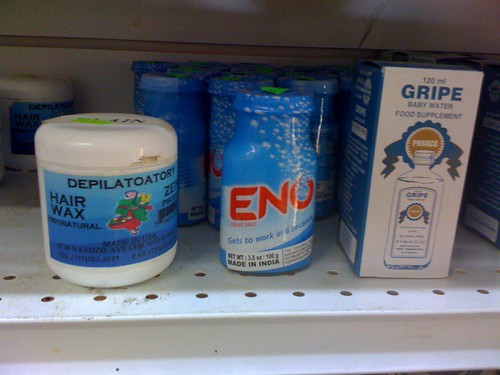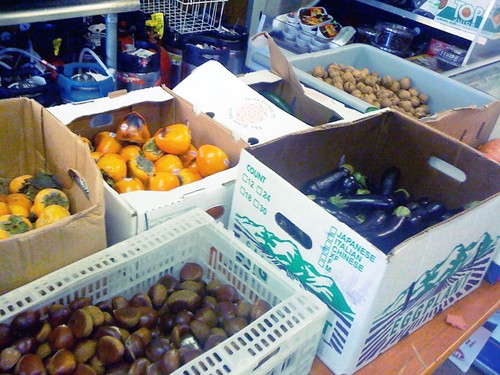 You can also order some freshly cured olives, halal meat or feta cheese from the front counter.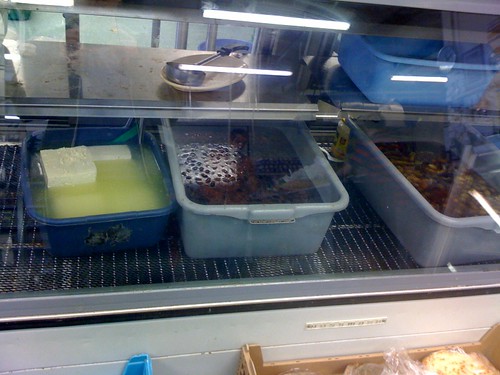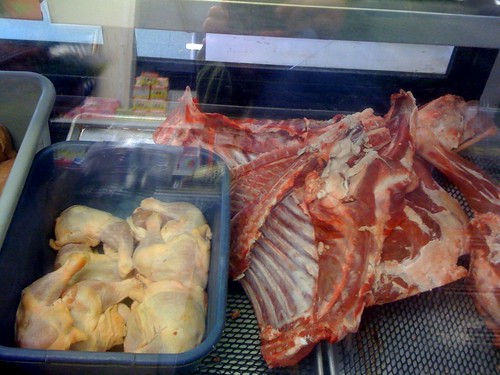 As this is a Muslim owned and operated establishment, you should know that they close up shop on Fridays between about noon and 1pm for prayer. There was a sign on the door but I have forgotten the exact closure period. Regardless anyone down in this part of town would do well to shoot out Bannister Road if they get a hankering for Middle Eastern food and try out Olive Cafe.


[google-map-v3 width="350″ height="350″ zoom="12″ maptype="roadmap" mapalign="center" directionhint="false" language="default" poweredby="false" maptypecontrol="true" pancontrol="true" zoomcontrol="true" scalecontrol="true" streetviewcontrol="true" scrollwheelcontrol="false" draggable="true" tiltfourtyfive="false" addmarkermashupbubble="false" addmarkermashupbubble="false" addmarkerlist="9530 James A Reed Road, Kansas City, MO{}restaurant.png" bubbleautopan="true" showbike="false" showtraffic="false" showpanoramio="false"]