I consider it a personal failure never to have visited Jasper's or its lowbrow sister, Marco Polo down at 103rd and State Line road. This is a part of town with a number of nearby office buildings, medical facilities and a major metropolitan highway. Yet lunch options are a little thinner than one would expect. Certainly Marco Polo, Gates, Fritz's Sausage and Guadalajara come to mind, but little else beside chains and a few nondescript sports grills and Chinese places serve to sate the presumed hordes of corporate lunchers.
So I set my sites on lunch at Marco Polo, but was quickly distracted by a sign for Jerry's Cafe virtually next door. My lunch plans quickly changed.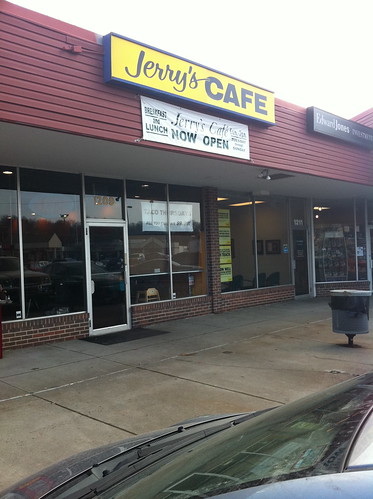 Charles Ferruzza wrote a piece for the Pitch back in November about this plain little diner owned by the former proprietor of the Woodswether Cafe, a seriously interesting joint with great diner food. It had almost slipped my mind, despite being thrilled that Jerry had found another culinary outlet.
The dining area is small, plain and pretty boring except for a stupefying Pulp Fiction-themed mural along one wall which depicts Jules and Vincent holding a burger and fries, respectively. It's been long enough since I've seen the film that I can't recall of this is a reference to a specific scene or just a curious general homage.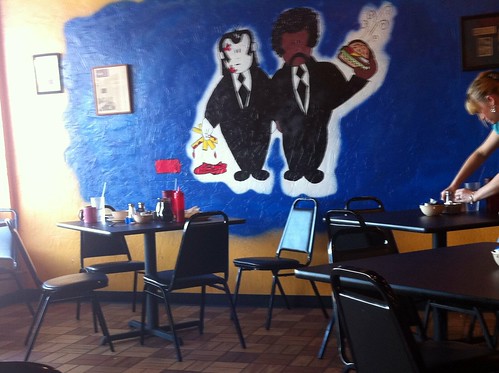 Two signboards rest in the front window advertising daily specials. The specials were identical on each of my visits so I suspect they are more or less permanent options.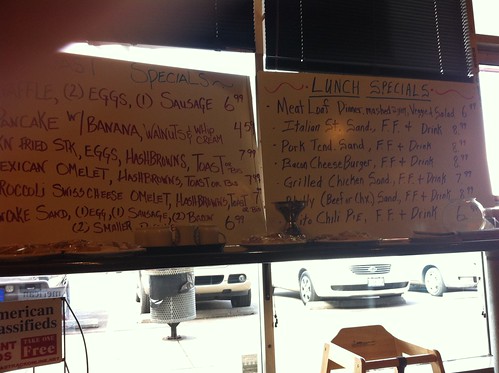 As you can see, prices are pretty reasonable, especially considering the size of the portions. I ate a reuben ($6.99) that was so a large and sloppy that I had a hard time finishing it. I did eat it all, ultimately, instead opting to leave quite a few fries on my plate. While hand cut and freshly fried they were entirely too waxy, dense and limp for my tastes. I suspect they were not fried twice, which can be fine as my friends at the Snak Shack tell me, but it requires a specific cooking method. At any rate, the fries at Jerry's were disappointing.
Frozen fries are so prevalent because good, hand-cut french fries are not easy to prepare. As more and more restaurants serve the real deal we are bound to encounter some less than stellar versions of the glorious fried potato.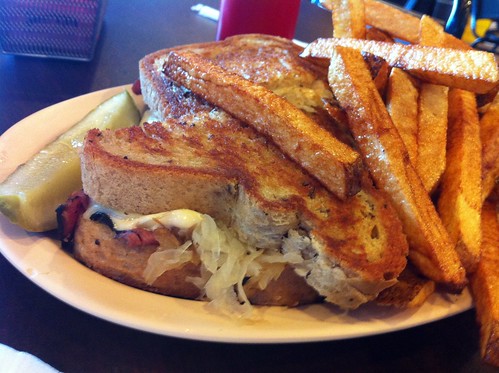 On my next visit I ordered onion rings which were great, although I couldn't tell if they were hand-dipped or not. Jerry uses the cracker-style coating which I normally don't prefer but these were tasty rings.
Oh did I mention I had a Chicago style hot dog? Hell yeah, it's damn near authentic and may be the best one in town. Someone tell KC Napkins guy!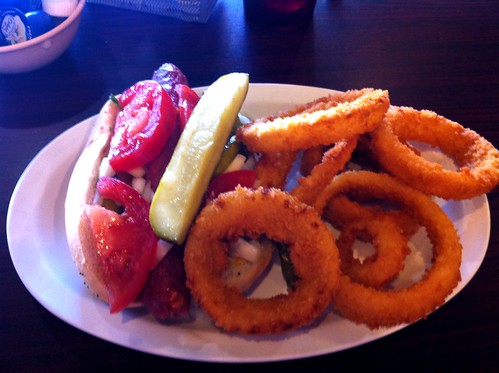 This dog is no shrinking violet, it's of sufficient size to make you blush, extending an inch or so from either end of the bun. It's an all beef Vienna dog with most of the requisite toppings: neon green relish, tomato slices, sport peppers, onions and mustard. The only thing missing was the celery salt which I often forego anyway.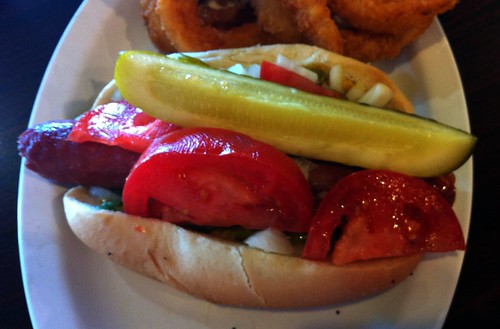 Before my dog came out, Jerry visited my table to make sure I knew how hot the sport peppers were. Yes, I know, I assured him. Later as I was eating, he came back out to make sure I was doing ok with the sport peppers and all. I take it he gets a lot of diners who don't like spicy food. At any rate, Jerry seemed like a nice guy and the hot dog was awesome — worth every penny of the $3.99 it set me back.
While Ferruzza had some mild complaints about the service and the table set-up, I experienced no such foibles. My servers were all very quick to the table and quick to deliver the check. Refills came without prompting. They do use flimsy napkins which is silly considering how sloppy the food can be. Make sure you get some extra ones for your meal. Also the kitchen is fast enough that you could get out of there in a half hour if you time it right.
In summary, get yourself to Jerry's for breakfast or lunch. The joint is open Tuesday – Sunday until 3pm. No dinner here. The food is miles beyond what you will get at your average diner anywhere in the KC metro. Ignore the strip mall and enjoy your meal.
Jerry's Cafe
1209 W. 103rd (at State Line, southeast corner)
Tues-Sunday: 6am-3pm
[google-map-v3 width="350″ height="350″ zoom="12″ maptype="roadmap" mapalign="center" directionhint="false" language="default" poweredby="false" maptypecontrol="true" pancontrol="true" zoomcontrol="true" scalecontrol="true" streetviewcontrol="true" scrollwheelcontrol="false" draggable="true" tiltfourtyfive="false" addmarkermashupbubble="false" addmarkermashupbubble="false" addmarkerlist="Jerrys Cafe, 1209 West 103 Street, Kansas City, MO{}restaurant.png" bubbleautopan="true" showbike="false" showtraffic="false" showpanoramio="false"]