Off the top of my head, I can think of three restaurants in KC named "Fritz's." There is the famous railroad restaurant that is either disgusting or fantastic, depending on who you listen to. People on cheesy online venues like Insiderpages.com tend to refer to Fritz's railroad as "Choo Choo Rific," among other things. There is also the curious, but somehow endearing Fritz's Chili in Overland Park that serves up a plate of hamburger and calls it chili.
Lastly, there is Fritz's Smoked meat on Stateline Road and 103rd Street.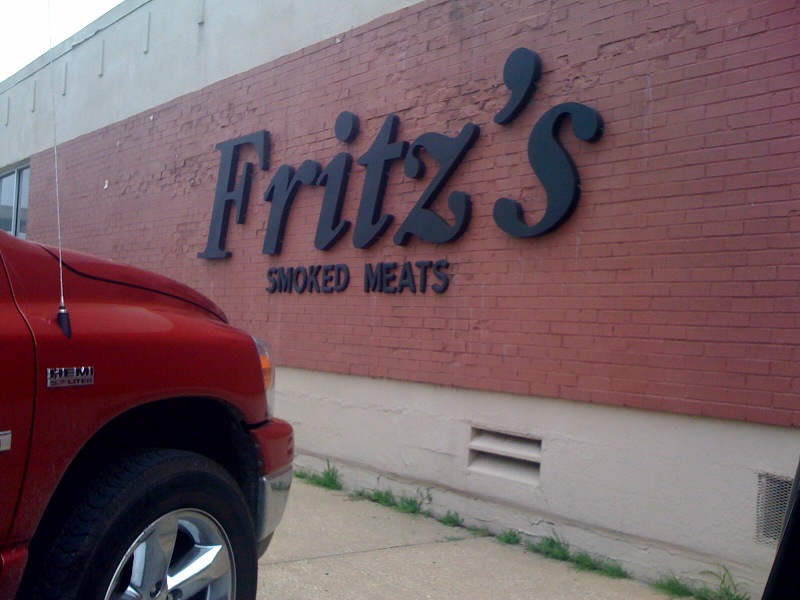 The name says it all, people. Walk up the stairs and into this humble brick building and you will be confronted with a series of deli cases full of meats in various forms. Meat comes in tubes, circles, rectangles, obelisks and various polygonal permutations here. It is by no means a comprehensive selection a la your supermarket deli counter but they do have plenty of stuff you can't get on your average grocery run.
The centerpiece here is the variety of sausage available. They have Polish, hot Polish, beef hot dogs, pork hot dogs, knackwurst, andouille, Italian, bratwurst, cheddarwurst, garlic sausage and probably a few more.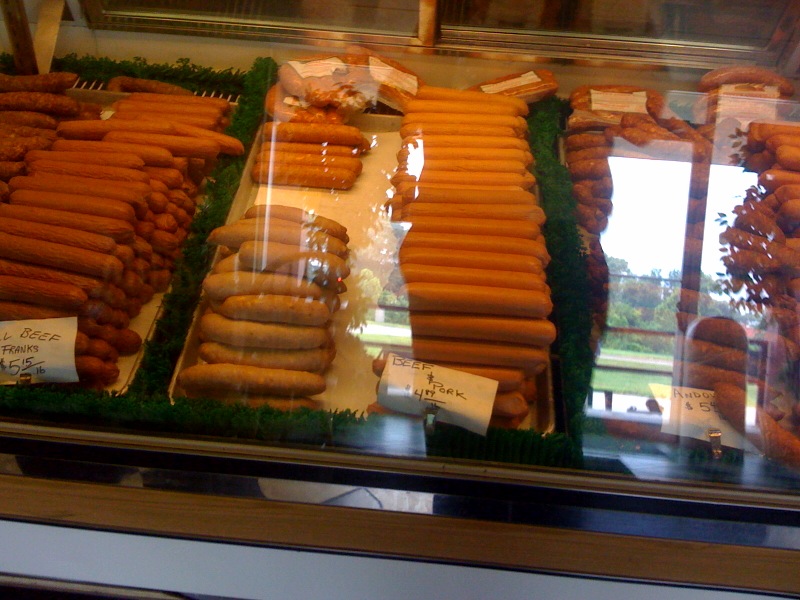 Best of all every one of these varieties is available fully cooked on a bun at the counter for $2.50. For a little more money you can get a deli sandwich topped with one of their homemade sliced meats like smoked turkey, salami, bologna or brisket.
Side dishes are very limited. You can get beans or a bag of chips. There are also some cookies by the register that look like those you get at the gas station. The take out menu I have says they offer potato salad but I don't recall seeing it on my visit.
For me, this place is about sausage and that's exactly what I had: a hot polish, bag of chips and a crisp Pepsi from the fountain. Not a mountain of food but a good quantity for lunch, and the right price at $4 even. When you order a sausage, they take it out of the huge warmer behind the counter, throw it on a cheap white bun, wrap it in aluminum foil and hand it to you. It takes about 5 seconds.
It doesn't look like much when you open it up.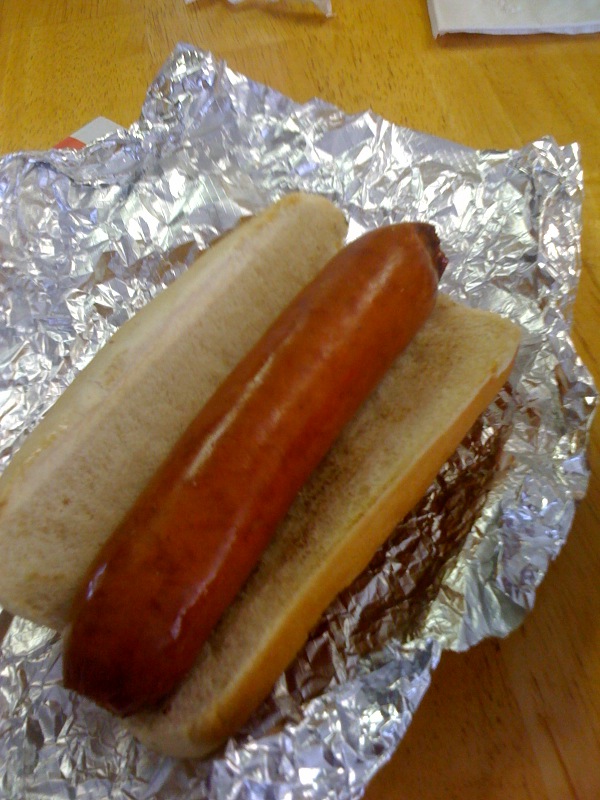 But a couple simple accouterments and it gets dressed up for the party nicely.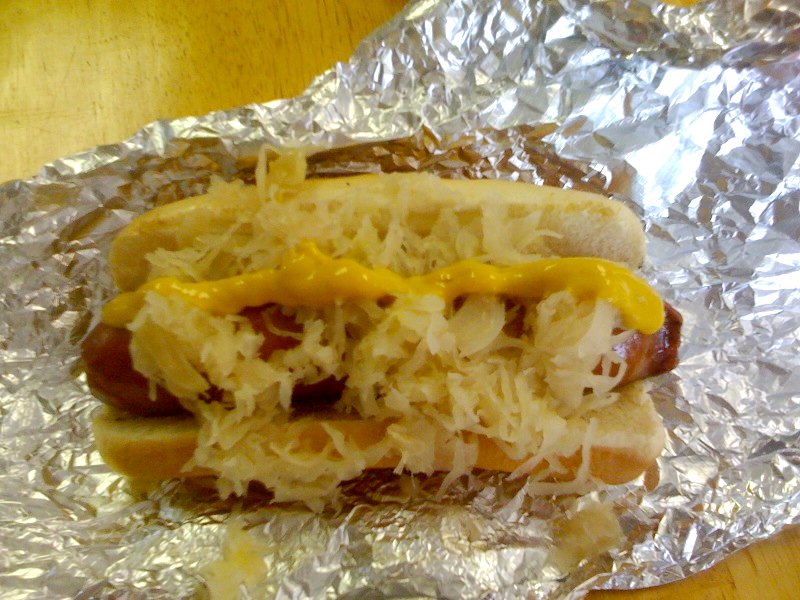 They have maybe 5 tables in this joint, and a little counter that holds napkins, plastic ware and a little bin of sauerkraut. Each table holds nothing but a large bottle of French's yellow mustard. I didn't even bother to look for ketchup anywhere.
The sausage was damn good. Not as spicy as I would have liked but it was explosively garlicky and salty and had wonderful texture. The wiener had a delightful snap with each bite which is the hallmark of a nice natural casing. While I ate I noticed a lot of people ordering two dogs. By the time I finished mine, I understood why.
Basically this is an old school smokehouse and meat counter that happens to do a fairly brisk lunch business. Most customers opt for take out so I managed to find a chair rather easily, but I wouldn't go with a large group. The service behind the counter is excellent–friendly and fast as lightning. Fritz's will not bowl you over with atmosphere, but it is an excellent option for a quick lunch out in this area, particularly if you like a good sausage.


[google-map-v3 width="350″ height="350″ zoom="12″ maptype="roadmap" mapalign="center" directionhint="false" language="default" poweredby="false" maptypecontrol="true" pancontrol="true" zoomcontrol="true" scalecontrol="true" streetviewcontrol="true" scrollwheelcontrol="false" draggable="true" tiltfourtyfive="false" addmarkermashupbubble="false" addmarkermashupbubble="false" addmarkerlist="10326 State Line Road, Leawood, KS{}restaurant.png" bubbleautopan="true" showbike="false" showtraffic="false" showpanoramio="false"]