Those who follow me on Twitter know that I served on a jury a few weeks back. Unlike more fortunate people who served downtown for awesome murder cases, I had to truck out to Independence every day to help settle a civil matter.  I don't head out east very often and from what I hear that side of the metro excels at drive-in burger shacks like Mugs-Up and Teresa's Drive-In. Normally that's not a problem but this was during the heat wave and I drive a car with non-functioning air conditioning. So I stuck to Independence Square for the few meals I did eat there and came away largely unimpressed.
Cafe Verona is the obvious choice for someone wanting good food, so naturally I didn't go there. The place didn't exactly get ringing endorsements anyway. I had been to Ophelia's several years ago and, while I don't recall the specifics of the experience, I know that I didn't care for the food, ambiance, or the service.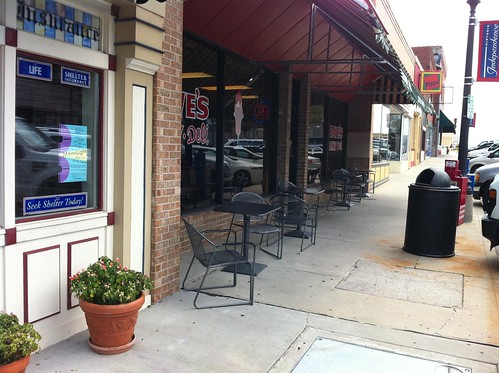 Ruling out those two basically leaves Square Pizza. This place has very pleasant decor and a jaunty vibe, with black and white checked floors and yellow and red color scheme. The fellow manning the cash register was extremely friendly and helpful as I tried to figure out what to order.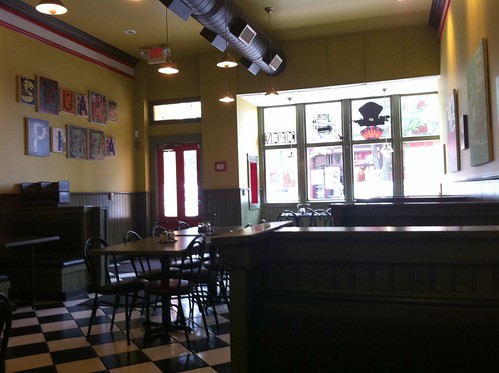 There are only a few kinds of pizza available as individual slices. On that day it was cheese, pepperoni, and "supreme." These are fairly large pieces in the deep-dish style. The crust is extremely doughy and soft, reminiscent of Pizza Hut pan pizza. It didn't taste bad, it was just an utter gutbomb. The salads are actually pretty good for a pizzeria. I mean, there was actually a cucumber of my salad – cucumber, in a pizza place!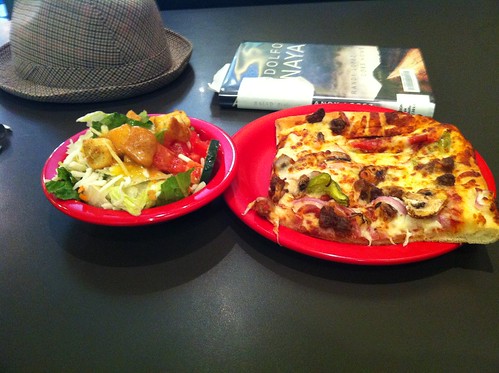 Around the corner The Rheinland serves up a small menu of traditional German food and hearty sandwiches in a space with the decorative sensibility of someone who is at least 112 years old. Frilly curtains and white china don't make me want to mow down on sausages, chug beer and revel in Aryan superiority like your average festive German. The Knackwurst was fine, if a bit chewy and salty. My plate was rounded out by some very nice tart potato salad with bacon and a pile of sauerkraut. The roll that came with the meal was among the worst tings i have ever put in my mouth. Dense, stale, chewy and gross.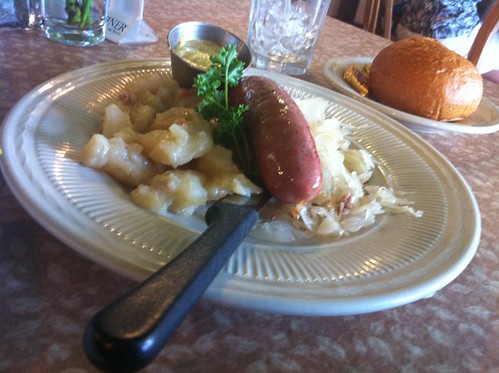 Wanting a simple sandwich one day, I popped into Dave's Bakery and Deli, practically next door to Square Pizza. Dave's is old school in the sense that it seems unfazed by culinary developments of the last three decades. It is a simple dining area, anchored by a long bakery counter and cash register. This is a place to get a cheap sandwich and a coffee from a styrofoam cup. A display case under the register offers an assortment of cigarettes and chewing gum available for purchase. This strikes me as a basic, blue collar joint with a huge menu but average food.
I had a ham sandwich on wheat bread that was so fluffy and chewy, it might as well have been white bread. Only mayonnaise and yellow mustard were available as condiments, since dijon is clearly too fancy for a place like this. The Swiss cheese looked and tasted like white American cheese. Basically we are talking about very cheap ingredients here. But I didn't hate it, and it was easy on the wallet.
I wanted to make it to Courthouse Exchange but couldn't squeeze it in. Any other places on the Square I should have tried?
[google-map-v3 width="350″ height="350″ zoom="12″ maptype="roadmap" mapalign="center" directionhint="false" language="default" poweredby="false" maptypecontrol="true" pancontrol="true" zoomcontrol="true" scalecontrol="true" streetviewcontrol="true" scrollwheelcontrol="false" draggable="true" tiltfourtyfive="false" addmarkermashupbubble="false" addmarkermashupbubble="false" addmarkerlist="Square Pizza, West Maple Avenue, Independence, MO{}restaurant.png|The Rheinland Restaurant, North Main Street, Independence, MO{}restaurant.png|Daves Bakery & Deli, West Maple Avenue, Independence, MO{}restaurant.png" bubbleautopan="true" showbike="false" showtraffic="false" showpanoramio="false"]