It has only been a few short months since the New York Dawg Pound popped up on Shawnee Mission Parkway like a beacon, shining through the darkness of the economic downturn.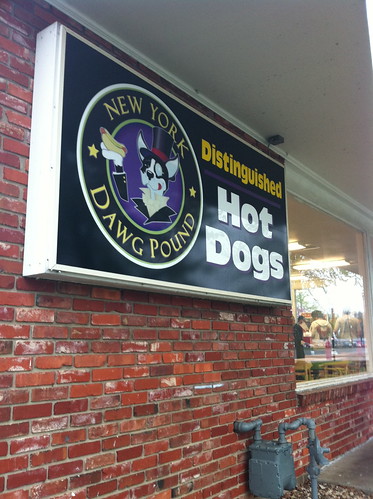 There are a few places around town to get a good hotdog: Dog Nuvo, Pizza Man, Clay's Curbside Grill and some other joints that dish out a serviceable sausage of one kind or another. This places focuses on hot dogs; with the variety of specialty restaurants that seem to pop up daily around town, this was no surprise. In fact I'm surprised in didn't happen sooner.
Actually it did happen sooner at a little joint called Relish that closed before I could eat there. If specialty hot dogs can't survive in Westport, can they make it in a nondescript shack on a busy suburban thoroughfare?
Yes they can.
Stop by the Dawg Pound at noon on a weekday and see if you don't find the joint hopping. It's not exactly Oklahoma Joe's but it's clear that these guys are doing a very good business these days. And why not? They offer a varied but manageable menu of fancified hot dogs and a few sides for very reasonable prices.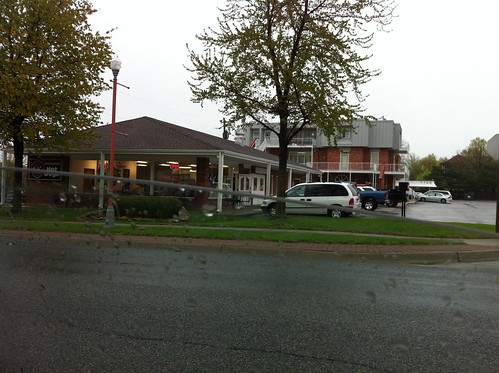 This place is hard to see from the street, even if you are looking for it. It lies is a free-standing building just east of Sobahn Korean restaurant and sort of across from Parkway Liquors.
The counter operation works well. You order from one person who compiles your dog, placing it on either a plain or poppy seed bun and topping it with anything from cheese sauce to peanut butter. A second employee asks about your choice of sides: fries, cole slaw, onion straws or sweet potato fries make up the heart of the choices.
By the time you get to the end of counter and pay for your lunch, a tray of deliciousness is delivered. Drinks, straws, napkins, utensils are all a self-service operation. They even have dispensers for the plasticware. Be sure to grab plenty of napkins because this food is seriously messy.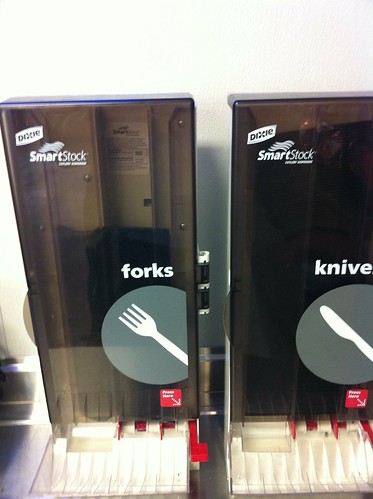 The "Bulldog," topped with chili, cheese sauce, mustard and onion proved to be one of the most frustrating things I have ever eaten, as the bottom of the bun disintegrated, causing the dog to slide around like a greased pig.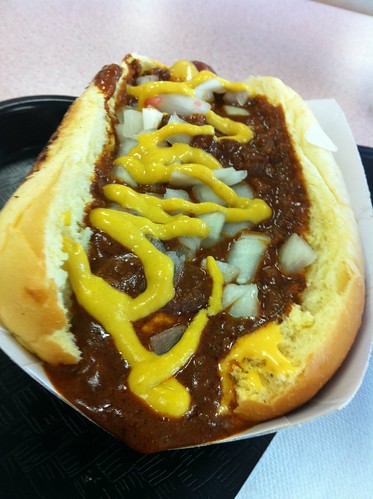 But I conquered that greased pig and while I found the cheese to be somewhat overwhelming, I enjoyed it a great deal.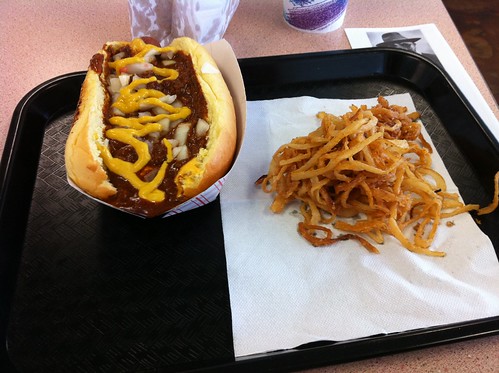 I don't recommend the onion straws as a side dish. They are simply too insubstantial to eat effectively, and the greasiness lent by a mouthful of the things can be unpleasant. The onion straws work much better as a judiciously applied topping, such as on the "Ol' Blue," accompanied by BBQ sauce and a dill pickle spear.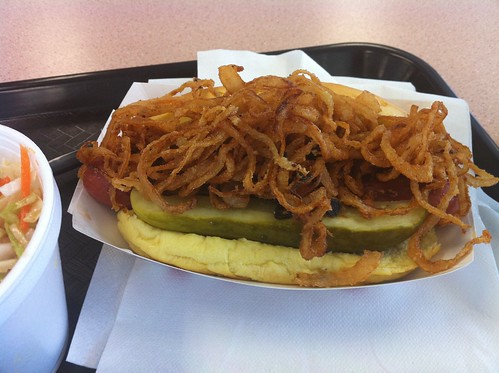 I also enjoyed this dog, but wish that they would use Gates sauce rather than the run of the mill, generic tasting sauce. It would be a nice local tie-in and would taste even better.
The "Spike" is probably my favorite specialty dog on the menu. It features sauerkraut, spicy mustard and "onions in sauce" which are slightly sweet sauteed onions in a mysterious reddish liquid.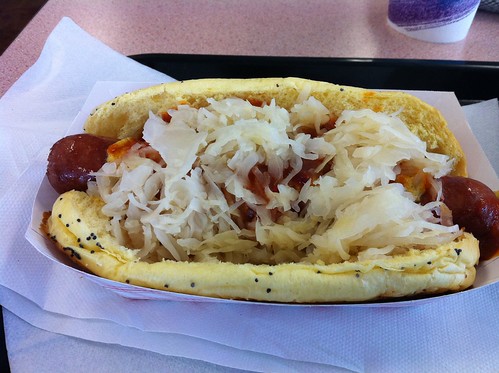 The Dawg Pound also offers bratwurst, Italian sausages and a veggie dogs which cab be prepared with any of the toppings. I tried the brat with the "Spike" preparation and found it just as good as before, though the sausage itself was a little mild in flavor for my taste.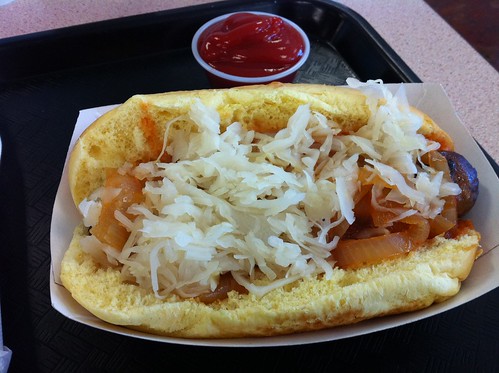 The fries here are solid, likely a higher quality frozen product. For 2 bucks you'll get a cute little paper bag full of the things. I opted for the Asian-style cole slaw one day and found it a little under-flavored, but still a respectable accompaniment to a good hot dog.
The interior is bright but no frills, simply a sea of tables occupied by smiling, hungry suburbanites. The floor has been stripped and treated in a weird way, causing it to be a little sticky. A minor complaint I know, but it always feels like someone spilled Coke underfoot.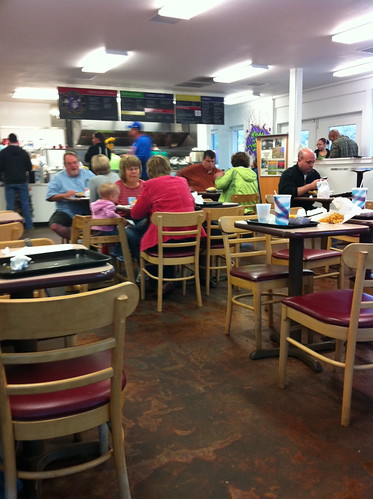 Generally this place has good vibes, I think because the owners enjoy themselves. They are both friendly guys and it comes through in the oeuvre of the restaurant. One day during lunch a customer led the entire restaurant in singing "Happy Birthday" to his wife. At another joint this may have been an annoyance, but at the New York Dawg Pound it's just par for the course.
[google-map-v3 width="350″ height="350″ zoom="12″ maptype="roadmap" mapalign="center" directionhint="false" language="default" poweredby="false" maptypecontrol="true" pancontrol="true" zoomcontrol="true" scalecontrol="true" streetviewcontrol="true" scrollwheelcontrol="false" draggable="true" tiltfourtyfive="false" addmarkermashupbubble="false" addmarkermashupbubble="false" addmarkerlist="New York Dawg Pound, 7702 Shawnee Mission Parkway{}restaurant.png" bubbleautopan="true" showbike="false" showtraffic="false" showpanoramio="false"]