Cozy's is an interesting little joint that recently set up shop on 75th near Metcalf across from Fritz's Chili.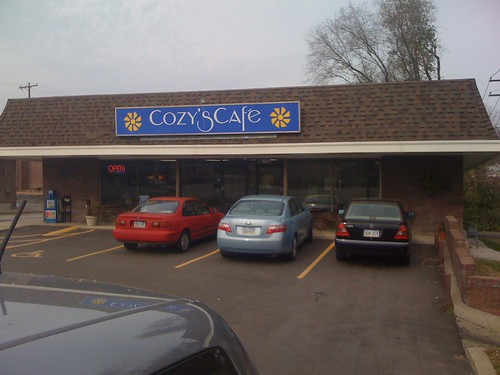 While the signage on the building itself is prominent, there is nothing by the street to indicate a restaurant is there, so it may be easy to miss unless you happen to notice it. Look for the Roth Jeweler sign; Cozy's is right next door. The most recent inhabitant of the building was a Kwik-E-Mart type of place but I think it lay vacant a little while before Cozy's moved in.
To get the complaints out of the way, the atmosphere is probably the worst part of this place. It is certainly new and clean-looking, as it has undoubtedly been significantly rehabbed. But newness works against the implied…uh, coziness of the joint. Institutional carpeting, drop ceilings and generic restaurant furniture create an environment that feels like lunching in the lobby of a doctor's office.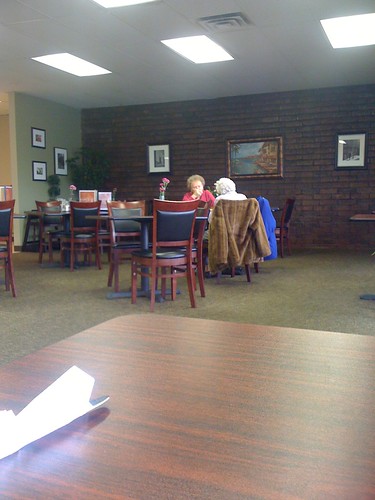 Of course, your doctor doesn't have food like this. While I cannot vouch for everything on the menu, I will say that the specials are often pretty intriguing. I think the owner puts a lot of care into them since there are several every day and everything I've had has been good. The lasagna I sampled on my last visit was a huge slab of the stuff, filled with creamy ricotta and spinach. It was obviously homemade and very delicious. This dish wasn't dressed up with fancy ingredients, rather it was a very fine take on a traditional dish.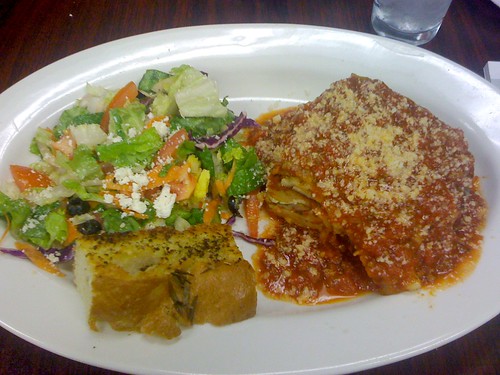 Other specials that day included ravioli with sausage, pork kebabs, and a tuna salad sandwich. So it is clear that Cozy's is not your typical greasy spoon. The culinary repertoire here is pretty varied, though the menu itself is not vast in size.
There are standards like ham and cheese sandwiches and hamburgers ($2.39 for a single) but also offerings with a variety of culinary influences. You can order several different panini grilled sandwiches ($5.49-7.69) including a muffaletta, essentially an sub of Italian meats and olive tapenade. Being the ever health-conscious consumer, I have not tried it, but plan to do so at some point. I have eaten the so-called "European Sandwich" which consists of cheese, butter, tomato, basil and honey. Yeah, that's not very healthy either, is it? But I enjoyed it as a change of pace from ubiquitous meat pockets, and a vegetarian one at that.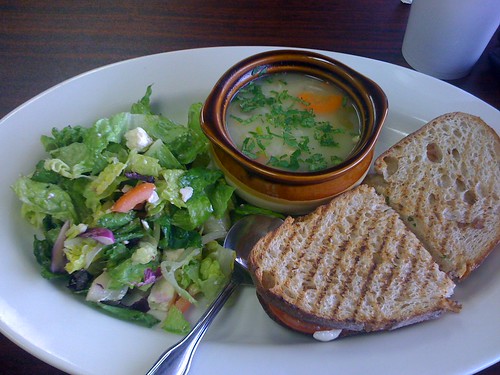 That soup you see above is a homemade chicken, rice and vegetable soup. The owner instructed me to use salt since she does not like to over-season her soups. I can't tell you what a rare and delightful trait this is. At a more highbrow place, I would feel differently, but at Cozy's I preferred the light touch. And yes, I did put a pinch of salt in the soup.
Cozy's makes a solid burger too, although the Sysco frozen fries aren't doing them any favors.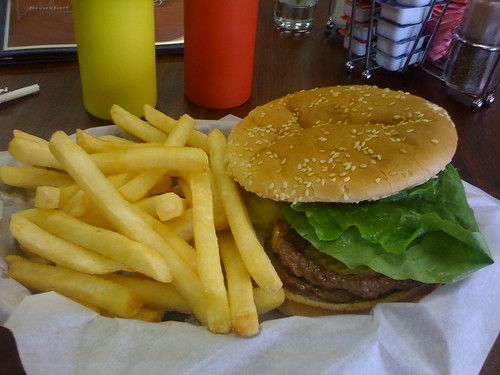 This food is simple but well-prepared. It may not win any culinary awards but I'll wager you will never be disappointed with what you order.
The place appears to be popular with older folks who admittedly are over-represented in this part of the county. Typically the owner waits tables and otherwise runs the show in the front of the house. She is quite friendly and good with people. She recognized me from a previous visit, even remembering the day of the week I was there. Those are what one calls "people-skills." One time a guy sitting behind me didn't eat all of his soup and she practically insisted on bringing him a salad instead (which he insistently declined). Nonetheless little touches like these build loyal customers.
Strangely enough, Cozy's has a jukebox over in the corner. I haven't perused its offerings but once every 10 minutes or so it springs to life with a country tune or so. I heard "The Ballad of Jed Clampett" there one time, followed by someone I can only assume was Michael Buble. On my last visit, the juke was on continuously which vastly improved the sedate ambiance. I hope they keep it up.
Cozy's fills a niche in this corner of Overland Park as an affordable lunch spot (though it is open for all 3 meals), with food that isn't boring and nice people running the show. I love how it feels like a neighborhood joint in one of the most offputtingly suburban intersections in the metropolitan area.
Learn more:
Charles Ferruzza reviews Cozy's in the Pitch


[google-map-v3 width="350″ height="350″ zoom="12″ maptype="roadmap" mapalign="center" directionhint="false" language="default" poweredby="false" maptypecontrol="true" pancontrol="true" zoomcontrol="true" scalecontrol="true" streetviewcontrol="true" scrollwheelcontrol="false" draggable="true" tiltfourtyfive="false" addmarkermashupbubble="false" addmarkermashupbubble="false" addmarkerlist="6740 West 75th Street, Overland Park, KS{}restaurant.png" bubbleautopan="true" showbike="false" showtraffic="false" showpanoramio="false"]