Red Bench has closed and is now Great Day Cafe.
This pleasant little lunch spot occupies the space that recently housed the popular Farm to Market Cafe in downtown Overland Park which I reviewed two years ago ago on this blog. Earlier this summer, signs at the Cafe indicated that the owners were retiring and selling the business. Before long, the place had received a slight makeover and reopened with a very similar menu and new ownership.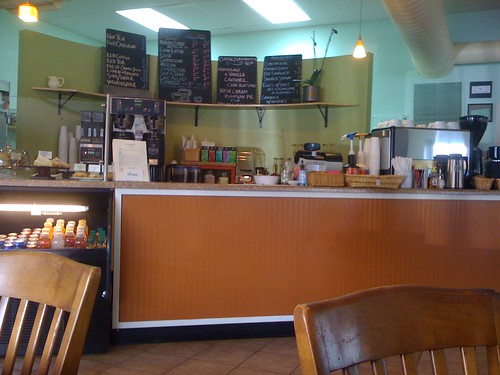 It kept the name "Farm to Market" all summer and the menu was more or less intact but differences were immediately apparent. For starters, the produce in the garden salads was superb: homegrown lettuces, cherry tomatoes and cucumbers created a simple yet superb example of how fresh ingredients can transform mundane items into things of beauty.
The sandwiches remained serviceable, with notable improvement in the quality of deli meat used. They continued to use Farm to Market Bread which makes no small amount of difference compared to mass produced product available other places.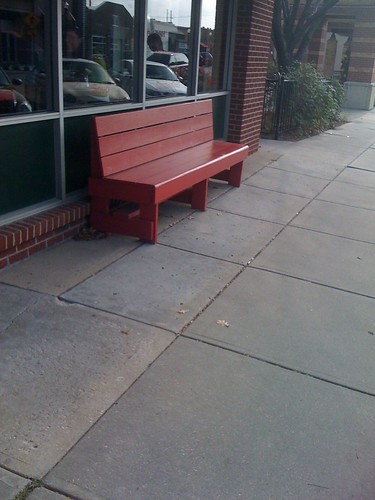 Several weeks ago, the restaurant changed again, dubbing itself "Red Bench Cafe." I'm not sure, but the staff seems to have changed somewhat as well. What was previously seemingly an entirely woman-run operation seems to have a gentleman at the helm now who hovers behind the counter and out in the dining room crunching numbers on a laptop. A few of the decorative changes have been scaled back, such as the flimsy cheesecloth that lined the walls after its first change.
Currently Red Bench is a fairly good quality lunch spot offering a small breakfast menu in addition to a selection of sandwiches, soups and salads. They have a decent lentil soup every day in addition to a rotating soup. I had the lentil soup and was surprised to see that it contained whole lentils in a gentle, slightly sweet broth. I am used to lentil soups being blended to created a thicker texture. It was good, but I eventually tired of the mouthfuls of whole lentils.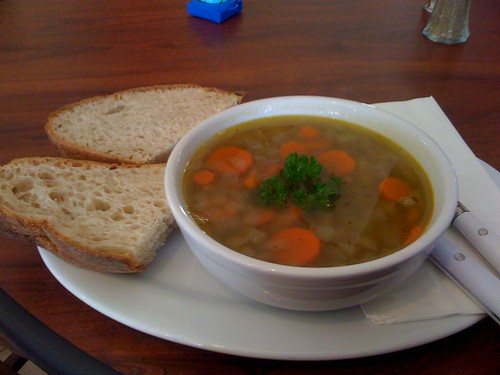 The minestrone soup was a considerably greater success with hearty, rich tomato broth, pasta and kidney beans. Unfortunately both soups were not hot enough when delivered to me. To me, this is a relatively serious infraction. Yes, soup can be heated up with little adverse effect, but holding foodstuffs at a lukewarm temperature is conducive to bacterial growth which can cause foodborne illness. I'm not a crackpot, I just take food safety very seriously. Let's hope these folks start getting their soups nice and hot before serving them to people in the future.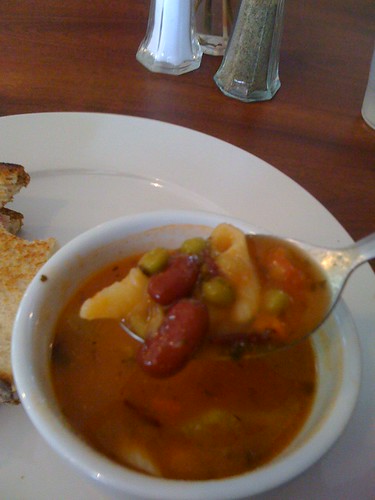 You can get a whole sandwich or a soup/salad and half sandwich combo which is much the same as what Farm to Market offered. There is a Black Forest Ham, Turkey Havarti and an interesting chicken breast with artichoke sauce sandwich. All are passably good but won't blow your mind. They are sandwiches after all. I have some slight concerns about the prices here. For almost $10 I got half a grilled ham sandwich and a cup of soup.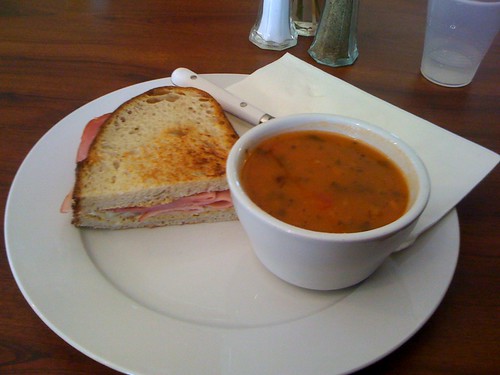 I'm not convinced that this is a good deal, considering that even my relatively modest appetite was barely sated after eating it.
Nonetheless I am firmly convinced that Red Bench Cafe is an improvement over its previous incarnation as Farm to Market Cafe which I had become increasingly disappointed in up until its sale. I believe that the ingredients are now of higher quality and that there is more thought put into preparation. I am honestly not sure what has happened to this place in the last 6 months in terms of ownership, but these folks are making a strong effort to surpass the effort made by Farm to Market. Downtown OP needs a decent sandwich/soup spot and right now they have it.
[google-map-v3 width="350″ height="350″ zoom="12″ maptype="roadmap" mapalign="center" directionhint="false" language="default" poweredby="false" maptypecontrol="true" pancontrol="true" zoomcontrol="true" scalecontrol="true" streetviewcontrol="true" scrollwheelcontrol="false" draggable="true" tiltfourtyfive="false" addmarkermashupbubble="false" addmarkermashupbubble="false" addmarkerlist="7921 Santa Fe Drive, Overland Park, KS{}restaurant.png{}Red Bench Cafe" bubbleautopan="true" showbike="false" showtraffic="false" showpanoramio="false"]