I think this place kind of sucks, but then again, I didn't grow up in Kansas City. When people talk about Taco Via, they talk about growing up in the 80s and the appeal of a more naive and happy time. Nostalgia is so completely powerful that I cannot argue with these people. Read this meditation on Taco Via and the heyday of fast food taco shops and see if you don't agree. Sure, the phenomenon resulted in my least favorite chain restaurant of all time, Taco Bell, but we had some laughs along the way.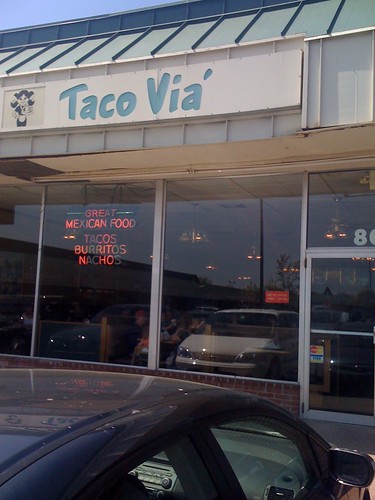 There are no fewer than four Taco Via groups on Facebook. The Wall posts are exclamation point-ridden nuggets of pure yearning for childhood and blind allegiance to a geographic region through its own quirky local business.
I would guess that this is a family operated spot. Two grumpy middle aged white women run the registers, a middle aged white guy and a teenage white boy put the food together and an old white lady with a limp buses tables. No attractive people work or eat here. Of course there is nothing Mexican about Taco Via. I suspect that among its enthusiasts, this is part of the charm.
Order at the counter. The menu is a little crazy, I can't really process it every time I eat there because it is so large, varied and full of colorful pictures that compete for your attention. There is a taco burger, which you would have to pay me to eat. Of course burritos, tacos and the like abound. They also have an ongoing lunch special: a taco, sancho and nacho for 6.95, which includes a drink. What's a sancho, you ask?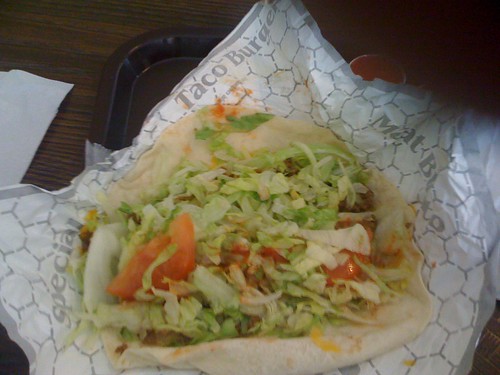 Yeah, it's pretty much indistinguishable from Taco Bell's "soft taco" except that it is about 3 times as large. It also tastes like nothing. The taco meat is mushy and finely ground, with only the subtlest of seasoning. Add some iceberg lettuce, underripe tomatoes and shredded yellow cheese and you are in business. Tacos get the same treatment but are much more palatable than the dreaded sancho.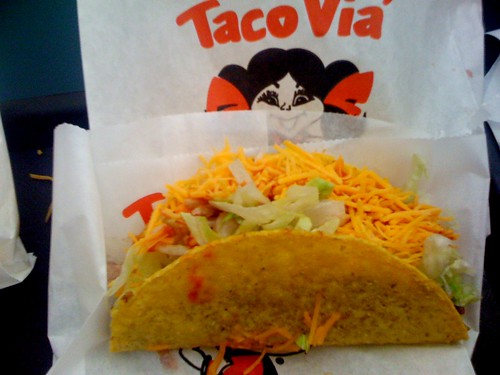 Apply the taco sauce, available from a pump container on the counter, very liberally. The sauce helps foster a sensation somewhat similar to "flavor," but not quite as pleasant.
The nachos are funny little things, not nachos as we have come to know them. At Taco Via a nacho is essentially a single tostada shell with melted cheese and a little taco sauce on it. If you like, they will add some chopped canned jalapeño peppers which make a world of difference, in a good way.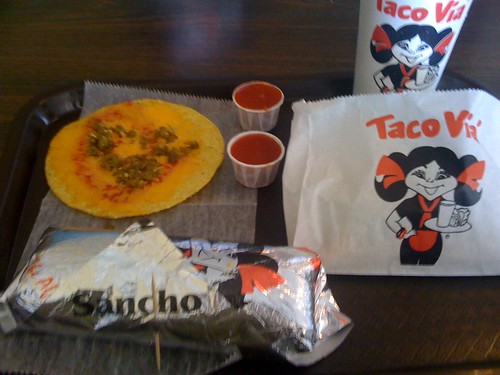 You get your drink with your food, not before. I can only assume that they are trying to prevent free refills by controlling the flow of beverages, but I really don't know why. During the lunch rush you can wait a few minutes for your food to arrive so I would appreciate being able to sip a drink.
There are many more things on the menu, but I think it's safe to say that they are all variations on a theme. Also, I really don't feel like making multiple visits in order to sample all the wacky offerings. I'm getting old and my colorectal health is a concern.
There used to be many more Taco Via locations in the metro, but now there are only three: this Overland Park location, one in Lee's Summit and one in Olathe. I heard from a reliable source that the owners of the chain required franchisees to pipe Christian music throughout their restaurants, close on Sundays and otherwise subscribe to a religious point of view in their business operations. A short-lived Gardner location is reputed to have used tray-liners with the 10 Commandments printed on them.
Take a look at the founders. Do you have a hard time believing that these people were hyper-religious nutjobs?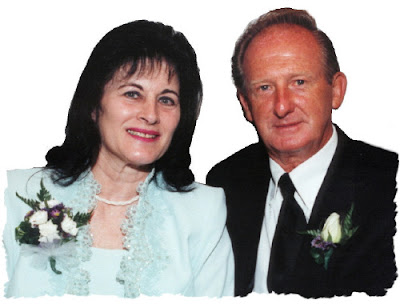 A few years back, several locations abruptly left the Taco Via family and changed names. This was the case at the old 75th and Metcalf location (where a KFC is now) and the still-operating Taco Uno in Shawnee. A 2006 article from the Shawnee Dispatch only cites "differences of opinion" as the reason for Taco Uno leaving the Via franchise, so I'd love to hear if this uber-Christian story is true. There is no such discernible activity at the 95th street Taco Via. In fact the location is not even listed on the Taco Via website.
[google-map-v3 width="350″ height="350″ zoom="12″ maptype="roadmap" mapalign="center" directionhint="false" language="default" poweredby="false" maptypecontrol="true" pancontrol="true" zoomcontrol="true" scalecontrol="true" streetviewcontrol="true" scrollwheelcontrol="false" draggable="true" tiltfourtyfive="false" addmarkermashupbubble="false" addmarkermashupbubble="false" addmarkerlist="Taco Via, 8615 West 95th Street, Overland Park, KS{}restaurant.png" bubbleautopan="true" showbike="false" showtraffic="false" showpanoramio="false"]