Four years in Kansas City, writing about restaurants for most of them, and I never knew this place existed until I saw it while driving around house-hunting a couple months ago. More recently it received a shout-out from no less than the New York Times in the article 36 Hours in Kansas City. Unlike most national coverage of our fair town, this article got most things right, so I knew that a trip to Ortega's was in the cards.
Tucked away in an area known as the Westside South between Southwest boulevard and I-35, Ortega's is not really on the way to or from anywhere and was even overlooked by Google streetview. But it would make for a very worthy digression from the usual Mexican haunts on the Boulevard proper. It certainly has one of the more unusual dining areas in the city and pretty good food from what I can tell.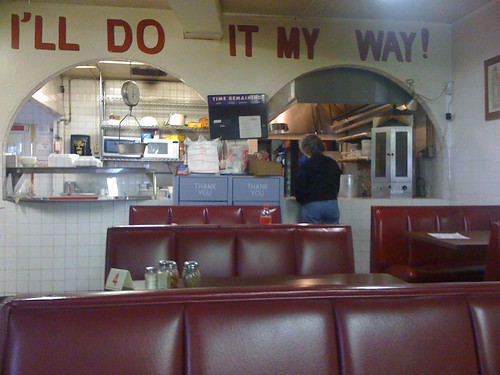 Anything you read about Ortega's (and there isn't much) will mention breakfast and rightly so. The place is pretty well-known for its menudo, a classic, hangover-curing Mexican stew made with tripe. Apparently there are long lines on Sunday mornings as neighborhood families stumble out of church in search of the stuff. While menudo is certainly the appeal, so are the huevos rancheros and other egg dishes which attract the requisite number of hipsters and urban core whities.
I don't do breakfast on this blog however, so I'm happy to report that Ortega's serves up mighty fine lunch fare. At $6.75, the "Dinners" are a great deal as they include a pile of meat, a stack of tortillas, rice and beans. The carne asada platter inexplicably came with some lovely little vegetable matter too.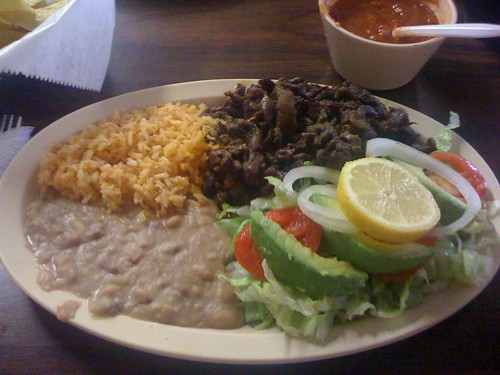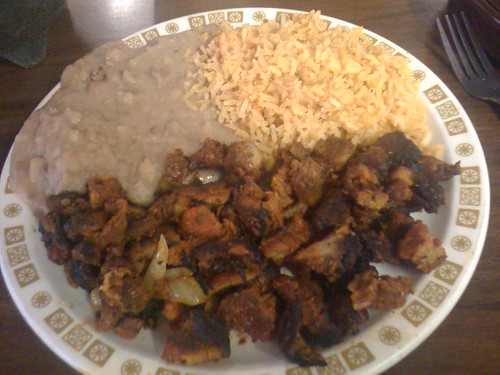 I found the al pastor to be a tad dry with a consistency similar to burnt ends but without the moistening benefits of BBQ sauce. It still had good flavor, though I wish I had some onions and cilantro to top it off with. The carne asada was tender and had clearly been heavily marinated since it had a deep, dark brown color. Both meats were roughly chopped and presented on a platter without fanfare; it felt like eating at someone's house. The corn tortillas are fantastic, but I have no idea if they are homemade or not. It really doesn't matter, they are very fresh, supple and fragrant.
The chips and salsa situation is decent if not overwhelming. The pico de gallo appeared a little less than fresh but it still tasted great. The hot salsa carries a serious kick and was a perfect addition to tacos. The chips were probably homemade but seemed a little stale. I still ate them all.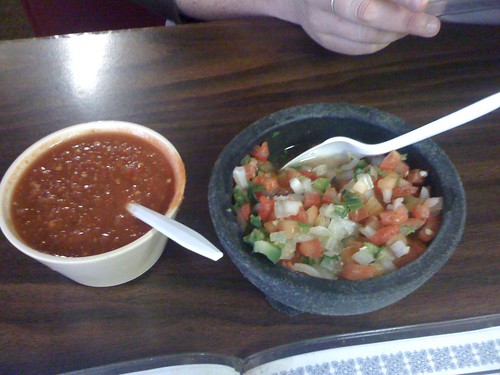 The retail operation at Ortega's is situated at the front of the place and is restricted to a few coolers and shelves. Most of the building is taken up by a series of well-worn red vinyl booths where you sit to eat. A woman who I can only assume is the owner takes orders, expedites the food and rings up your tab at the front counter when you are finished. While not the most effusive of hosts, she is knowledgeable, efficient and helpful.
Drinks are a self-service affair; grab something out of the cooler up front to enjoy with your meal, otherwise you will be drinking water, and only if you ask for it.
This place is deserving of several more visits. I really want to try the posole, tamales and particularly the mole, which they were out of when I visited. I'll warrant everything in this joint is made from scratch and I want to eat more of it. One important thing to know is that Ortega's does not accept credit cards. Yes places like this still exist. If you are in a pinch she will take a personal check but I wouldn't count on it.
I'd love to hear what others have to say about this place. I have the feeling that there is something very special going on here and I'm eager to work my way through the menu.
[google-map-v3 width="350″ height="350″ zoom="12″ maptype="roadmap" mapalign="center" directionhint="false" language="default" poweredby="false" maptypecontrol="true" pancontrol="true" zoomcontrol="true" scalecontrol="true" streetviewcontrol="true" scrollwheelcontrol="false" draggable="true" tiltfourtyfive="false" addmarkermashupbubble="false" addmarkermashupbubble="false" addmarkerlist="2646 Belleview Ave, Kansas City, MO{}restaurant.png{}Ortegas" bubbleautopan="true" showbike="false" showtraffic="false" showpanoramio="false"]