The State of Kansas seized the assets of Paleteria Chihuahua in March 2011 due to non-payment of taxes. Read more » (PDF)
This is a cool little place, one that I expect to become a tad more popular as the warmer weather rolls in.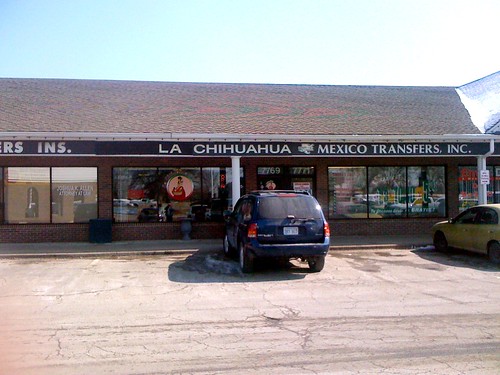 Up at 77th and Quivira in Shawnee lies a fairly sizable strip mall that houses several Mexican-oriented businesses. If memory serves, there is Fronteras Restaurant, a meat market (carniceria), a place where you wire money to/from Mexico, and this little tucked away ice cream and lunch spot called La Chihuahua. It is also known as "Paleteria Chihuahua" due to its focus on frozen fruit bars known as paletas. A quick Web search indicates that there is another location in KCK which I have never visited.
But I wouldn't be writing about La Chihuahua if it wasn't also a genuine lunch spot. A big thanks to JH and Teague for mentioning it on the Suggestions post and pointing out the presence of darn good Mexican food in addition to frozen desserts.
La Chihuahua is a far cry from divey, semi-sanitary holes in the wall you may be familiar with among the better taco joints. The place is well-lit, colorful and extremely clean.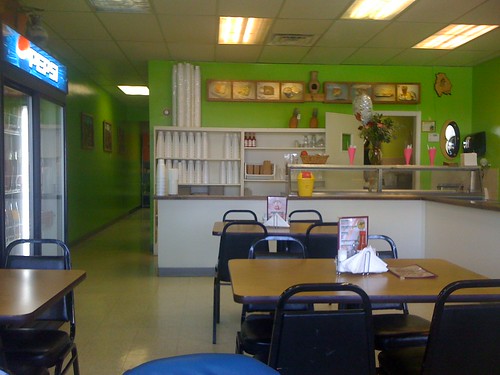 A large menu board behind the register features photos of many of their menu items, but the real lunch action appears in the menus on each table. There you will see offerings like tacos, burritos, menudo, tamales, flautas, soups, and even shrimp cocktail.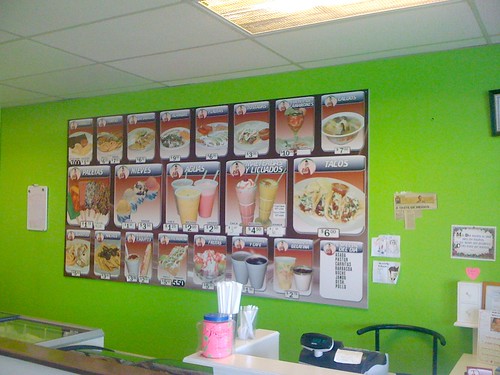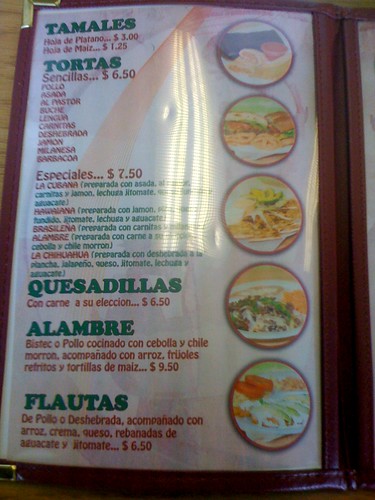 The torta (a Mexican sandwich in simplistic terms) is featured pretty prominently. You can get your choice of meats on a regular torta for $6.50 or opt for one of the specialties for $7.50. I couldn't pass up El Cubano which promised four kinds of meat — carne asada, carnitas, pastor, and ham (jamon) topped with avocado, tomato and shredded lettuce. It came out looking mighty tasty.
But there was one ingredient I hadn't anticipated: Mayonnaise.
NNooooooooooooooooooooooooooooooooooooooooooooooooooooooooooooooO!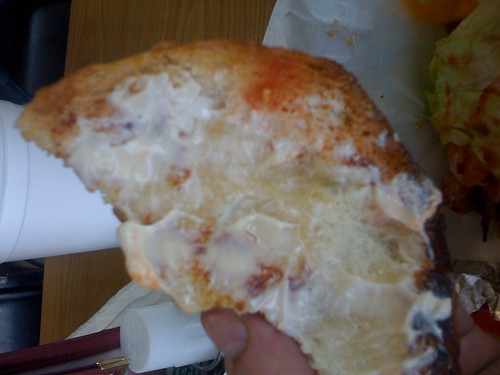 After some hyperventilating and a few calming, psychological excercises, I scraped most of it off with one of those weird, puffed corn thingies on my plate and got on with my lunch.
Surprisingly, El Cubano doesn't taste like a heart attack. I have never been a fan of tortas; I far prefer corn tortillas as a Mexican meat delivery system. But this bread was soft, with a decent crust and did not become overly mushy like other tortas I've had. This is a large sandwich and should satisfies the piggiest appetites among us without making you feel like dying.
Despite the torta-focus, I really like the tacos at La Chihuahua. You can get any number of meat preparations: carne asada (grilled steak), al pastor (marinated pork), barbacoa (slow-cooked beef), pollo (chicken), buche (apparently pig's esophagus?), lengua (tongue), deshebrada (shredded beef) and carnitas (slow-cooked pork in lard). My favorite was the deshebrada which is a stringy, pot-roast-like style of beef–highly flavorful and moist. I found the asada somewhat gristly in parts but it was not tough and had a nice, salty flavor.
As you can see, the tacos are small and come served on steamed corn tortillas with a topping of finely chopped cabbage, scallions, white onion and cilantro. A portion of four will set you back $6. These are not life-changing tacos but quite delicious nonetheless. It is highly doubtful you can do any better in the area.
I did sample one of their aguas fresca–basically an uncarbonated fruit or otherwise flavored drink. Flavors include pineapple, lime, tamarind, mango, horchata (rice) and strawberry, which I sampled and enjoyed on one visit.
Customers of La Chihuahua, as you might expect are largely Mexican but not exclusively so. They don't do a high volume business even at the height of the lunch hour. Order your food at the counter and they will bring it out to you at your table. Don't expect the staff to know much English. There are a couple of women who understand it well and a couple who don't. Nonetheless, it's not rocket science to order your lunch; you are all adults here.
I am very glad that AWESOME DLC TIPSTERS turned me on to La Chihuahua. I look forward to trying more items on the menu and have utmost confidence that they will be well-prepared and tasty.


[google-map-v3 width="350″ height="350″ zoom="12″ maptype="roadmap" mapalign="center" directionhint="false" language="default" poweredby="false" maptypecontrol="true" pancontrol="true" zoomcontrol="true" scalecontrol="true" streetviewcontrol="true" scrollwheelcontrol="false" draggable="true" tiltfourtyfive="false" addmarkermashupbubble="false" addmarkermashupbubble="false" addmarkerlist="7769 Quivira Road, Lenexa, KS{}restaurant.png" bubbleautopan="true" showbike="false" showtraffic="false" showpanoramio="false"]