I can't believe it has taken me so long to visit this place.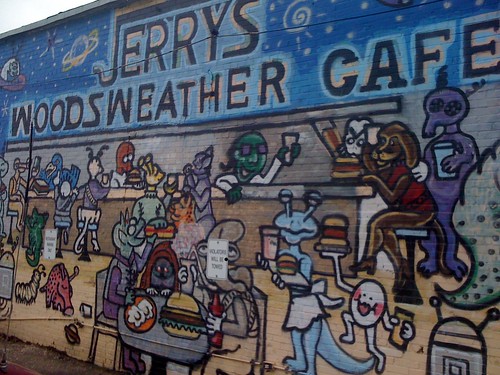 On November 1, 2007 a gentleman with the online moniker "kansas karl" left a comment on my Suggestions page indicating I try Woodswether Cafe promising "burgers as big as your head." My Twitter colleague @sjwaters made a similar recommendation on the spreadsheet where I keep track of these things saying great things about the reuben. Y'all know how much I like reubens right? Then late last week I received an email from a reader wondering why I hadn't ever posted about it.
So we have three different people, using three different forms of communication, recommending Woodswether Cafe to me in no uncertain terms.
So I decided to head up for lunch this past Saturday. Apparently I wasn't the only one with that idea since it was pretty packed. The proximity of a few vintage/thrift/reclaimed stuff shops certainly could have accounted for some of the traffic, but a lot of the dudes in this place were just regular pudgy KC white guys with Chiefs jackets and gray hair, unlikely patrons of such businesses. That said, Woodswether has quite a diverse clientèle. I sat near a family that was obviously "slumming" from Brookside or Prairie Village. These people were turning their heads, looking up and down the whole time, soaking up the ambiance with little smiles on their faces. This is a place that kids will like, and I saw a few there. A group of teenagers was taping stuff to a wall advertised as the "Woodswether Hall of Fame."
I heard they close at 2 p.m. so I had to hurry my hungover ass up there. These hours make sense when you open the doors at 5:30 a.m. They are actually pretty common hours for industrial areas since you get to feed workers both going to and coming from work. And you get the regular lunch crowd. Upon entering I encountered a big sign that indicated that, starting this month, they would be open on Fridays and Saturdays until 8pm. The sign also promised that "adult beverages will be available." I knew this was going to be my kind of place.
This place features hand cut fries with the skin on, diner classics like french dips, cheeseburgers and reubens, and dishes it out in a truly original environment. Jerry's is basically an old bar with drop ceilings, cheap diner tables and a series of booths seemingly pilfered from awful chain restaurants throughout the 1980s. The floor is a nifty red and white checkered pattern and the walls are perfunctorily decorated with interesting little touches.
The service was a little spotty on my visit because the place was very crowded–nearly every table in the joint was taken, and the bus boy was likely out back smoking cigs and texting most of the time. But the server could not have been more friendly. She apologized for the wait (which was significant but not outrageous) and delivered our drinks and food as quickly as possible.
Okay so I've written 6 or 7 paragraphs without mentioning food. Well this should make up for it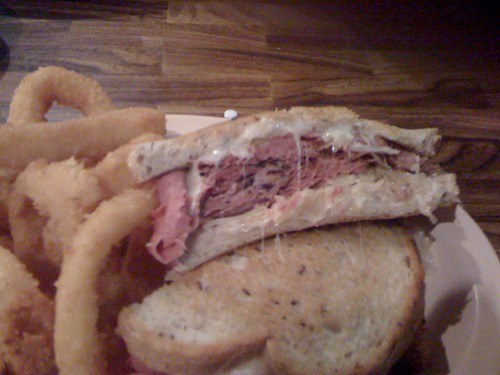 To quote Walt Bodine, "yeeeaaahhh."
This is a really delicious, solid and large reuben sandwich. Since the ignominious demise of the New York Deli, this is the best one going in town. Fantastic light rye with plenty of caraway seed, good sauerkraut and a dressing that did not assault me with its mayonaisity. But this is actually an atypical reuben. It has a combination of both pastrami and corned beef, both of which are of exceedingly good quality. The menu does not give descriptions of their foodstuffs so this came as a surprise, but the evidence was right there in front of me and I liked it.
Skip the onion rings which were unremarkable and opt for the hand-cut, skin-on french fries. They have really good potato flavor (owing undoubtedly to the skins) and a decent crunch for homemade fries.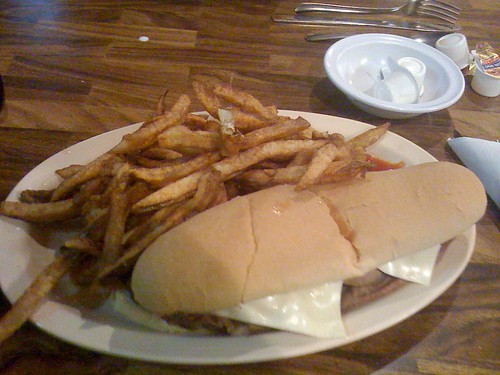 The French Dip pictured above was a tad dry, but I liked the au jus quite a bit which alleviates that problem. Strangely they use a lowbrow kind of processed cheese on the sandwich. It did not bother me immensely but a good swiss would really improve it a great deal.
The menu is full of home cooking. Breakfast food is not my favorite (I'm a lunch blogger right?) but the plates I saw going past me looked mighty appetizing. The pancakes are huge, hanging over the edge of the plate. Signs around the dining area advertise fried frogs legs, catfish and shrimp available every day. Lunch fare includes pork tenderloins, Philly cheesesteaks and Italian steaks. I've actually never had an Italian steak–is this a KC thing? I need someone to educate me.
Apparently this restaurant came under new management sometime last year. It is frequently referred to as "Jerry's Woodswether Cafe" but mostly I just see "Woodswether Cafe." I'm not sure of the official name, or if it dropped poor Jerry after it changed hands. Also the mural outside spells it "Woodsweather," so confusion abounds. What the hell is a woodswether anyway? Regardless, this is a gem of the West Bottoms. Good home cooking, a cool atmosphere, a great reuben and a full bar. Sign me up.
[google-map-v3 width="350″ height="350″ zoom="12″ maptype="roadmap" mapalign="center" directionhint="false" language="default" poweredby="false" maptypecontrol="true" pancontrol="true" zoomcontrol="true" scalecontrol="true" streetviewcontrol="true" scrollwheelcontrol="false" draggable="true" tiltfourtyfive="false" addmarkermashupbubble="false" addmarkermashupbubble="false" addmarkerlist="Jerrys Woodsweather Cafe, 1414 West 9th Street, Kansas City, MO{}restaurant.png" bubbleautopan="true" showbike="false" showtraffic="false" showpanoramio="false"]