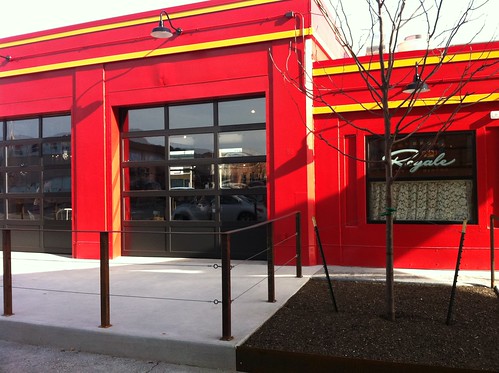 Todd Schulte, proprietor of the esteemed Columbus Park cafe, Happy Gillis, has opened a special little spot in the West Bottoms that may just surpass his first venture in terms of style, menu and flavors. Housed in an extensively rehabbed gas station painted a jaunty shade of red, this place was put together carefully and tastefully. While not my personal aesthetic, I love the way this place looks on the inside; it's perfect for the neighborhood. The interior contains a wonderful mix of vintage and modern items. Beautiful old cafe tables, chairs, light fixtures, salt shakers and bud vases complement clean, white china, a sleek bar and the cotton towels that serve as napkins. Design-wise it lies somewhere between Victorian splendor and old West tavern.
A banquette along the back wall provides a space seemingly well suited to sipping drinks and nibbling on a little something. Interestingly, the menu is not well-suited to this use but I imagine that may change when the weather warms up and word gets out about this place.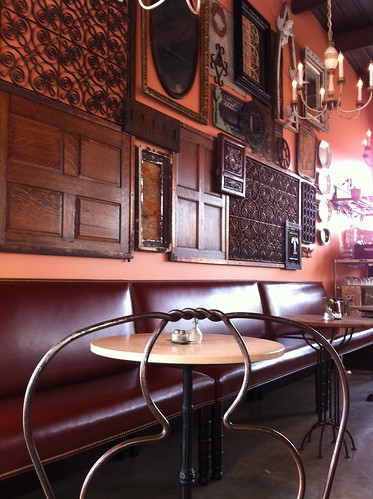 The West Bottoms is truly one of Kansas City's most unique environs, and I think Schulte and company were smart for snapping up one of the few remaining commercial spaces on Genessee street. Anchored by the R Bar a few doors down, the block offers the old school charm of the Golden Ox and the somewhat more lowbrow offerings of Grandma's Bar & Grill which has apparently filled a the void left by Connie's Genessee Inn. Apart from a few businesses and the Livestock exchange, most of the street has been subsumed by Kemper Arena in one way or another. Despite the weirdness of the area, I think it has a real shot at becoming a distinct dining and nightlife destination.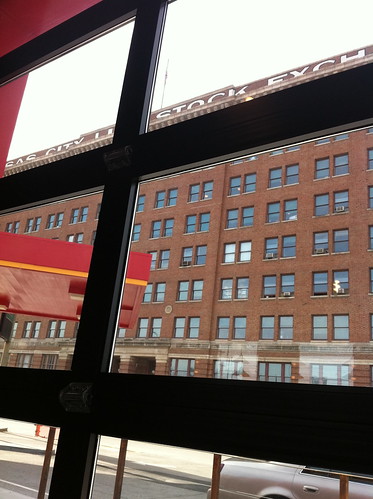 Only time will tell who precisely flocks to Genessee Royale, but right now it appears the be a prime spot for casual business lunches. During my visit, more than a couple tables had folks holding court over notebooks, papers and laptops while digesting their food. The crowd tended toward the middle aged and well-heeled, but frankly, who else would be eating lunch at 2 p.m. on a weekday? Who else, except me that is (I'm not quite middle aged yet!)
The menu itself is quite simple and relatively affordable despite the smallish portions. Lunch entrees aren't loaded up with filling side dishes like french fries but rather accompanied by a handful of subtly dressed greens or a tablespooon or two of homemade potato salad. Lunch items run between $6 and $9. To my mind they are perfectly sized portions but some hungry diners may want to consider one of Genessee Royale's excellent soups to start. Oddly the menu offers no appetizers or a la cart side dishes at all. I think they would benefit from a few small plates, particularly if they want to be any kind of hangout. Right now, the hours are not conducive for such use, as they only stay open until 4 p.m. Nonetheless, you can order a small selection of alcoholic beverages here: champagne cocktails, bloody marys, a few wines and (if memory serves) a couple of Boulevard products.
The food is clearly put together with a lot of care. The burger is excellent: freshly prepared, very well seasoned and juicy, with nice Bibb lettuce, compound butter and an English muffin bun. While the muffin was a tad dense and chewy as a hamburger bun, it was still a great English muffin.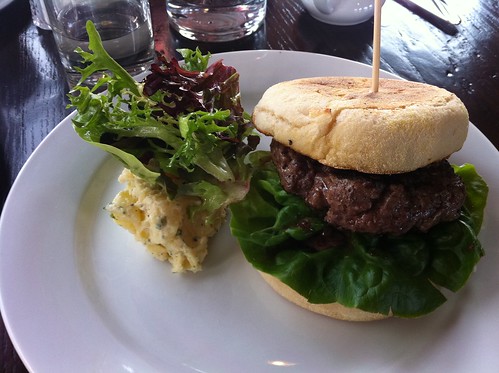 I also tried their version of biscuits and gravy which comes with a deliciously tender, fried chicken breast and a fried egg. While more cooked than the sunnyside up that was advertised, I loved the whole combo, almost enough to make me appreciate brunch. This is a perfect brunch dish.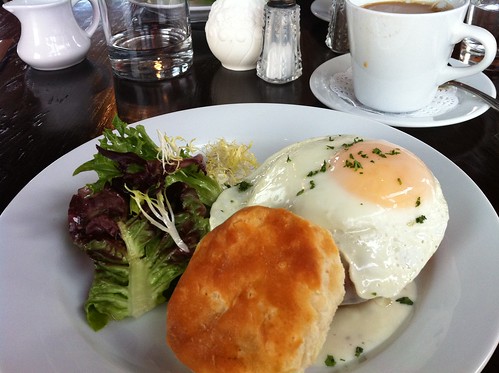 Their take on French Onion Soup ($7) was likewise inspired. The broth was rich without the characteristic dark, saltiness that plagues steakhouse versions of the stuff. Instead the soup played up the sweetness of the sauteed onion, offsetting it with a shelf of melted Gruyere and a homemade crouton.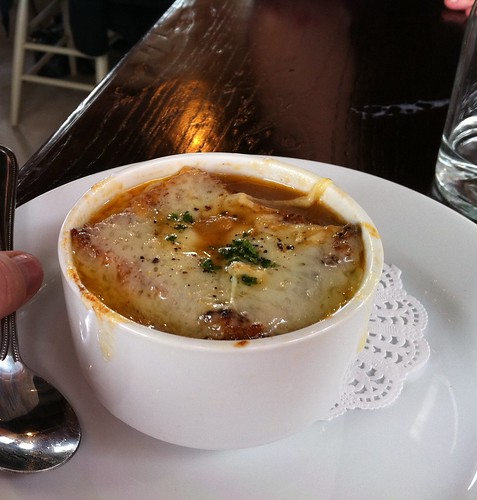 While the place is pretty lean and mean, I personally like that they are not biting off more than they can chew from the get-go. Rather the Royale serves as a more refined version of a luncheonette, a place where one wouldn't expect a wide-ranging menu but can still get a unique meal at a good price. Genessee Royale wouldn't be out of place in Brookside or Prairie Village in some ways, but the interesting context of the West Bottoms makes it a very appealing alternative for those living and working in the center city.


[google-map-v3 width="350″ height="350″ zoom="12″ maptype="roadmap" mapalign="center" directionhint="false" language="default" poweredby="false" maptypecontrol="true" pancontrol="true" zoomcontrol="true" scalecontrol="true" streetviewcontrol="true" scrollwheelcontrol="false" draggable="true" tiltfourtyfive="false" addmarkermashupbubble="false" addmarkermashupbubble="false" addmarkerlist="Genessee Royale Bistro, 1531 Genessee Street, Kansas City, MO{}restaurant.png" bubbleautopan="true" showbike="false" showtraffic="false" showpanoramio="false"]