Update: Now called iPho Tower!

I don't normally review chain restaurants on this blog, but as Mr. Ferruzza has pointed out, Pho Hoa is run much more like an independent restaurant. It fits nicely into the spectrum of Vietnamese joints on the near northeast side, and is perhaps a little hipper and more boisterous.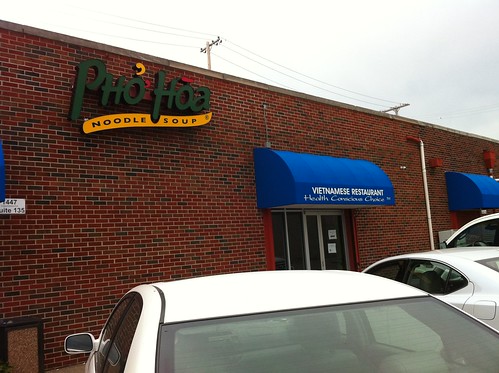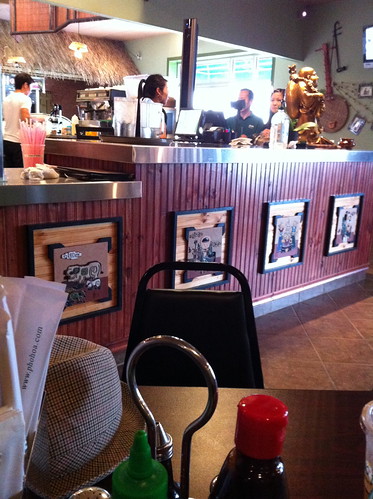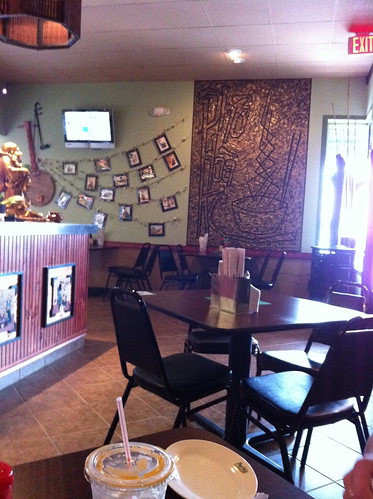 The decor is not necessarily modern but it doesn't incorporate the kitschy, old lady aesthetic that many Asian restaurants do. As many have noted, Pho Hoa is difficult to locate from the street, but that doesn't seem to have stopped many people from finding it. My visits have found it quite busy, patronized by youthful Vietnamese, curious suburban whiteys, students from the nearby medical college and even some older folks. The sea of tables in the main dining room creates quite the upbeat atmosphere, as do the host of young employees who seem to share all duties, from hosting and sandwich-making to food running and bussing. One fairly clueless server with a poor grasp of English took our orders, but we were equally attended by other workers who delivered our drinks, appetizers and food, and others still who delivered our check and we found them quick and friendly.
The house special banh mi is quite delicious, although a little too sweet for my taste. Having tasted a similar version from Kim Long's I find I prefer that sandwich.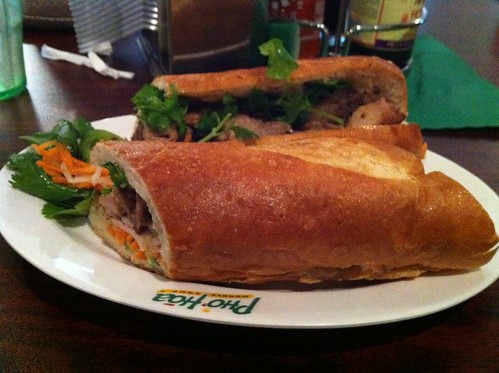 The namesake Pho was good, and featured the best treatment of tendon that I have ever tasted. We were disappointed not to see the accompanying plate of bean spouts and herbs that always come with Pho, undoubtedly an oversight due to the busyness of the place and the odd division (or lack of division) of labor.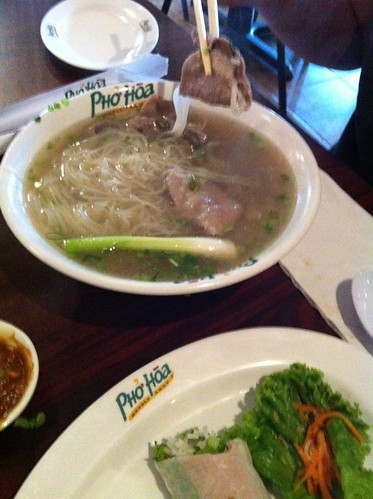 The food all came out at different times, and the Pho was last, making it less desirable to ask for the accompaniments since we were already full. Indeed my partner received her drink almost immediately while I waited quite a while for my avocado shake. I made it through an order of spring rolls (they call them summer rolls) before I received it. The shake was only slightly sweet, but silky, rich and delicious. The avocado flavor was not particularly strong but I really enjoyed the beverage and would order it again. In general, I was a little disappointed at not receiving our dishes in any order that made sense.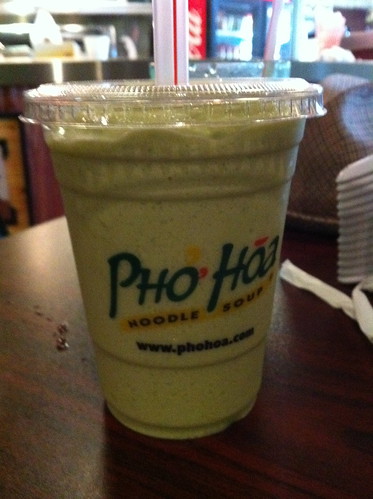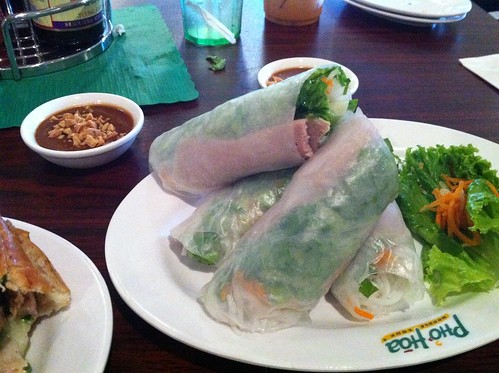 Nothing at Pho Hoa struck me as being any better looking or tasting than other Vietnamese spots in Columbus Park. The selection of banh mi is a selling point for sure, but better Pho can be had almost anywhere else in town, particularly Hien Vuong in the City Market, Vietnam Cafe and Sung Son in Westport. I feel likewise about the spring rolls and the banh mi. But Pho Hoa does offer all these items under one roof and in a perfectly acceptable style.


[google-map-v3 width="350″ height="350″ zoom="12″ maptype="roadmap" mapalign="center" directionhint="false" language="default" poweredby="false" maptypecontrol="true" pancontrol="true" zoomcontrol="true" scalecontrol="true" streetviewcontrol="true" scrollwheelcontrol="false" draggable="true" tiltfourtyfive="false" addmarkermashupbubble="false" addmarkermashupbubble="false" addmarkerlist="Pho Hoa Noodle Soup, 1447 Independence Ave, Kansas City, MO{}restaurant.png" bubbleautopan="true" showbike="false" showtraffic="false" showpanoramio="false"]