I made a weekend jaunt out to Philos Grill recently with high hopes. The admittedly scant information I dug up about it indicated that this place dished out tasty, Greek-inspired diner food from a counter. Located on the city's east side on the once-great thoroughfare of Truman Road, I expected an old school joint and I got it.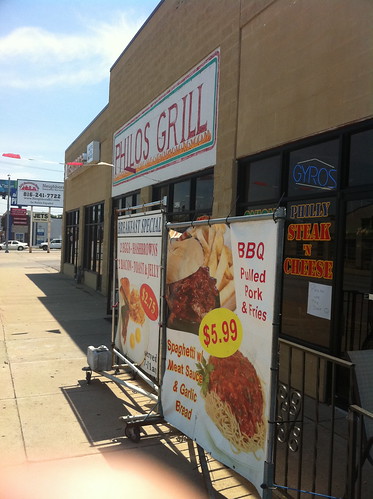 The place is a classic urban pit stop, featuring a huge menu and a confoundingly schizophrenic interior.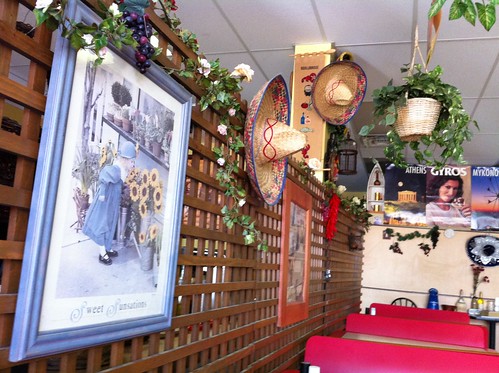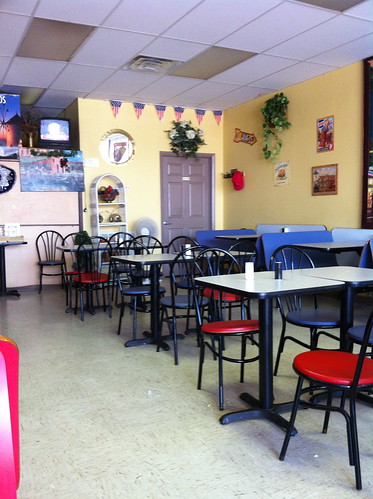 The walls are covered with a combination of handwritten signs, promotional materials straight from food vendors, cheap European tchotkes, and faux nostalgic elements including a huge mural featuring Marilyn Monroe, James Dean, Humphrey Bogart and a crazed Elvis in a sort of re-imagining of Edward Hopper's Nighthawks.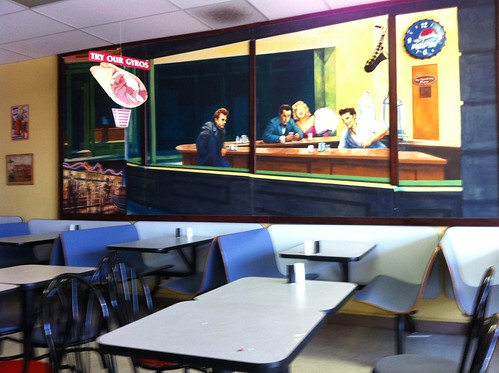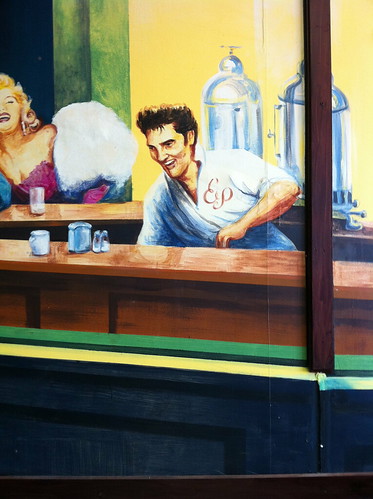 Adjacent to the counter is a small area with condiments, a small tabletop ice machine and the cheapest plastic utensils known to humankind. There is no beverage fountain, just a cooler of Coca-Cola and a few random off-brand sodas. There are also several arcade games, at least one of which was out of order on my visit.
The gentleman at the counter, who I can only assume was the owner, was a surly sort, not one to make small talk or sell you on anything from the extensive menu. And boy what a menu. It offers everything you'd expect like gyros, Greek salads, burgers, and chicken wings but also strays into dubious territory with offerings like spaghetti, steak dinners and pulled pork. My take on Philos Grill is that the owner falls for every new product that his Sysco sales rep pitches to him. I saw slick posters for a ton of menu items that are likely purchased already made, frozen, bagged or cryo-vacced, and heated up to order. There is no way the Grumpy Greek is smoking meat or aging steaks. To me, this was a warning sign that I was going to get mass-produced, premade food.
So I ordered a gyro, seeing the skewered Kronos gyros meat cone behind the counter. Some salad, some hummus rounded out the meal. Once it arrived, delivered after a perplexing 15 or 20 minutes in flimsy styrofoam containers I was admittedly disappointed. I recognized not just the meat, but the pita as being a packaged, frozen product. I'll bet the tzatziki sauce came from a jar too. The Greek salad was comprised of iceberg lettuce (perhaps prewashed, from a bag) topped with a mushy stuffed grape leaf, a couple of black olives and some onions and stuff. The gyros and the salads were both dusted with smoked paprika, a bitter and offputting element to say the least. The paprika, mixed with the brownish dressing created the appearance of eating a salad well-past its prime, despite the fact that the lettuce was sufficiently crunchy and fresh-tasting.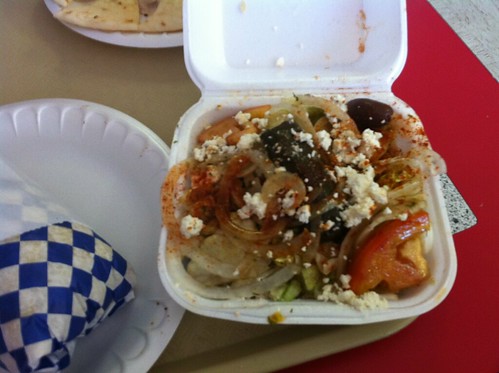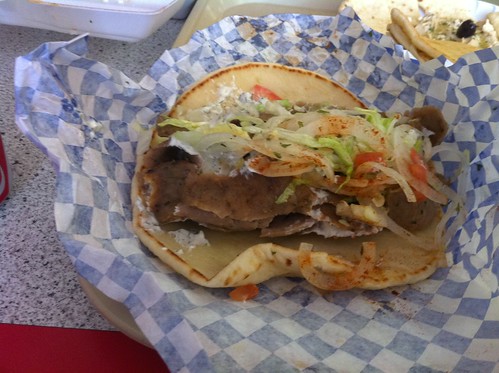 The restaurant was also pretty dirty, not something I normally like to complain about. But the owner had at least two guys there on the payroll to buss tables and stock the condiment area. The floor and half the tables in the joint had food detritus on them. A couple of ancient televisions rounded out the ambiance, playing an infomercial through a staticky haze.
Philos Grill is old-school for sure, but it represents a class of restaurant that we would just as soon forget. There is ample opportunity for a reasonably priced counter service diner in this neighborhood, and Philos may in fact be doing very well, but they can do a lot better.
[google-map-v3 width="350″ height="350″ zoom="12″ maptype="roadmap" mapalign="center" directionhint="false" language="default" poweredby="false" maptypecontrol="true" pancontrol="true" zoomcontrol="true" scalecontrol="true" streetviewcontrol="true" scrollwheelcontrol="false" draggable="true" tiltfourtyfive="false" addmarkermashupbubble="false" addmarkermashupbubble="false" addmarkerlist="Philos Grill, 4127 East Truman Road, Kansas City, MO{}restaurant.png" bubbleautopan="true" showbike="false" showtraffic="false" showpanoramio="false"]