Oh man, this place is pretty damn good. I was really, really, really surprised because from the road it looks like pure suburban douchebaggery.
It's in a pretty nondescript strip mall on Quivira south of Shawnee Mission parkway. Now, whenever I see BBQ in the KC area, I go. And to be frank, I had not heard of Bates City BBQ before, though i think there is a Bates City, Missouri out east of here somewhere.
This place has tremendous character. Yes, they try kinda hard, but they succeed. The first thing I noticed driving up was a sign advertising gennesee beer. You just don;t see Genny in these parts, and it was a legendary quaff among me and my associates in college. Of course, so were a dozen other cheap ass beers. Anyhow, the sign was cool, and the outside of the restaurant featured enormous stacks of wood piled high next to the entrance. I knew that they were doing some serious smoking in this place.
Inside, the service counter was basically a testament to the homespun wisdom of some guy named Tom. Probably the owner of the establishment. Anyhow, the walls and columns around the counter line are riddled with sayings written on torn pieces of brown paper bag. There were so many it's hard to remember, but here are a couple:
"If at first you don't succeed,
You're average" — Tom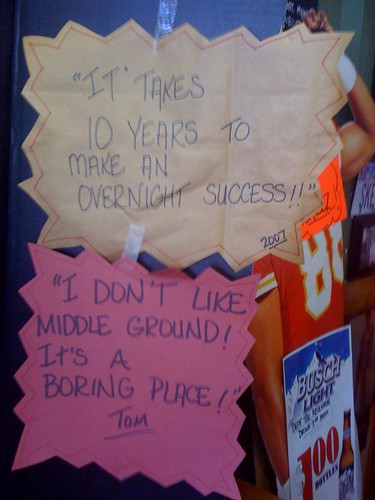 "Remember that half the people you know are below average" –Tom
I recall these particular sayings because I was enamored with Tom's obsession with putting people in their place. Tom is saying 'get over it people, you're not so great, you're just friggin' average! Deal with it!' This resonates with me because it's one of the unofficial themes of my life. Not that I'm average, just every one else is.
Anyway, I got a real kick out of these sayings although many of them flirted with redneckery ("The smartest thing a man ever said: 'Yes Dear'"). The places just oozes with a sense of humor. The styrofoam cups picture a steer and a pig, arm-in-arm around a fire, smiling like sonabitches.
The places smells delicious and is quite affordable. I purchased a nice sized sandwich, fries and soft srink for 7 bucks and change. The beef was very well flavored, featuring a mighty impressive smoke ring. I could have done without the sesame roll it came on. Where's the white bread, Tom? They are very liberal with the sauce on the sandwich, so be sure to ask for it dry if that's the way you roll.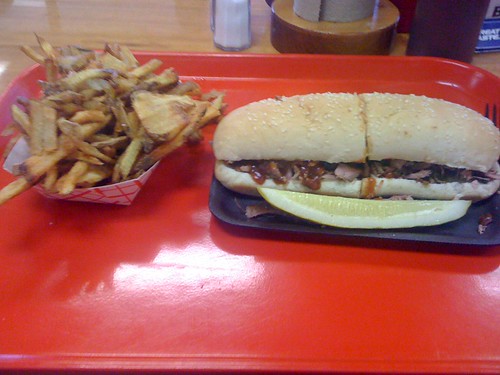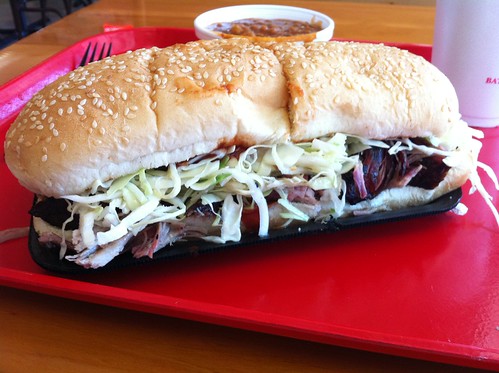 The fries were short little crunchy nuggets, kind of like the ass-end of the fryolator. But they were surprisingly delicious and I think this is deliberate. They are a pain to eat w/o a fork though.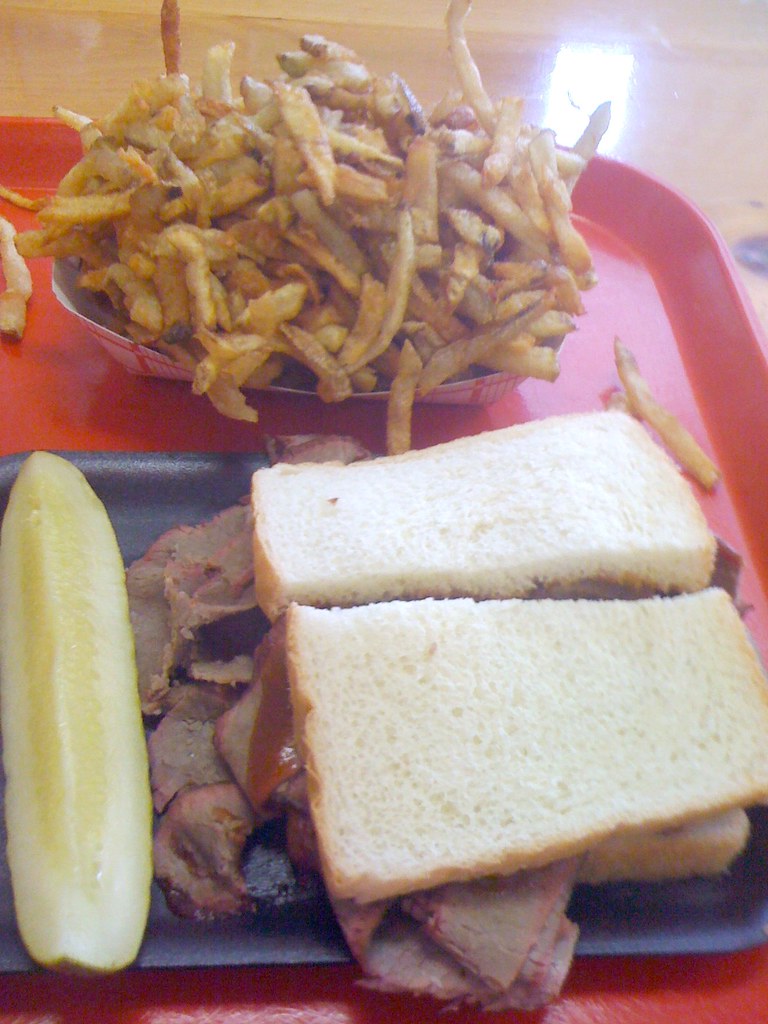 The sauce was pretty solid. Typical KC stuff here: sweet, thick, tangy, well-flavored. Not in the pantheon of sauces, but very pleasant. The place really advertises its ribs a lot, they must be a favorite. The guy next to me in line got them, and they looked a little overcooked, and again, definitely oversauced. Contrary to popular belief, rib meat should not fall off the bone. That usually means it was finished in tin foil or (*shudder*) par-boiled before smoking. But I'll reserve ultimate judgment until I actually eat the damn things. And I will, because I'll be back.
The clientele is kind of what you'd expect for a Shawnee, Kansas BBQ joint. I think my nondescript Toyota was having serious inadequacy issues parked in between two cocktacular pickup trucks the size of humpbacked whales. There were no women to be found in the place, just middle aged guys with mustaches. Let's just say that Bates City is not a place where I'm inclined to talk politics.
Read more:

[google-map-v3 width="350″ height="350″ zoom="12″ maptype="roadmap" mapalign="center" directionhint="false" language="default" poweredby="false" maptypecontrol="true" pancontrol="true" zoomcontrol="true" scalecontrol="true" streetviewcontrol="true" scrollwheelcontrol="false" draggable="true" tiltfourtyfive="false" addmarkermashupbubble="false" addmarkermashupbubble="false" bubbleautopan="true" showbike="false" showtraffic="false" showpanoramio="false"]