This visit lay to rest one of the rumors I've heard my entire adult life, but somehow never quite believed. It goes something like this:
Chinese restaurants cater so much to their American clientele such that they dumb down the food on their menu. But, unbeknownst to non-Chinese, there is always a Chinese version of the menu that contains more authentic (and delicious) dishes intended for a more refined Chinese palate. Certainly I've been to these restaurants before and seen platters of completely unfamiliar and sometimes odd food being delivered to Chinese patrons. An alternate version of the theory proposes that native Chinese can just order "whole fish" or merely ask for what's good that day and get treated to a custom made feast.
I tended to disbelieve these rumors because misconceptions about Chinese persons and their food run rampant. I can't tell you how many reviews I've read that insist that such and such restaurant serves dog or cat, or they practice highly unsanitary food handling, or they skimp on quality because they think Caucasian diners won't notice. The "secret menu" idea just seemed like a paranoid white person's way of saying "they only serve the good stuff to the Chinese."
Well, I'm happy to say that Chinese menus are indeed real. Real credit for turning me on to this revelation goes to commenter Tze Yuin who encouraged me to try Lucky Wok, and the ever-respectable, eloquent and refined Ulterior Epicure who has an absolutely essential post on great, authentic Chinese dining in Kansas City. In fact, skip the rest of this post and just read his. He is much more knowledgeable than I am, though far less likely to bring up Knight Rider, Schlitz Malt Liquor, or Englebert Humperdink than me.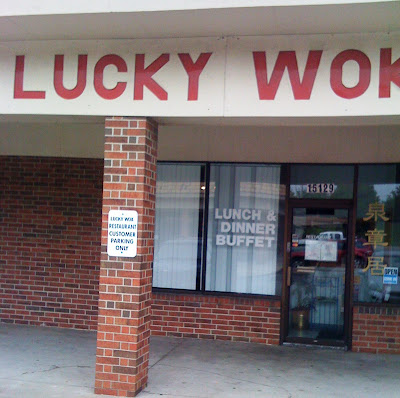 So yeah, I walk inside Lucky Wok only to be greeted by the most pedestrian Chinese buffet I have ever seen. The usual assortment of beige, deep fried nuggets are on display accompanied by the requisite orange and red sauces that could double as dessert toppings. I realize these things have their appeal, but so does port wine cheese spread. The woman at the counter seated me, assuming I wanted the buffet. I asked to see a menu and she handed me a tome that offered the typical Amero-Chinese delights: Egg Foo-Yung, Sweet and Sour everything, Lo Mein, and various other things that are synonymous with "deep fried pieces of meat with sweet technicolor sauce."
Then I asked if I could see the Chinese menu. She didn't bat an eye and immediately handed over an only slightly smaller booklet which offered a completely different set of dishes. Seriously I cannot overstate the disconnect between the regular menu and the Chinese menu. This was stuff that looked delicious, stuff I found vaguely disturbing, stuff I couldn't understand and most importantly, stuff I had never heard of.
The menu was split into categories: soups, noodles, Hong Kong style dishes, seafood, beef, pork, chicken–possibly a couple others. I ordered Hot & Spicy bean curd and Double Delight Soup.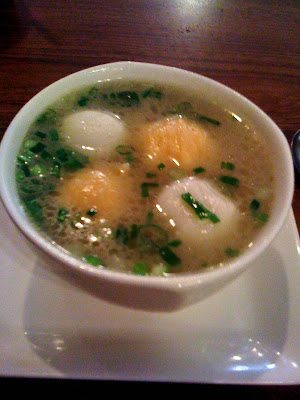 The soup ($2.25) was beautiful to behold and pleasing to the taste buds. Two varieties of ground fish cake floating in a mild chicken broth. It was delicious, though a tad on the fish-tastic side for most Western tastes I'll warrant. The broth was pleasantly greasy and not overpowering–clearly house made.
The tofu dish ($6.95) was a little more run of the mill than I expected. I could have been more adventurous in my choice of dishes for sure. This was basically a stir fry with tofu, green peppers, pork, hot peppers and straw mushrooms. Yes, there was pork in the tofu dish, no one ever claimed it was vegetarian.
So it wasn't an overwhelmingly unfamiliar flavor at all, just a simple stir fry with good, fresh ingredients (well, the mushrooms were likely canned) and I couldn't stop eating it. So sorry, no bizarre flavors here folks. In fact, many of the dishes on the Chinese menu seemed like they would appeal to many gringos. I say these restaurants should publicize these menus more and expand their client base. Or not. Personally I like the feeling of eating something really special while fat guys with mustaches are eating egg rolls from a Sysco bag and sweet & sour sauce squeezed out of a pouch. The portion was outstanding, easily enough to have leftovers the next day.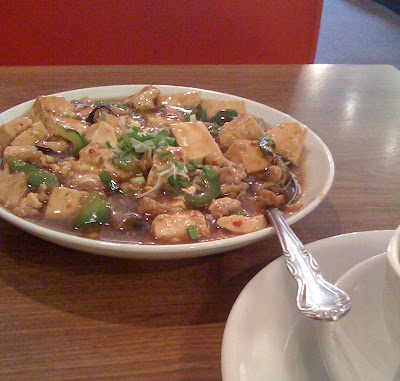 The service was truly wonderful. It was absolutely no trouble to order from the menu during lunch buffet hours and didn't mind when I asked for the Chinese version. The food came out quickly and was so freaking hot that I could hardly eat for 5 minutes.
The decor is pretty typical and unremarkable. Red vinyl booths, some gold-accentuated artwork. Nothing fancy, nothing particularly tasteful as far as I'm concerned, but this is a lunch joint. The taste needs to be on the plate, not on the wall.
So overall, an outstanding experience. I can't thank Tze Yuin enough for his her recommendation and encouragement to move into uncharted territory for me. Seriously, from now on, I'm asking for Chinese menus at Chinese restaurants. I don't care if I risk looking like a pompous douche or a creepy asiaphile. It really makes all the difference.
Read more:
[google-map-v3 width="350″ height="350″ zoom="12″ maptype="roadmap" mapalign="center" directionhint="false" language="default" poweredby="false" maptypecontrol="true" pancontrol="true" zoomcontrol="true" scalecontrol="true" streetviewcontrol="true" scrollwheelcontrol="false" draggable="true" tiltfourtyfive="false" addmarkermashupbubble="false" addmarkermashupbubble="false" addmarkerlist="15129 West 87th Street, Lenexa, KS{}restaurant.png" bubbleautopan="true" showbike="false" showtraffic="false" showpanoramio="false"]