While I like Burrito Bros., I honestly don't understand the success of chains like Chipotle, Qdoba, Pancheros and their ilk. It's like a festival of blandness; the meat never tastes like much, the salsas are always disappointing, and everything comes on a damn flour tortilla. Not to mention the fact that real Mexican restaurants do this stuff way better for the same price. It just seems like a cheap way to deliver a shit-ton of food into your system. Of course, midwesterners love it.
Burritos also have this college studenty, dumbass vibe that I really don't care for. To be more precise, burritos are like wraps for hippies.
So naturally I put off going to Burrito Bros. for a while even though response around town has been quite positive. I just don't understand the great appeal of the concept.
Indeed comparisons to Chipotle abound, and it makes sense. The menu at Burrito Bros. is similar in its Mexican-inflected simplicity to the increasingly ubiquitous fast food powerhouse.
Burrito Bros. is located on the west side of the market complex. I'm trying to remember what previously occupied the space? Was it perhaps a weird gift/souvenir shop? Somebody refresh my memory here. Anyhow, the space is pleasant enough with an organge-ish interior and a few tables. Here is a terrible photo of the menu board.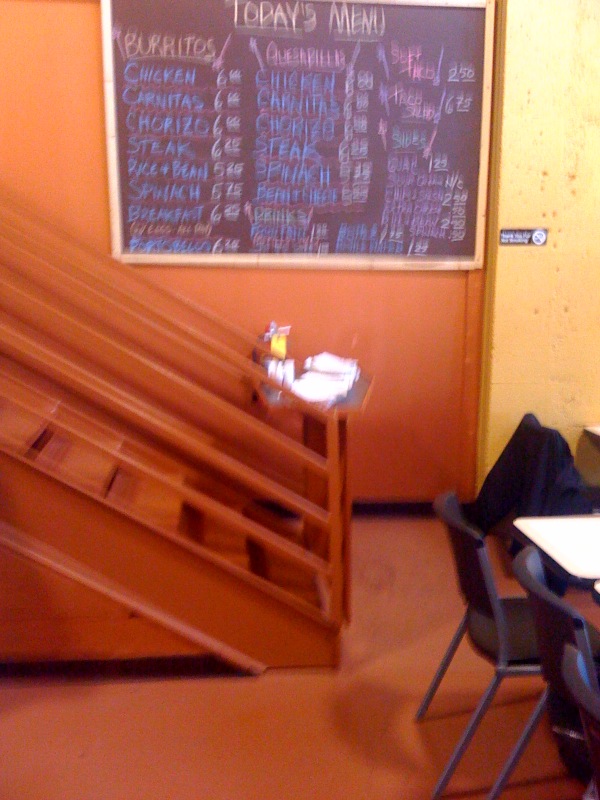 They have burritos, tacos, quesadillas, taco salads and that's about all. They toss in a nice handful of chips with every order. Everything has good, if not overpowering flavor. The pico cuts through nicely and is highly acidic. I enjoyed the carnitas burrito on my last visit. It was large, easily enough food for one person and then some. I didn't finish the whole thing, and I am kind of a pig.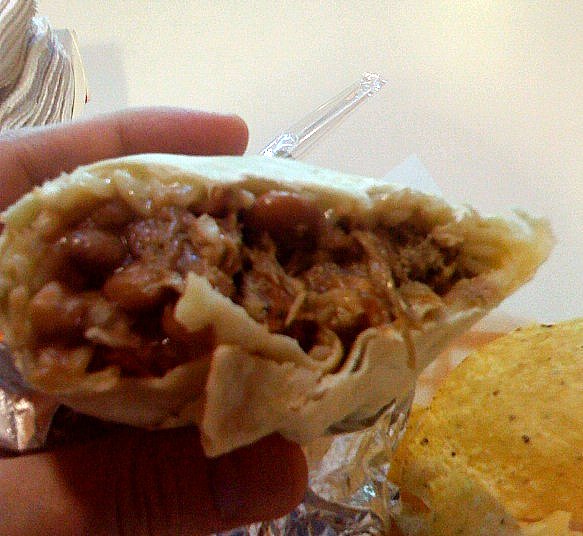 So in a word, it's good. It is exactly what you would expect in terms of food and flavor. If you like Chipotle, you will like this. Moreover it is locally owned and a thousand times more worthy of your business.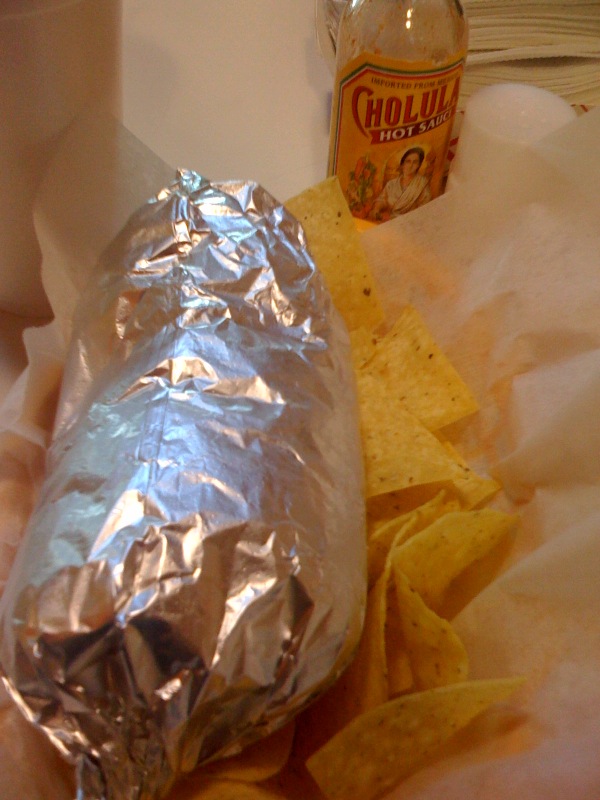 This is the epitome of a small, family run joint. These guys are taking the restaurant very seriously, but they are also having a good time. They are planning some more signage for the exterior, and perhaps some outdoor seating for the warmer months. I say "perhaps" because I was eavesropping and didn't get all the details. Burrito Bros. also has a Twitter account, a nice developing trend; I like knowing that you can connect with the business in that manner if you want. They also shot a video for youtube on their opening day back in October 2008. Unfortunately the shaky cam and overly loud Brazilian(?) soundtrack make it virtually unwatchable, but I appreciate the effort.
However like any small business owners I think you can see a little fear in their eyes. Will this venture work out? Frankly I'd be scared shitless given all the decent local restaurants that have gone out of business recently.
But Burrito Bros. has reason to be hopeful. The menu is small and items share a lot of the same ingredients. That means a smaller world of ingredients to purchase, store and prepare. The hours are limited to lunch time right now. Being open 11-3pm is not ideal for the long term, but it certainly keeps them from having to pay someone to stand there all night without any business. The traffic they get from the market should be substantial when warmer climes come around. They were smart to open early and take a while to figure things out before it's showtime this summer.
According to their website the owners also use other City Market vendors to procure a lot of their produce and foodstuffs. Considering the number of people who work in the Market, I'm sure they are generating plenty of good will that should result in more burrito sales. Lastly, these are really nice people. They talk to everyone who comes into the place and I genuinely believe that they want to serve good food and make their customers happy.
Oh, and this guy really likes their guacamole:
My only real complaint? Styrofoam cups. It's amazing how prevalent they are in this day and age, but let's wait until they start making a buck or two before pressuring them to change to a more environmentally conscious product.
Read more:
[google-map-v3 width="350″ height="350″ zoom="12″ maptype="roadmap" mapalign="center" directionhint="false" language="default" poweredby="false" maptypecontrol="true" pancontrol="true" zoomcontrol="true" scalecontrol="true" streetviewcontrol="true" scrollwheelcontrol="false" draggable="true" tiltfourtyfive="false" addmarkermashupbubble="false" addmarkermashupbubble="false" addmarkerlist="Burrito Brothers, Main Street, Kansas City, MO{}restaurant.png" bubbleautopan="true" showbike="false" showtraffic="false" showpanoramio="false"]