I first heard about Georgetown Pharmacy from the Pitch's Fat City blog a while back. I recall Charles Ferruzza giving it a brief shoutout but for the life of me I cannot locate the post on the site. For anyone who has tried to search for anything on the Pitch's Web site, you are familiar with this problem. Nonetheless I did find the piece in which former Fat City blogger Owen Morris claims Georgetown Pharmacy has the 6th best milkshake in town earlier this summer.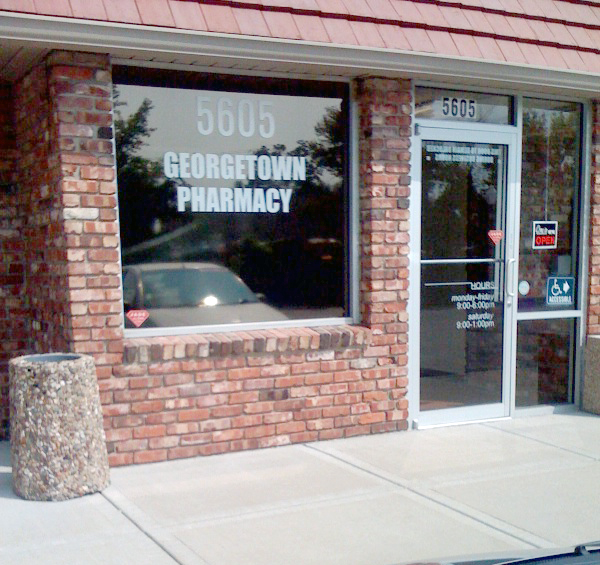 Always intrigued by the entire notion of soda fountains, I decided to pay a visit recently. Heading up Merriam Drive I blew right by the place, a long, low nondescript brick building next to an auto repair shop.
This is not a pharmacy in the Walgreens or CVS sense of the word. While a genuine drug-dispensary, this place also specializes in medical supplies like wheelchairs, oxygen tanks, colostomy bags, compression stockings and male impotence pumps. No toys, cigarettes, celebrity magazines or lawn furniture. There is however a small display of 15 year old greeting cards.
At the back of the pharmacy is the entrance to the soda fountain, a curious little space that bears almost no resemblance to the drug store counters of yore.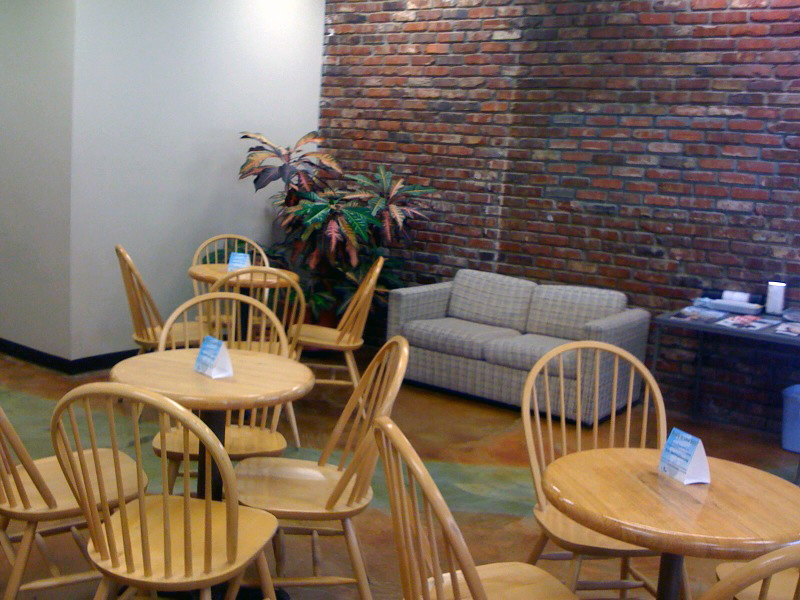 .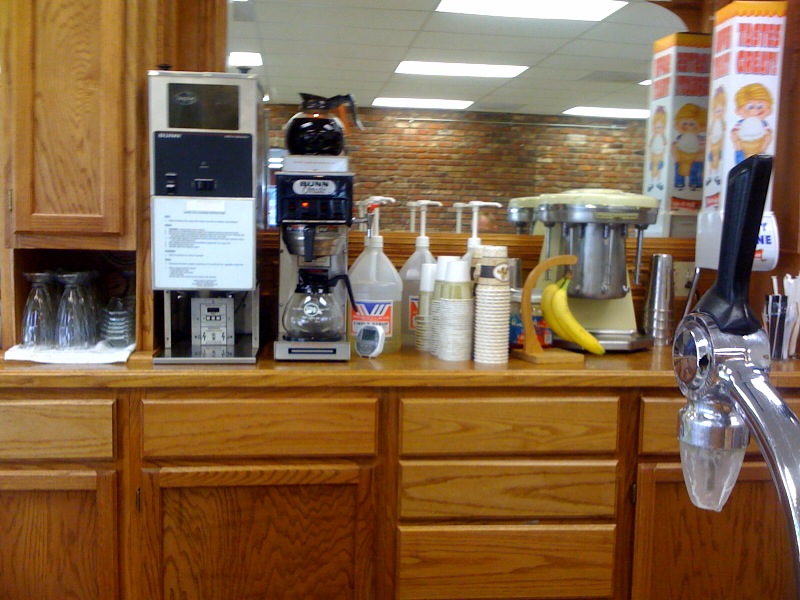 The preponderance of blond wood, the laminate countertops and the presence of mass produced Coca-Cola paraphernalia modeled after old advertisements belie the claim that they have "re-created an old time soda fountain" (from their website). While there are a handful of chrome bar stools, the sitting area looks like a corporate breakroom or the waiting area of a doctor's office. Indeed the entire space seems to have been decorated with items procured from the TJ Maxx housewares section.
At the stroke of 12 noon there were two lone customers in the joint. This place was not bustling, it was barely moving. A teenage girl stood attentively but meekly behind the counter. The sheer stillness of the room was punctuated only by some canned 60's hits subtly piped in on an overhead speaker. While there, I was treated to the Beach Boys, Beatles, Chuck Berry and an inexplicable cover of "You are my Sunshine" by Anne Murray.
A couple of dry-erase boards on the wall display all of their menu items. They offer a dizzying array of old school soda fountain drinks like phosphates, malts, shakes and egg creams. The food menu is more of an afterthought: burgers, brats, hot dogs, chicken salad.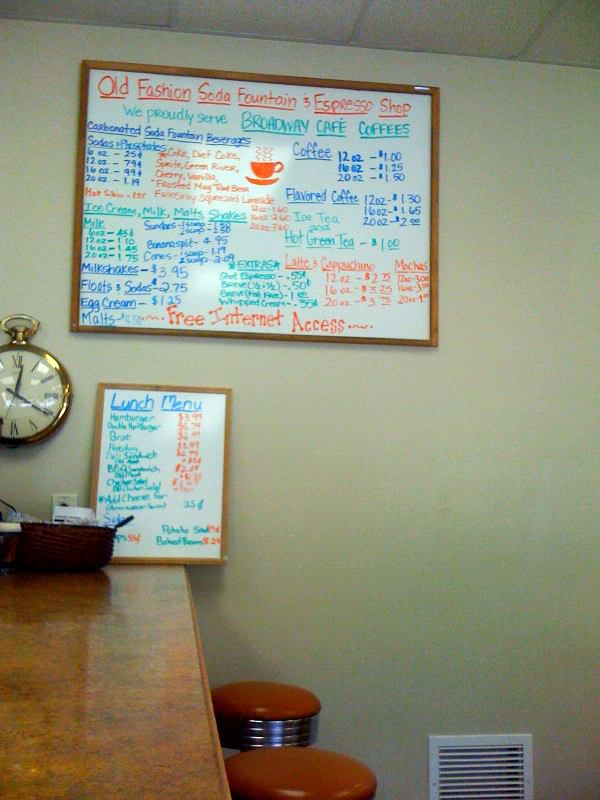 I ordered a cheeseburger and was somewhat surprised to see the girl fetch a frozen patty from the back room and walk it out to a small patio beyond the side entrance. There she put the burger on a small gas grill and came back to make my chocolate malt.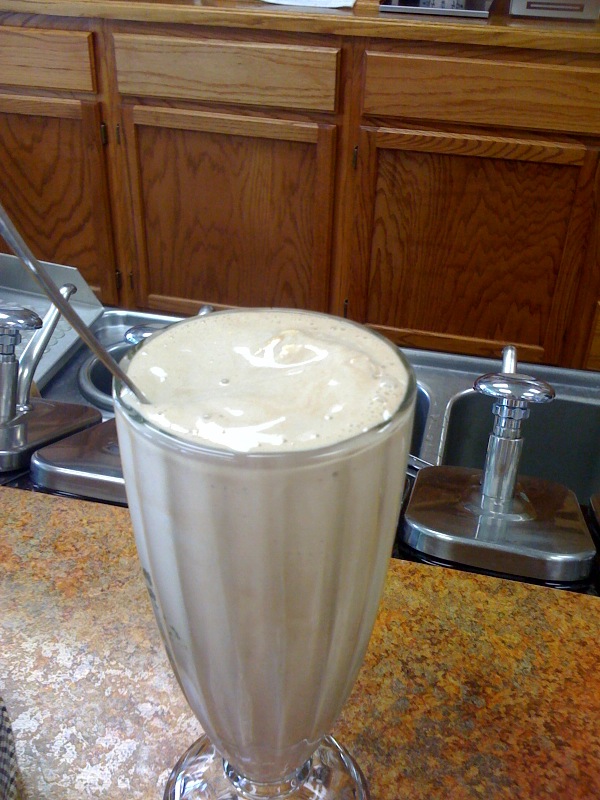 While I'm no aficionado, the malt didn't really float my boat. It tasted pretty good, but there were some large lumps of semi-solid ice cream in the glass in addition to streaks of dry malt powder. It simply was not blended sufficiently. The portion was hefty, but it should be for $4.50.
The girl made another trip or two out to the grill, finally bringing back the burger. She then asked me what I wanted on it. Then she took it to the back room for 5 minutes applying lettuce, tomatoes and pickles. Realizing there was no ketchup on the table, I asked for some and was treated to a couple of Hunt's packets. This will shock you, but the burger was pretty awful. The already suspect frozen patty had been cooked to death and wasn't improved by the cheap grocery store bun or the paper plate.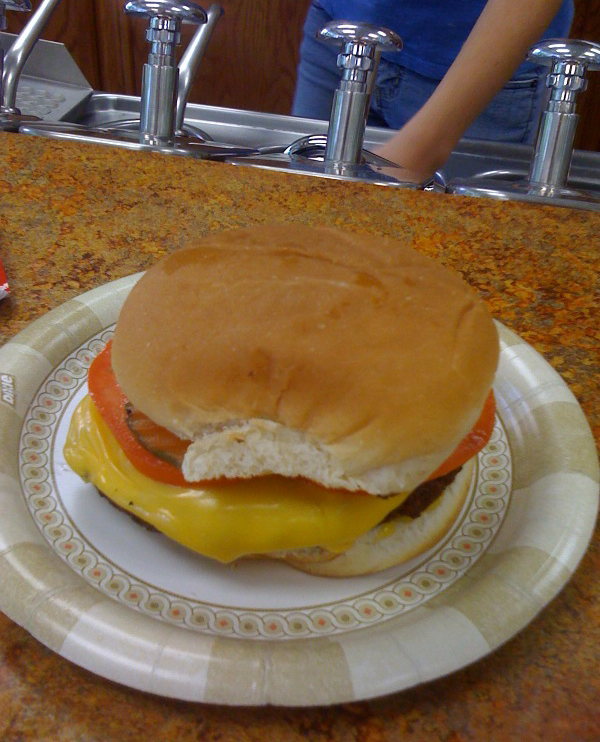 Frozen patties just don't taste good, people. They have a rubbery consistency and almost nonexistent flavor. This was basically the kind of burger you get at a high school football game. Not gross, but not that good.
I can't really explain this business. Clearly the pharmacy side of things is successful enough. No doubt the owners are justifiably excited about having a working soda fountain allied with their business. Unfortunately, the atmosphere is just plain odd. It's not genuine retro, not even mock-retro but rather some sterile approximation of grandma's kitchen. While clean and spacious, it's not a comfortable place to hang out. I can see how it would be nice to stop by and grab a milkshake or ice cream cone on a hot weekend day. Indeed I think it is an asset to the neighborhood because of that fact.
This place doesn't need to do lunch. Apparently they don't even have a working stovetop or grill, so why are they trying to make burgers and brats? There really is very little thought evident in the whole food enterprise and I can't recommend it, particularly when there are better places like Pollo Loco, Grandstand and El Pulgarcito so close by.


[google-map-v3 shortcodeid="10cc7894″ width="350″ height="350″ zoom="12″ maptype="roadmap" mapalign="center" directionhint="false" language="default" poweredby="false" maptypecontrol="true" pancontrol="true" zoomcontrol="true" scalecontrol="true" streetviewcontrol="true" scrollwheelcontrol="false" draggable="true" tiltfourtyfive="false" enablegeolocationmarker="false" enablemarkerclustering="false" addmarkermashup="false" addmarkermashupbubble="false" addmarkerlist="5605 Merriam Drive, Merriam, KS{}1-default.png" bubbleautopan="true" distanceunits="miles" showbike="false" showtraffic="false" showpanoramio="false"]