Spin has operated three metropolitan locations for several years now, but they only recently moved into the urban core with the development of the shops and living quarters along Oak and Main that cater to UMKC students. This fourth location fills out the little burgeoning restaurant area south of the Plaza, strangely complemented by a few other Italian/Pizza joints like Minksy's, Il Centro, Pizza 51, and Accurso's which moved into the new strip mall away from its homey (demolished) location a block or so south.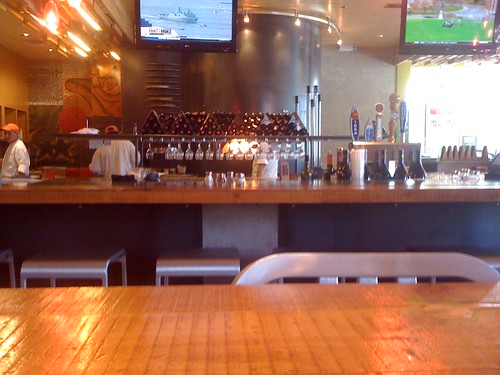 Interestingly enough, Spin appears to be competing well with these other pizza places in the area. They all have a slightly different niche after all. Spin is decidedly more upscale than Minksy's or Pizza 51, specializing in wood fired, hand tossed gourmet pizzas with interesting flavor combinations and a crisp, urbane atmosphere. It couldn't differ more from the low-brow comfort of Minsky's wooden booths and plastic beer mugs. There is no Taco Pizza at Spin.
For lunch, there is really one option, the so-called "Pizza Mia" which gets you one of their signature pies in 6-inch form along with any side salad or cup of soup (8.25). Personally pizza and soup seems like a mighty curious combination so I have always opted for pizza and salad which is a mighty fine pairing.
The service workflow is weird. You walk in and place your order with one of the eager young cashiers who take your money and give you a wooden number placard. Upon sitting down, a server brings out a glass of water and the beverage you ordered. If you ordered a beer, he will even pour it for you.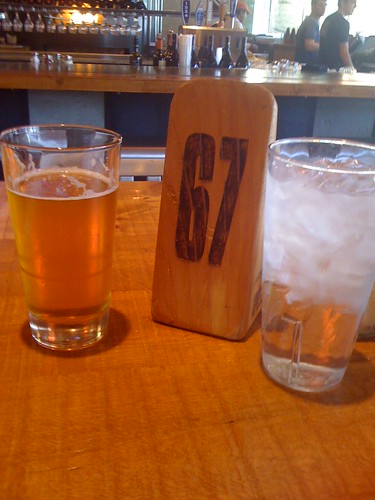 After a few moments, an entirely different server will bring your food. He will introduce himself, give you his name, ask if there is anything else you need. Hell, he will even clean up your empty plates after you finish. So basically, Spin is a full service restaurant except that you don't order from the waiter. But the waiter does everything else. You know what this means: give the goddamn waiter a tip.
The staff has clearly been trained to be uber-professional and chatty, not my favorite service aesthetic. But these folks are pretty much all college students and they do a nice job, despite being told to pucker up and kiss ass profusely.
The pizzas are mighty fine but not earth shattering despite what enthusiastic yuppies will tell you on Yelp and Urbanspoon. The crust is a little dense and doesn't cook well enough into the center to create a crunchy surface for the sauce and toppings. The toppings are certainly of good quality although I found the chicken sausage to be entirely too smoky and firm, kind of like a hickory farms summer sausage.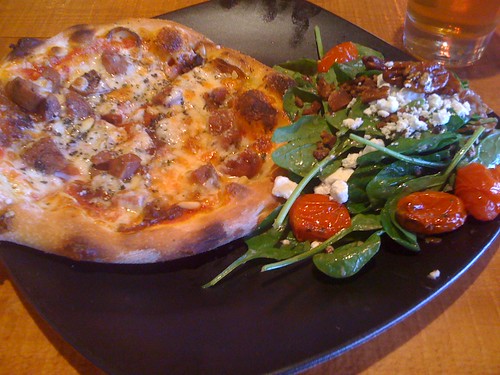 Salads are uniformly delightful and topped with high-quality ingredients if somewhat overdressed with pungent dressings. I haven't tried the soup or paninis, but I expect that they are similarly well-prepared and accompanied by forgivable flaws.
The space is clean and classy, featuring a cool false ceiling of wooden beams over the bar and a neat cinder block appliqué on the west wall.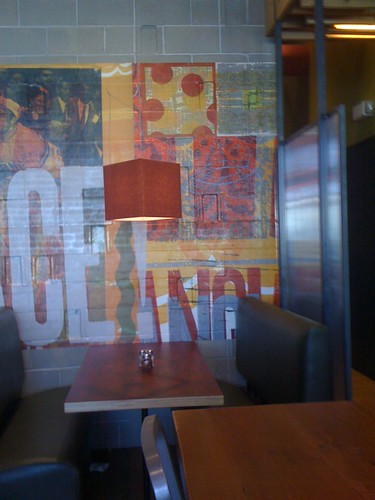 Spin gets pretty darn busy at the height of lunch hour, but the ordering system makes the process run pretty smoothly: no waiting for drink orders to be filled at the counter. There is plenty of seating at the bar or long tables for the solo diner.
All in all I have to say I'm pleased with Spin. It spits out uniformly good food that may not challenge your taste buds, but rarely disappoints. You can get a decently priced beer or bottle of wine with your meal, making it a viable option for that lesser but necessary meal, dinner, as well.
[google-map-v3 width="350″ height="350″ zoom="12″ maptype="roadmap" mapalign="center" directionhint="false" language="default" poweredby="false" maptypecontrol="true" pancontrol="true" zoomcontrol="true" scalecontrol="true" streetviewcontrol="true" scrollwheelcontrol="false" draggable="true" tiltfourtyfive="false" addmarkermashupbubble="false" addmarkermashupbubble="false" addmarkerlist="SPIN! Neapolitan Pizza Kansas City, 4950 Main Street{}restaurant.png" bubbleautopan="true" showbike="false" showtraffic="false" showpanoramio="false"]