LC's closed in early 2011 and the building is for sale.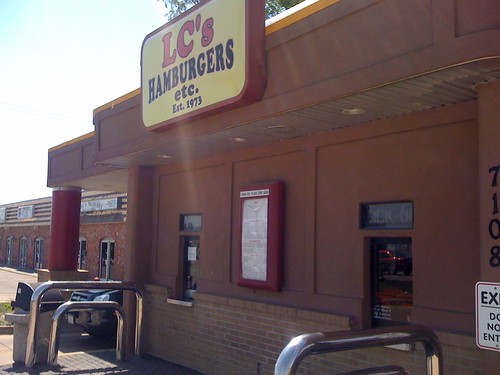 After several years in Kansas City, the northland is still pretty much a mystery to me. I am trying to get my head wrapped around it because, despite what many folks say, there are some good-looking lunch spots up there. Back in the early days of this blog, I wrote a post about burgers which is where I first heard about LC's (thanks Jason, ShawnF and whoever else!). There are actually two locations, an original spot on NW Prairie View road that has indoor seating and this place which is strictly a drive-through with a little outdoor seating.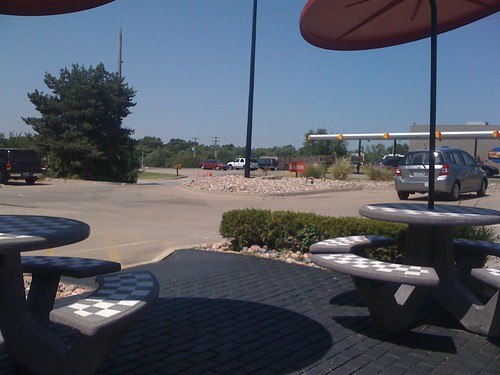 After eating a meal there, I'm tempted to recommend that you forego the outdoor eating experience. Even on a nice day, the picnic tables are uncomfortable and the view is depressing. Sure you can feel superior by eating at a locally owned joint while looking down your nose at people at the Sonic next door, but the bustle of North Oak Trafficway has little to recommend it.
I suspect that this building started life as a Checkers or Rally's if you can recall those pseudo-retro fast food burger joints that proliferated in the early 1990s. As a result the physical experience of LC's is entirely without charm. You order your food from a window that faces the street, and a somewhat grumpy cashier takes your money and gives you a number. I waited at least 15 minutes to get burgers and tots for two people. Your number gets announced at the side window facing the picnic tables where you go to pick up your paper bag. If you want ketchup, ask the dude at the window for some packets.
Ketchup packets are not my favorite way to enjoy a condiment that already on the threshhold of disgust for me. There's nothing like being hungry and trying to eat a burger and fries from a paper sack and having to open literally ten packets by the time you finish. Put a goddamn squeeze bottle up at the window or something, but leave the packets to Mickey D's.
Speaking of which, I found the whole experience very reminiscent of fast food–the paper bag, the styrofoam containers, little baggies for the onion rings and even the food itself which, while tasting eons better than fast food, did have its appearance.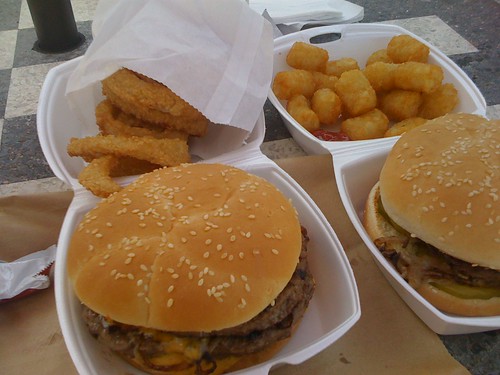 If you can keep your napkins and paper bags from blowing away in the wind, you might get around to tasting your food which is pretty good. I liked the burger quite a bit- it was greasy, salty and came on a lightly toasted bun with pre-applied condiments and grilled onions.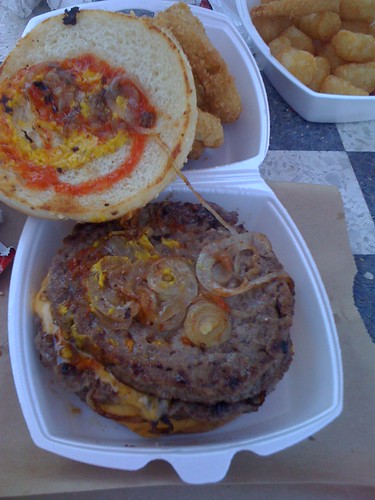 Both the tater tots and onion rings did not disappoint but aren't among the best you will have. Tater tots pretty much taste the same wherever you go, unless someone really screws up the frying or dumps cheese on them or something.
I guess the overall impression I got from this LC's was that it is comparable to a high-quality fast food place. I don't want to eat here very often, mostly because the location doesn't work for me and the eating situation is a little uncomfortable, but also because it seems like food you should feel guilty about consuming.
[google-map-v3 width="350″ height="350″ zoom="12″ maptype="roadmap" mapalign="center" directionhint="false" language="default" poweredby="false" maptypecontrol="true" pancontrol="true" zoomcontrol="true" scalecontrol="true" streetviewcontrol="true" scrollwheelcontrol="false" draggable="true" tiltfourtyfive="false" addmarkermashupbubble="false" addmarkermashupbubble="false" addmarkerlist="7108 N Oak Trfy KAnsas City, MO{}restaurant.png{}LCs Hamburgers" bubbleautopan="true" showbike="false" showtraffic="false" showpanoramio="false"]