This is a great little Vietnamese place, nestled somewhat off the beaten track in Columbus Park, just east of River Market. For downtowners, this is too far to walk for a quick lunch jaunt, but would be a relatively easy drive or bike ride.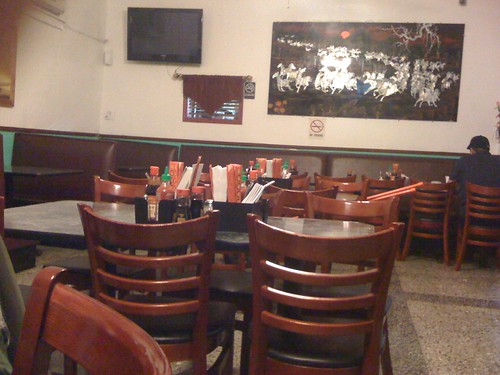 There are no frills here, and frankly I don't want them. One jackass on CitySearch went here for his birthday dinner: guess what, he didn't like it. Go to Sung Son in Westport if you want atmosphere and alcohol for twice the price. Vietnam cafe has something Song Son doesn't: people. Have you noticed that place is never full? Weird. Anyway, despite its uninspired decor Vietnam Cafe does a very nice lunch business. The staff is friendly and attentive, and food is served quickly, without flourish.
The menu features everything you want in Vietnamese place: Spring Rolls, Pho, Bun, Com Da and Salads and it's all good.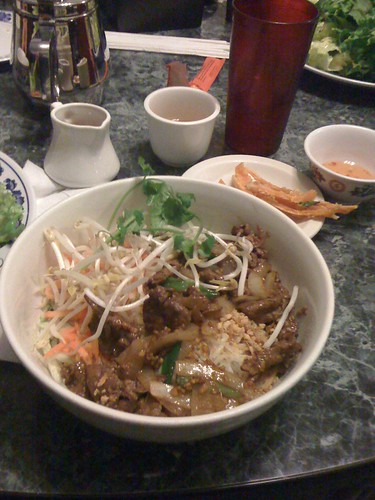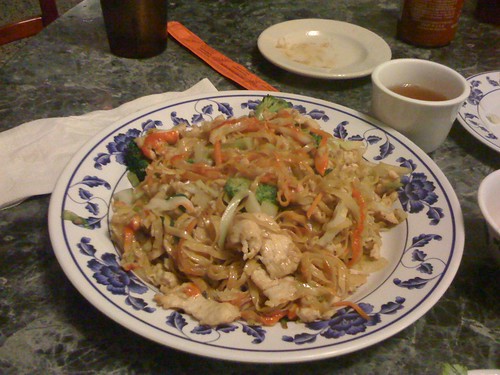 For those of you familiar with Vietnamese cuisine, this is a must-go type of place. For those who aren't, go back to your hot pockets and gas station fried chicken.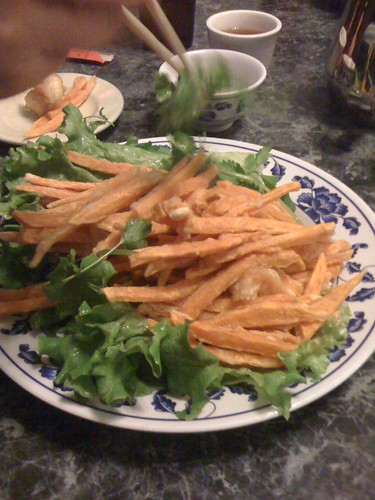 The experience here is a little more laid back than Hien Vuong in the Market which is akin to eating lunch in your Vietnamese neighbor's garage. I don't care for the term "people watching" but if that's your bag, this is a good place for it.
I am starting to realize that some KC folks are not particularly adventurous eaters, which is amazing considering the processed, packaged crap they serve at places like Sonic and Chili's. I know what you're saying: "but hey, those fried chicken, mashed potato and velveeta bowls they have at KFC are awesome!" Well, I'd rather have a fly in my soup than a mouthful of antibiotics, synthetically produced aromas, and red dye #12. Not to mention the preposterous combinations some of the chain restaurants devise. Applebee's, Fridays and the like always find a way to combine steak, bacon, melted cheese and creamy sauce in one dish, it's really out of control. Places like Vietnam Cafe don't test their dishes in laboratories, they have been tested by a thousand or so years of inventive, discerning and very hungry people. I'm not a hippie, it's just silly that people think Vietnamese food is "weird" when they will feed their children hot dogs from Target.
Despite this sentiment I detect among KC (and JoCo) populace, the success of BBQ in the city is testament enough to the fact that people will indeed support their local neighborhood hole in the wall when they see others doing it, and if there is a reason to be proud of it. KC doesn't have enough of these places.
Read more:
[google-map-v3 width="350″ height="350″ zoom="12″ maptype="roadmap" mapalign="center" directionhint="false" language="default" poweredby="false" maptypecontrol="true" pancontrol="true" zoomcontrol="true" scalecontrol="true" streetviewcontrol="true" scrollwheelcontrol="false" draggable="true" tiltfourtyfive="false" addmarkermashupbubble="false" addmarkermashupbubble="false" addmarkerlist="522 Campbell Street, Kansas City, MO{}restaurant.png" bubbleautopan="true" showbike="false" showtraffic="false" showpanoramio="false"]