I like this place. It's bustling, unpretentious, friendly and the food is very good though I've only had a couple things. Quick's is located practically next door to the glorious Boulevard Drive-in, making it a perfect joint to grab some take-out to bring to a summer double feature.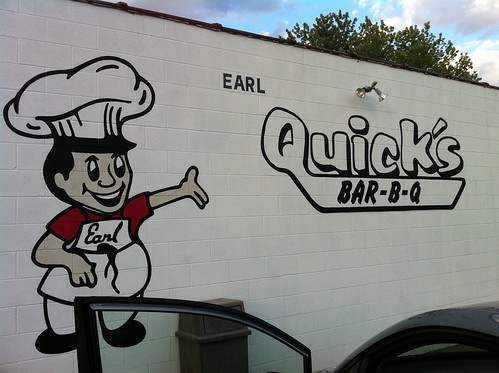 From what I've read, this establishment is not to be confused with Quick's 7th Street which by all accounts is vastly inferior, though located nearby.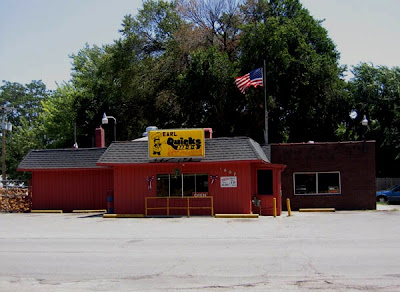 This is yet another BBQ joint with table service, but the interior is very casual. There is a counter up front as you walk in where you can sit if you don't want to deal with servers. I sat up there once and got to see the kitchen in action, the copious number of people coming in for take out, and the waitress smack-talk. As this was just before Thanksgiving, the owner was talking about making smoked turkeys for people to pick up on Wednesday. This service wasn't advertised anywhere, but Quick's seems to have enough regular customers that everyone is pretty well in the know.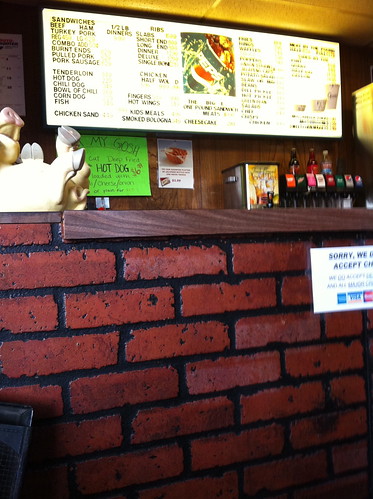 I've heard of places like Quick's, Rosedale and Woodyard referred to as "hillbilly barbecue" (as opposed to African American barbecue, presumably) and sure, the label fits. People were talking about pickup trucks after all. But just like Bryant's or Gates on a busy day, you will see people of all stripes and persuasions mowing down on ribs and brisket.
And they know what they are doing here. I received confirmation of this when I overheard the owner say that he has no oven in the place. Yeah–no oven, just a smoker, a fryer, and maybe a grill. Maybe. That's hardcore, because anyone who makes barbecue knows that finishing stuff in the oven is mighty tempting. But it's also cheating.
The brisket and the ribs are both very good, expertly cooked and smoky. You can get sandwiches ($4.49) on white, wheat, rye or a bun, although I can't imagine pulled pork on rye. Smoked turkey on rye? Perhaps I can get behind that. Like other barbecue joints, Quick's offers sauces in sweet and hot varieties, and both have a nice balance of flavor and a good amount of tang (not the beverage). The fries weren't my favorite, although not bad by any stretch of the imagination. They were potato wedges, lightly battered and fried. Something about battered fries bothers me unless I'm at Arby's.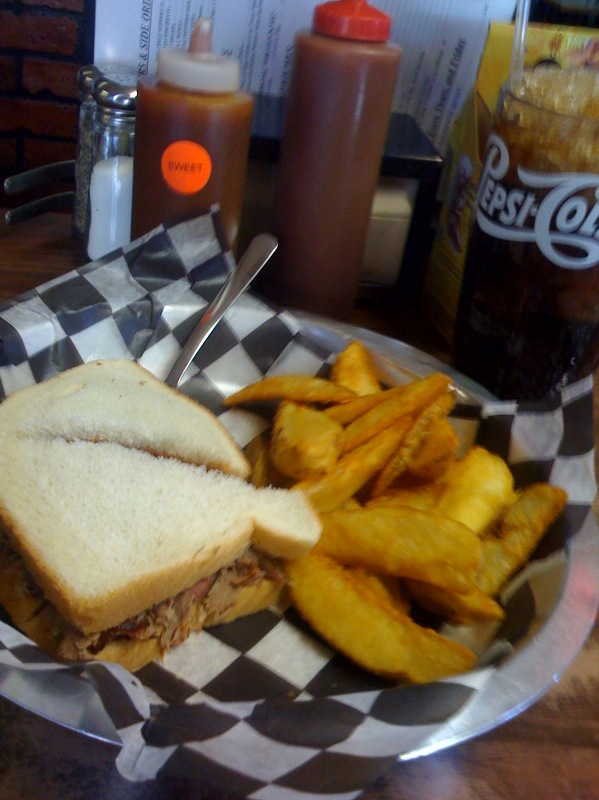 Quick's really warrants several more trips because the menu ventures into a strange and wonderful realm with offerings like deep fried bologna and a glorious mess called "The Big Chili Dog:" a half-pound spiral cut, deep fried hot dog with chili, cheese, and onion. Oh. Yeah. I haven't seen one (although Mr. Ferruzza has eaten one) but it sounds epic.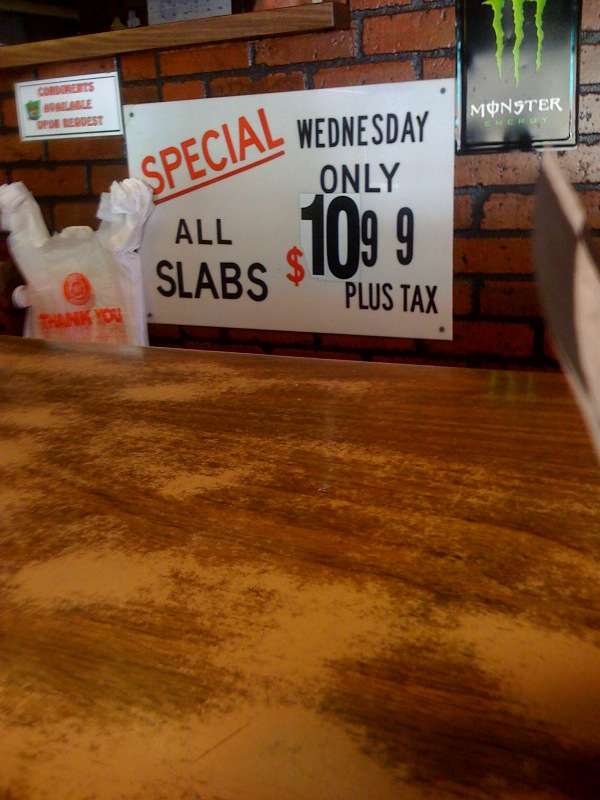 There are a number of of other specials as well. Quick's is definitely going on The DLC's BBQ rotation. But I don't hit up this part of Kansas City, Kansas very often it's unlikely I'll be a regular. But for those of you who live or work nearby, check it out for some good BBQ, great service and good prices. While not the best BBQ in KC, Quick's is definitely the real deal.
Read more:
Yelp
[google-map-v3 width="350″ height="350″ zoom="12″ maptype="roadmap" mapalign="center" directionhint="false" language="default" poweredby="false" maptypecontrol="true" pancontrol="true" zoomcontrol="true" scalecontrol="true" streetviewcontrol="true" scrollwheelcontrol="false" draggable="true" tiltfourtyfive="false" addmarkermashupbubble="false" addmarkermashupbubble="false" addmarkerlist="Quicks Bar-B-Q, 1007 Merriam Lane, Kansas City, KS{}restaurant.png" bubbleautopan="true" showbike="false" showtraffic="false" showpanoramio="false"]