Be careful when visiting Adrian's, you don't want to get lost in those creeeepy Corporate Woods. Apparently when it was built, Corporate Woods was a big deal in the world of suburban office parks. Nestled in the natural landscape of multi-lane College blvd. between 69 Highway and Antioch in Overland Park, it consists of a series of office buildings and shops insulated by a few trees, and lots and lots of land. As the website says:
A perfect environment made even better by your presence. Thank you to the tenant's of Corporate Woods®
Nothing says professionalism like a misused apostrophe and a trademark symbol.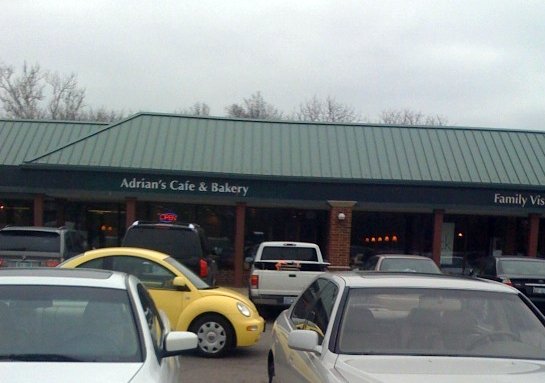 Anyway, the Corporate Woods shopping center caters to the lunching needs of local woodland denizens with several pretty good restaurants. The site is home to Garozzo's, Rosati's, Chipotle, and First Watch, but the noblest lunch spot of them all is Adrian's Cafe.
They don't mess around here; the menu consists of sandwiches, salads and soups. That, my friends, is the essence of lunch.
This is all about counter service. One employee at the beginning of the line takes your order and makes your sandwich. He or she slices the bread for each sandwich by hand from a seemingly fresh baked loaf. Bread slices are a good inch and a half thick, and are nicely crusty with a surprisingly light and fluffy interior. Most importantly, they have a quality rye that tastes like caraway.
You can get half a sandwich for about $4.25 which sounds like a lot but they are pretty large. A whole sandwich is about $6.50, depending on what you get. I typically order a half sandwich and salad, which you can have for 6.50 as well. Incidentally the side salads all seem very good, though most are prepared ahead of time and available in plastic containers on the deli counter. I'm a fan of the potato salad in particular. They also have three or four homemade soups each day. Recently I tried the chicken noodle and was favorably impressed with the homemade noodles and fresh vegetables but found the temperature to be far below what must be required. Please folks get that temp up before the busybodies good people of the Johnson County Health Department come calling. Oh, and don't forget a cookie on your way down the counter. They are seriously good.
The corned beef here is really tasty too. The sandwich guy looked at me a little funny once when I asked for corned beef on rye with Swiss cheese, mustard and nothing else. I'm not interested in lettuce, tomato or onions on my corned beef sandwich. Hell I almost passed on the cheese. But the sandwich stood up to the test with flying colors.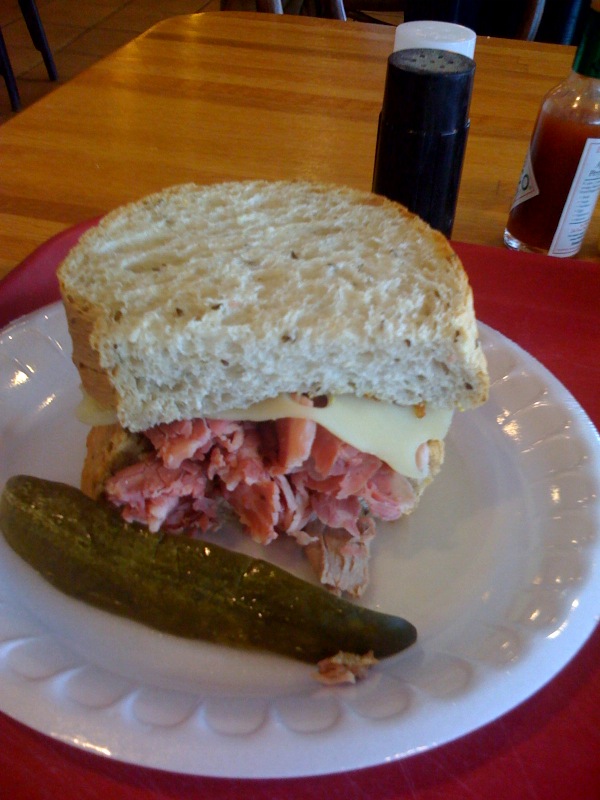 The standout here is the service, which has been reliably friendly in my several visits to Adrian's. Last time my bill was $8.81. The guy at the register said, "tell me the truth sir, do you like pennies?"
I replied, "why no, I do not care for pennies one whit."
He gave me an enthusiastic cheer and forked over 20 cents in shiny silver coinage. He probably uses that joke multiple times a day but I really do appreciate both the sentiment and the obvious joy he takes in the work.
While the food is good, the main thing I like about Adrian's is the concept. It is simple, quick and enjoyable. It also is the closest thing to a normal deli we have in the KC area.
Read more:
Yelp

[google-map-v3 width="350″ height="350″ zoom="12″ maptype="roadmap" mapalign="center" directionhint="false" language="default" poweredby="false" maptypecontrol="true" pancontrol="true" zoomcontrol="true" scalecontrol="true" streetviewcontrol="true" scrollwheelcontrol="false" draggable="true" tiltfourtyfive="false" addmarkermashupbubble="false" addmarkermashupbubble="false" addmarkerlist="9940 College Boulevard, Overland Park, KS{}restaurant.png" bubbleautopan="true" showbike="false" showtraffic="false" showpanoramio="false"]