Holy Land Cafe is probably the best middle eastern food you'll find out in this part of Johnson County. Actually I have no idea if that's true since this is the only middle eastern place in JoCo I've eaten. But, I'm sticking by my declaration!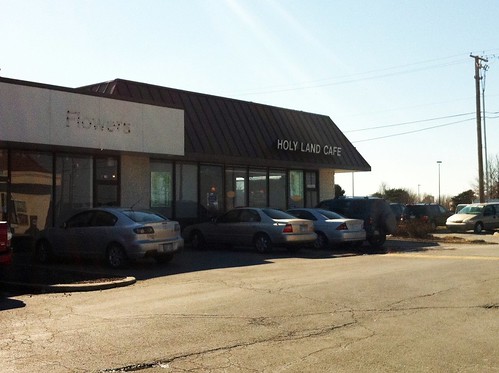 HLC is a fairly interesting spot in an unremarkable strip mall at 87th and Monrovia. You can't see it from the road because there is a Taco Bell in the way. From my red vinyl padded booth in this veritably empty restaurant I could see the Taco Bell drive-thru. They were cranking out hot cheesy beef melts and chalupas like crazy. The poor bastards at Holy Land Cafe can't be making a decent living unless they are running stolen goods out the back door or something. Which I wouldn't rule out.
Their website describes the place thusly: "Eastern aroma of mystery creates a calm quiet setting which includes classic and ethnic music." Wow, I couldn't have said it better myself. Yeah it was totally like a harem in there, what with all the hotel art, formica and vinyl. As for the music, I don't even remember what it was, but the dude in the kitchen was definitely watching some highly colorful "classic and ethnic" television.
Walking in the front door, it looks like this would be counter service, but you actually sit down and get waited on.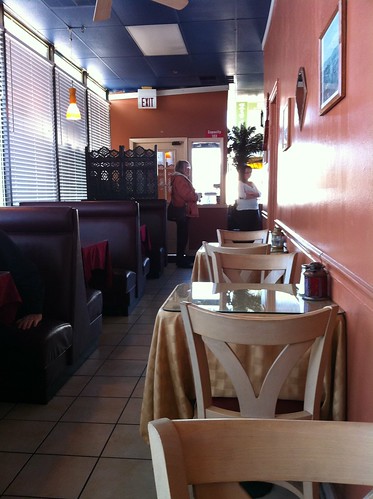 The guys who run the place are…well, moderately creepy is the only phrase for it. One dude who waits tables is definitely not rude, maybe just incredibly shy. I gave him my order and he kind of stood there until I gave him the menu. Then I said "that's all I need, thanks" which is what gave him the cue to walk away. Yes, there was a Norman Bates quality to him.

Can I take your order sir?
But hey, the food is pretty good. I had a delicious kefta kabob pita, which came with a nice salad and a scoop of rice for good measure. Kefta kabobs are basically a delightful mixture of ground lamb and spices which are formed into balls and grilled. They were quite good and a nice change of pace from middle eastern staples like falafel. The menu featured all the usual suspects: shawarma, falafel, hummus, tabouleh, as well as some other lunch specials for six bucks and change. As with most restaurants of this kind, you'll find some options for vegetarians as well.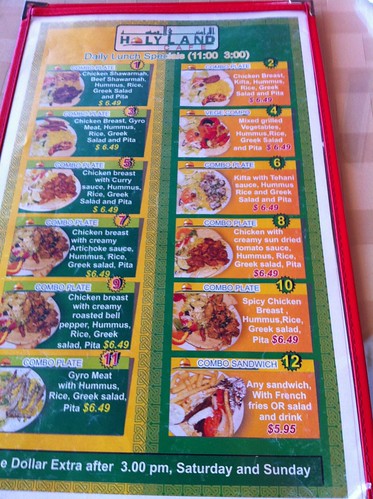 The "Combo #1" is a shawarma plate, but the meat (steak and chicken) comes loose on the plate rather than in a sandwich. It's accompanied by what is loosely called a Greek salad, a scoop of hummus, a dab of hot sauce, some soft pita triangles and a cup of tzaziki. This is a very tasty and satisfying plate that manages to be a good lunch portion without overfilling.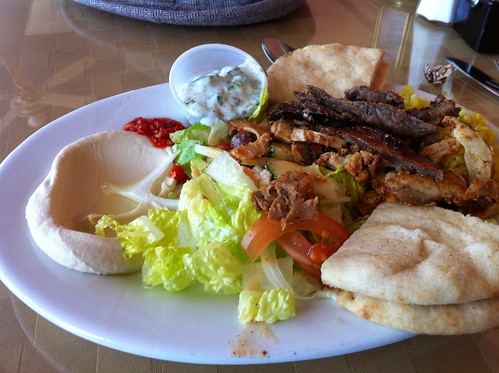 There is tons of other stuff on the menu, and I'll most likely be back when I'm out in that neck of the woods. Holyland cafe is situated right next door to a pretty sizable and good looking halal market. It's a like a little touch of Persia right in a strip mall in Lenexa.
read more:
[google-map-v3 width="350″ height="350″ zoom="12″ maptype="roadmap" mapalign="center" directionhint="false" language="default" poweredby="false" maptypecontrol="true" pancontrol="true" zoomcontrol="true" scalecontrol="true" streetviewcontrol="true" scrollwheelcontrol="false" draggable="true" tiltfourtyfive="false" addmarkermashupbubble="false" addmarkermashupbubble="false" addmarkerlist="12275 West 87th Street Parkway, Lenexa, KS{}restaurant.png" bubbleautopan="true" showbike="false" showtraffic="false" showpanoramio="false"]