I couldn't believe it when people started telling me this place was good. You know why?
The sign.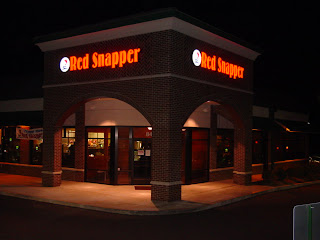 Tell me this doesn't look like a pathetic Red Lobster rip-off joint. I mean, the font is even the same! Located just north of the Ward Parkway mall, Red Snapper sits in a newish, sterile and unappetizing strip mall that would be just as comfortable at College and Quivira. You know, the kind of place you might find, oh I don't know, one of these?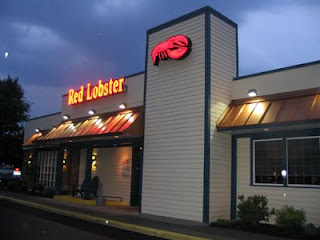 But there I was this past week after a long hard morning looking futilely for a seersucker suit (guy at Dillard's: "I haven't seen one of those in 15 years!"). Since I don't patronize creepy Christian chains or partake in food court schmutz, I wound up at Red Snapper.
Imagine my surprise when I walked in–no nautical themed murals, hanging fishnets or porthole-shaped windows. Instead I found a very classy place, tastefully decorated and airy. Two giant, round fishtanks sit right inside the front door which was a little alarming, but they are pretty cool.
The lunch menu is small, well-priced and reasonably varied. I hesitate to use the term "pan-Asian" not because it isn't appropriate but more because I don't really know what it means. No really, this place is totally pan-Asian. The dinner menu is much more extensive and interesting than the lunch menu. There are dishes familiar to those who enjoy Chinese, Japanese, and Thai food. Maybe even a little whiff of Korea as well.
Their specialty is, well, red snapper. They offer a crispy red snapper on the lunch menu and I went for it. There is also a panko fried halibut which looked appealing as well.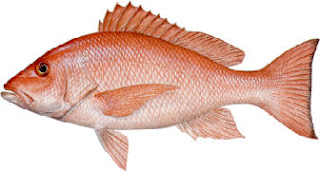 The snapper was delicious. It came with a thin, light and crispy batter. Moreover it was the whole filet–plenty to eat. Unfortunately it came atop a rather pedestrian stir-fry. The assortment of vegetables was fine but the sauce was the usual nebulous brown gravy thickened with cornstarch that you find at any two-bit Chinese restaurant. Kudos for all the fresh ingredients, though. The only thing canned was the baby corn which, predictably I loathe. Landfills all over the USA are choked with decaying tons of baby corn, discarded uneaten from the plates of Chinese restaurant patrons.
Red Snapper gets props for the full bar too, although I would prefer more Asian beers than Sapporo. So I had to settle for a Heineken, the BMW * of beers.
My lunch companion had a more conventional stir-fry dish with tofu which was basically the exact same vegetables and sauce that I had under the snapper.
My instinct here is that Red Snapper is probably a better place for dinner because the menu is so much bigger and the atmosphere lends itself better to evening forays. They probably do a decent lunch business from all the folks going to and from the mall, not to mention all the office buildings down that way. But they keep it very simple, which is fine.
So overall a nice experience, decent but not overwhelming food, and a perfectly fine option if you find yourself hankering for pan-Asian grub down on Ward Parkway.
Read more:
[google-map-v3 width="350″ height="350″ zoom="12″ maptype="roadmap" mapalign="center" directionhint="false" language="default" poweredby="false" maptypecontrol="true" pancontrol="true" zoomcontrol="true" scalecontrol="true" streetviewcontrol="true" scrollwheelcontrol="false" draggable="true" tiltfourtyfive="false" addmarkermashupbubble="false" addmarkermashupbubble="false" addmarkerlist="8430 Ward Parkway, Kansas City, MO{}restaurant.png" bubbleautopan="true" showbike="false" showtraffic="false" showpanoramio="false"]