Boy these people were smart. Owners Jason and Shannon Pryor have only been in business four years but, with new UMKC dorms opening up and a dearth of good food and drink options within walking distance, they seem like geniuses for opening up Pizza 51 at Oak and 51st.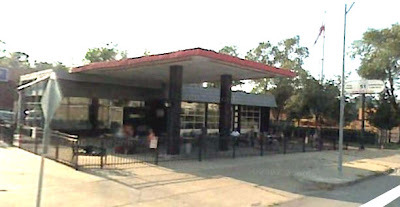 This stretch of 51st street (between Oak and Brookside Boulevard) is the only commercial "district" that caters to a college clientele in the slightest. Kin Lin is a few doors down, as is a Subway and Muddy's Coffee house. Main street has a few things to pique the interest of your average college student–Eggcetera (owner of the stupidest name in the metro, not counting hair salons), The Peanut, Minsky's and of course Planet Sub, who recently tore down their entire building in order to build a brand new one right next to it. Dumbasses. There is also a CVS pharmacy at which college students can procure much needed Bush light, hair dye and birth control products.
Yet with the exception of Muddy's, Pizza 51 is the joint that feels most like a college neighborhood hangout. A lot of students work there, and certainly a lot of them eat there too. I always see younger professorial types hanging out as well, drinking pitchers of boulevard until 8:30pm when their kids need to be put to bed. The space is a converted gas station, but very bright in the interior thanks to a wall of overhead doors facing Oak Street. Like many rehabs, it tends to get noisy when crowded, which is most weekend evenings. For lunch, it's a much more casual affair.
This place is open 7 days a week at least until 10 p.m. (9 p.m. in Winter). And believe it or not, their pizza is good. I wouldn't characterize it as gourmet, but it certainly is freshly prepared, has a nice crust and some high-quality toppings.
At most places, pizza is hard to do for lunch. First, you have to be sure that a place sells slices. If not, you have to wrangle a coworker or two into splitting a pizza with you. So you are either going to eat a slice that has been sitting under a heat lamp or you are going to wait a while for a fresh pie. Even Whole Foods, who offers really good slices, pre-bakes them and re-heats upon ordering. Not at Pizza 51.
Here's the deal. You can get a slice here any time of day, with any toppings you want. How do they do it? Well Each slice is made to order of course. Slices start at $3 but they are huge, like as big as your head huge. They arrive on metal trays designed for entire pizzas. These slices are so big that they cross-cut them into rectangular sub-slices. You know those crappy pennants you get for free at sporting events? Now you got the idea.
So, think about these slices more like individual pizzas, even though they are decidedly triangular. Go ahead and spend a few bucks on toppings–you won't be hungry. You can get 5 toppings on a slice for 5.51 which seems like a decent deal. They also have daily lunch specials which is usually a modest break on price for a particular slice and drink.
My only complaint is that the pizza tends to be slightly undercooked as a rule. Not in a disgusting, raw way, but the cheese is not sufficiently brown and the crust tends to be sloppy and limp, because it is a thinner crust than most. So when i go, I tend to order mine 'well done' and typically this solves the problem.\
They have other stuff on the menu–subs, calzones, and (ugh) wraps–but I don't usually bother so ask someone else how they are. I know for a fact that the salads are typical pizza place affairs: iceberg lettuce, pre-made in a plastic container with shredded cheese and premade croutons as toppings. Add a healthy dollop of sysco salad dressing from a gallon jug and you're in business. Or not.
Everything is ordered from the front counter and delivered to your table when it is ready. Pizza slices can take longer to come out to your table because they are not pre-baked, but you can get in and out of Pizza 51 in a half hour easily. The location of the counter is a little odd and can get cramped when there is a line. It would be nice if this place changed to table service for dinner, since most people are getting whole pies and drinks.
There is a decent concrete patio enclosed by a cast iron fence. It feels a little like a cage since you can only enter and exit through the restaurant. But it can seat as many or more people than the interior. With the newly established smoking ban in full effect, expect it to be moderately stinky at certain hours. If it stays this hot, you won't want to be out there anyway.
So kudos for the solid business plan, available slices and tasty pizza. Not the most remarkable place in the world, but a welcome addition to the neighborhood and one that I tend to visit with some regularity. I also like that they creatively re-purposed an interesting existing structure. Hear that Planet Sub?
Read more:
[google-map-v3 width="350″ height="350″ zoom="12″ maptype="roadmap" mapalign="center" directionhint="false" language="default" poweredby="false" maptypecontrol="true" pancontrol="true" zoomcontrol="true" scalecontrol="true" streetviewcontrol="true" scrollwheelcontrol="false" draggable="true" tiltfourtyfive="false" addmarkermashupbubble="false" addmarkermashupbubble="false" addmarkerlist="5060 Oak Street, Kansas City, MO{}restaurant.png" bubbleautopan="true" showbike="false" showtraffic="false" showpanoramio="false"]