Preliminary note: I recently lost a ton of photos taken with my phone over the last several weeks. This included photos of numerous restaurants I intended to review, Recordbar included. As I return to these places I'll add photos to these posts. In the meantime please accept my apologies for the upcoming text heavy reviews and enjoy the images I have repurposed to spice up this entry :)
I have eaten at Recordbar dozens of times in the evening but only recently did I pop in for lunch. I really had no idea what to expect. This is primarily a bar and music venue after all, and I associate the place with late night rock music and drunkenness more than sober, quiet midday meals. Indeed, eating there has usually been a matter of convenience or pure necessity (e.g. "I had better eat something before I take my pants off and jump into the photo booth").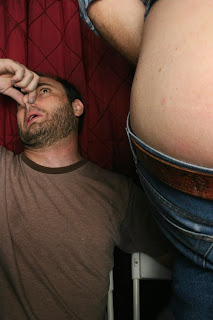 photo courtesy of Al Herrmann on Flickr

When I first moved to Kansas City and learned that hipsters were flocking to a new bar in a strip mall I was not at all hopeful. For those unaware, Recordbar sits next to First Watch in Wesport's 'Covered Wagon' shopping center (whatever it's called) along with Westlake Hardware, Half Price Books and Ye Olde Dollar Tree. After visiting I was quickly won over by the cozy interior, friendly staff and good prices. Now that I've been indoctrinated by KC denizens for the better part of three years I even find myself vocally appreciative of the ample parking out front.
A sandwich board at the entrance advertises the daily lunch special. If you are on Twitter, you can also follow Recordbar and receive tweeted lunch specials at about 12:15, when many working people have already decided where to eat and even ordered their meals. Nonetheless, kudos to them for being on Twitter.
On my recent visit at the height of lunch hour the room was virtually deserted when I arrived, inhabited solely by a cook, a bartendress and one guy at the bar. It felt like, well, a bar the day after a raucous night. I'm fully convinced that buildings can have hangovers too. The interior is pretty dark during the day although a small patio out front mitigates claustrophobia somewhat, as well as providing smokers with a place to do their deed. The tables were all arranged and set with silverware rolled in cloth napkins. This was a nice, welcoming touch. Despite it being empty, it told me that this is a lunch spot; they are ready for people to eat.
The loose theme of the place is music, and records more specifically. As a result various jaunty displays of album art adorn the walls, like an array of Herb Alpert's most famous album cover.
The menus are even bound inside vintage record covers. It is always interesting to see which album you are going to get. My last visit had me peering into an old Lily Tomlin comedy record. The mensroom features a couple of truly epic Ohio Players album covers that would even make Tony's Kansas City blush *. They always have some good music playing at a respectable volume which makes a lonesome lunch a little less depressing.
The lunch specials always seem pretty good but the regular menu is nothing to sneeze at. It focuses on sandwiches, salads, pasta and pizzas which are made with good quality ingredients. The centerpiece of the menu is a huge assortment of vegetables, cheeses and meats that you can mix and match with any pizza and any salad. Hell if you want gruyere, jalepeños and capicola on your salad you can get it.
One of my favorite things to do is create an antipasto-type arrangement which you can get with 3, 5 or 8 items. Some hummus, olives, prosciutto, chevre and artichoke hearts and I'm set. They even thrown in homemade crackers, pickled garlic and onions and some spicy mustard for $9.
If you want a more traditional lunch, the meatloaf sandwich is one of the best around. I even think it surpasses the one at the Brick, despite the fact that it is intended to come with mayonnaise. I have probably eaten it 20 times and asked for it without mayo every time. They have never screwed it up. The meatloaf sandwich is officially called the "Bat Out of Hell," since most menu items here have music-themed names.
The Turkey "I Melt With You" sandwich is also quite nice.
There are only a few specialty sandwiches but for $8, you can put together any sandwich you want with 3 ingredients from their list. Fries, Tater tots or side salad is included. Their fries are very good but I have a weakness for tots. The portions are pretty generous, you won't leave hungry. The pizza at Recordbar is also surprisingly good, though may take more time than lunch allows.
It's hard to judge the service since I was the only person eating in the place, but my past visits have convinced me that Recordbar has a really good staff. Their employees lack the pretension of those at other hipster venues I've attended and can really crank out the food and drink when the joint gets crowded. At lunch I was in and out in half an hour, refills were plentiful and my check was provided promptly. No complaints.
And the food here really is quite good. I love the mutability of the menu. It's a great place for picky eaters, vegetarians or those who need something tailored to their diets. Judging from my visit, you could easily take a big group there without worry. Though I would not call it a rousing good time, it's nice to have Recordbar open for lunch.

* Not really

[google-map-v3 width="350″ height="350″ zoom="12″ maptype="roadmap" mapalign="center" directionhint="false" language="default" poweredby="false" maptypecontrol="true" pancontrol="true" zoomcontrol="true" scalecontrol="true" streetviewcontrol="true" scrollwheelcontrol="false" draggable="true" tiltfourtyfive="false" addmarkermashupbubble="false" addmarkermashupbubble="false" addmarkerlist="Record Bar, 1020 Westport Road, Kansas City, MO{}restaurant.png" bubbleautopan="true" showbike="false" showtraffic="false" showpanoramio="false"]