UPDATE: As of Feb. 11, 2010 Blanc's Westport location has moved to the Country Club Plaza, 4710 Jefferson St.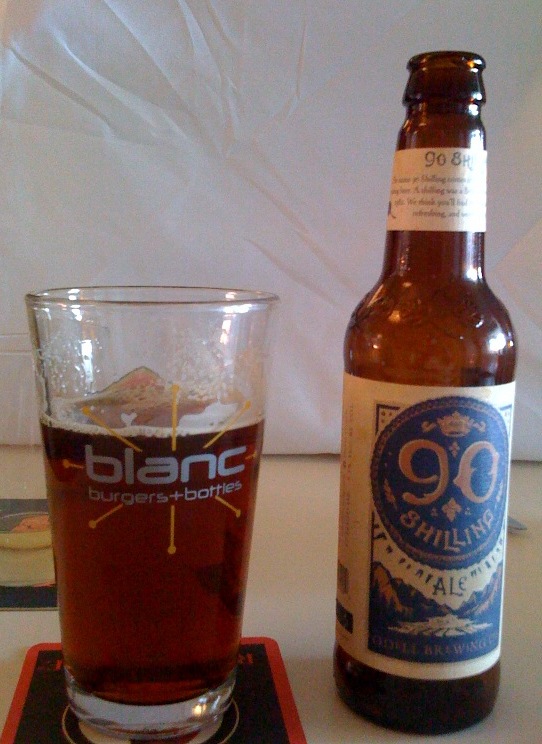 Blanc is essentially an upscale burger joint, a nice marriage of a classic diner and a fine restaurant. The folks from the Drop who themselves have decent food, are responsible for Blanc, opening it in mid-2008 at Westport Road near Broadway. Blanc has received a fair amount of good press and has apparently been successful enough warrant a satellite location in Leawood's Mission Farms development, which is quickly becoming the hippest mixed use residential/commercial urban lifestyle center in all of Johnson County, Kansas!
Oh yes, Blanc has a website. Go ahead, click it. Be sure to turn your speakers up nice and loud first.
Anyhow, people love Blanc and it is often crowded. They do a very brisk lunch trade during the week and the weekend evenings are pretty hopping as well because it stays open until 11pm. So I opted to pop in for lunch at a non-standard time: Sunday afternoon.
The space is quite pretty and not as sterile as I remember from my first visit. Sure, there is a lot of white furniture, blond wood and mid-century inspired decorative accents but don't worry, it's not like eating in an operating room. After walking in, we were led through the front room toward the back of the restaurant which is a brighter, more casual area with lots of sunlight and fewer tables.
Unfortunately the host stopped in the narrow space between the east wall and the kitchen, seating us at a dark, 2-person table right across from the kitchen door. Not only that but we had a chatty couple about four feet away on one side and the server station on the other. From my seat I could see at least two open tables, roomy and bathed in sunlight, in the back room. Sure they were four-tops, but the place wasn't full, and it was 2pm. To add insult to injury, I noticed 2 servers wrapping silverware and counting tips back there. So they were apparently good enough for a four-top but we weren't. To summarize, we had the single worst table in the place. No I didn't complain and ask to move because if I'm forced to act like a dick it ruins my meal, even if I'm entirely justified. Hosts should just know this stuff, their friggin' job is seating people.
So the long and short of it is that I got to spend my lunch hour with waitresses inadvertently brushing by my chair on their way to punch orders into the computer and print out checks about one foot away from my hamburger. The chatty couple on the other side was fully in the throes of appetizers and drinks when we sat down. Being able to see and smell the food was tortuous and their lip-smacking exclamations didn't help much. So yeah, things were not really off on the right foot.
But they quickly got better, beginning with the monstrous beer list. I know it's kind of a gimmick, but I like being able to try beers I am unfamiliar with, even though I lack the refined palate of others in the local food blogging scene. I ordered an Odell 90 Shilling Ale, which I had never heard of, and it was delicious. So I had two.
Our waitress, who was otherwise excellent, neglected to tell us that they could not make the burger I wanted, so I chose the "Inside Out Burger" on a whim. It came stuffed with blue cheese and topped with bacon, mustard, ketchup, bib lettuce and one large onion ring. The presentation honestly wasn't much to write home about. Half the topppings had slid off the bun, and the paltry amount of bacon would have made Chimpotle weep.
All anxiety ceased when I took my first two bites. I got the most insane endorphin rush because it was so salty, delicious and full of intense flavor. As I ate further I found that the blue cheese overwhelmed everything else, but I didn't really care by then; I just wanted to eat more, eat it all.
My cohort had the mahi-mahi which was absolutely fantastic. It reminded me of some seaside places I've been to in Florida who do really nice, fresh grilled fish sandwiches. And that's the beauty of Blanc–you know that they aren't going to screw up the food. Somebody thought about each sandwich, tried it out, perfected it, searched for the right bread, the right condiments and messed with it until it was right.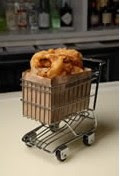 SQUEEEEEEEEEEEEEEEEEEEEE!
The side dishes here are all good: the onion rings, the truffle fries (!!), and even the sweet potato fries are perfectly executed. And yes they come in widdy bitty shopping carts. They are insanely cute and I'm terrified that if I ever get drunk at Blanc I'm gonna try to walk out with one under my coat.
Oh yeah, so here's the condiment situation: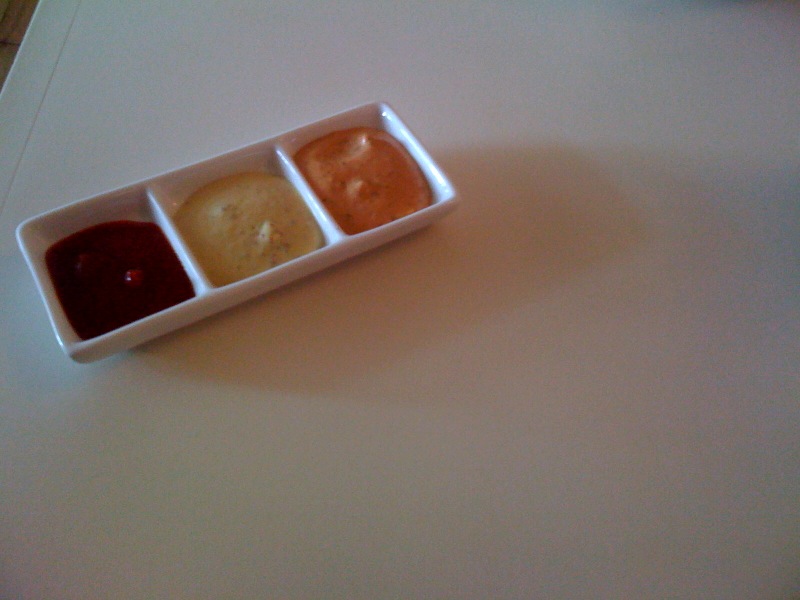 Aw, it's sooooo tiny and lonely! This is an attractive little tray of homemade condiments: ketchup, mustard and some kind of chipotle aioli that I didn't eat because, well, it's just not for me. Inevitably I use all the ketchup and have to ask for more. The waitress, undoubtedly used to people eating all the ketchup asked if she could bring us some more before it was gone. So she brought out a souffle cup with about five times as much as the original amount. So in the end, we ended up wasting more ketchup than if we had received a normal portion to begin with.
Recently the good folks at Hot Blog on a Stick asked what type of condiment goes with sweet potato fries. I can honestly say that those at Blanc are so good as to require no condiments whatsoever. Seriously.
So I've written a lot of words here, and it may still be unclear what my overall opinion of Blanc is. Let me say it now: I'm just a giant smartass and I really like this place. The food pretty much rules although it is very rich, very filling and on the salty side. The service has always been good and although the clientele can be sort of douchey, the waitstaff are pretty laid back. And their lunch special is surprisingly affordable: any burger and any side for $8.
Read more:
[google-map-v3 width="350″ height="350″ zoom="12″ maptype="roadmap" mapalign="center" directionhint="false" language="default" poweredby="false" maptypecontrol="true" pancontrol="true" zoomcontrol="true" scalecontrol="true" streetviewcontrol="true" scrollwheelcontrol="false" draggable="true" tiltfourtyfive="false" addmarkermashupbubble="false" addmarkermashupbubble="false" addmarkerlist="Blanc, 4710 Jefferson Street, Kansas City{}restaurant.png" bubbleautopan="true" showbike="false" showtraffic="false" showpanoramio="false"]