Daniel's BBQ closed up almost as soon as it opened, the space is currently oc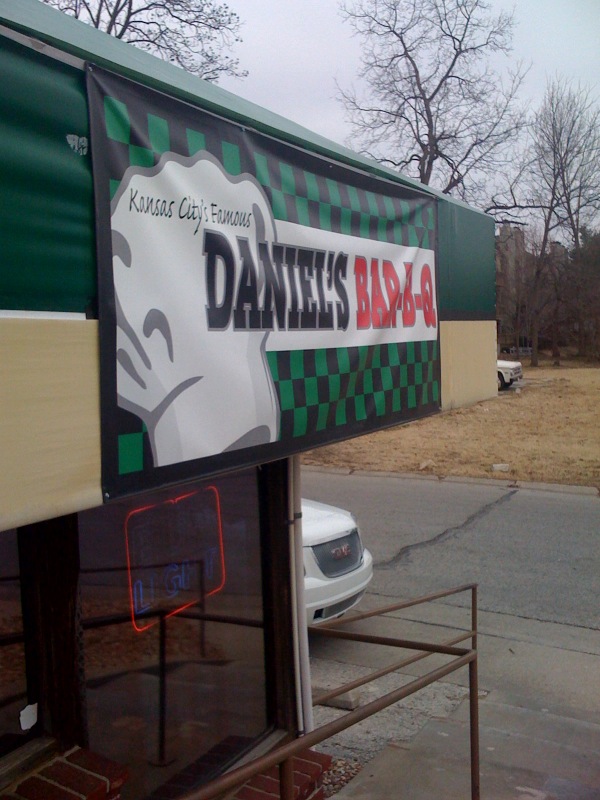 Well, here's some good news for my friends and avid readers out in Shawnee: Margarita's on Johnson Drive near Quivira has recently turned into Daniels Bar-B-Q, a highly respectable joint that, based on one visit by yours truly, seems like a winner for either lunch or dinner.
I first heard about this place via Fat City a month or so ago. Then I forgot about it and was happy to "discover" it last week having no recollection that Owen beat me to the punch by a long shot.
Daniel's sits in a strange little strip mall, occupying the weirdest space in the building. When I opened the front door, I did NOT expect to see a rather sizable staircase extending down in front of me. While other stores in the strip lie at street level, Daniel's is down in the basement. Well, sort of. Once you enter you realize that the slope of the land outside actually puts a good portion of the place above ground, windows and everything.
This is a place with at least 3 or 4 levels. There is a sunken dining area, a raised bar, and the aforementioned south dining room which sits halfway up the stairs. With all the steps, this place would be a nightmare for wheelchair users and stumbly, drunk people.
All in all, it's kind of a cool room, just the right mix of dingy and comfortable. The funniest aspects are the remnants of its life as a Mexican restaurant. A faux-road sign attached the wall at one end of the bar reads "Corona Street." And one end of the dining area is decorated with this stunning, southwestern mural: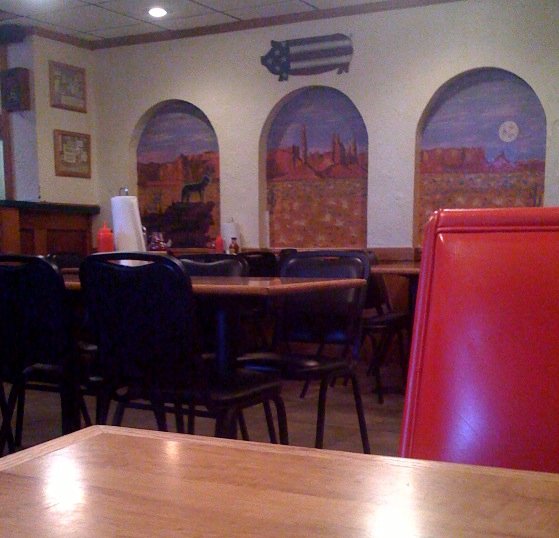 This is a table service joint and despite the odd entry, I was greeted immediately and given a choice of where to sit. After I sat down and received my Pepsi, the waitress took the calculated risk of informing me that I had a sizable piece of the straw wrapper stuck to the bridge of my nose. This, I very much appreciated.
They have the usual BBQ offerings with the addition of bar food staples like wings and burgers. But the place smelled enough of smoked meat that I opted for one of their "long bun" sandwiches with fries–a good deal at $5.99. They offer three sauces: Regular, Hot and Competition sauce.
The regular sauce, as is often the case, is the best of the lot. It's a little sweet but has a nice tang and is hotter than one would expect. This is one of the better traditional sauces around. The competition sauce is a molasses-laden, dark, sweet sauce which I did not care for at all.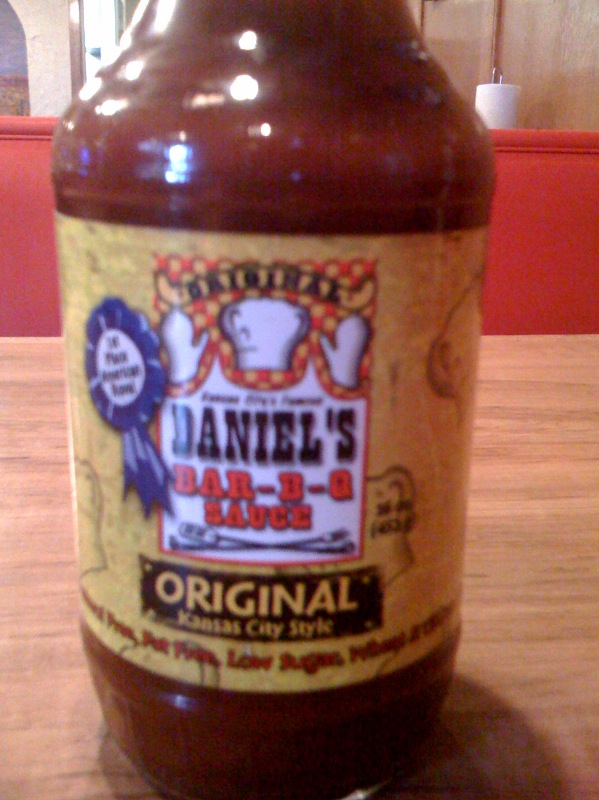 The pulled pork had excellent smoke flavor and a dry rub that really came through after cooking. The texture was a little dry, but fans of burnt ends will enjoy it. The beef was also very good, but was sliced way too thinly for my taste. My major problem was with the little sub rolls they serve the sandwiches on. I would much prefer white bread or even a nice soft bun. These long rolls are more conducive to Italian sandwiches at the airport. The fries are typical crinkle cut taters, not likely homemade. They did cook them nice and crispy which is all too rare.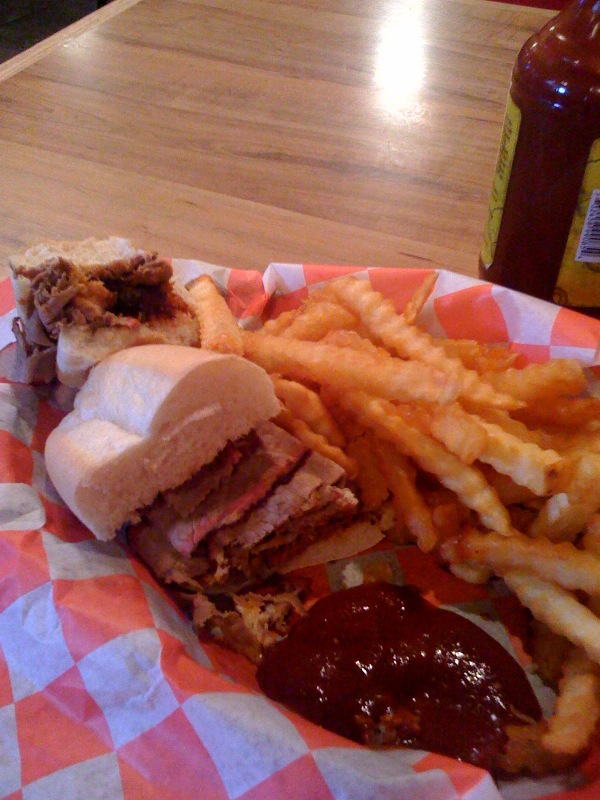 Daniel's website also advertises that they are accommodating to gluten-free diets. If you know anyone with celiac disease or just a general intolerance to gluten, you know that this is a major selling point. The meat, sauces, fries and beans are guaranteed gluten free, but more importantly they plan to offer gluten free beer and baked goods.
The service was simply outstanding. I never felt lacking for anything. My server brought my check over just as I was finishing up. "I know you are probably on lunch," she said. Yes, someone who gets it. Likewise she refilled my drink without me having to ask. In general she was genuine, pleasant and really goods at her job.
The closest BBQ joint to Daniel's is probably Bates City Shawnee BBQ on Quivira. RJ's is not too far away either. I think Daniel's can roll with either one of them. The beef is better than Bates, and the pork may very well be if you like the drier texture (I do). The original sauce is far better than RJ's odd, sweet concoction, though the atmosphere can't really compete with the little roadhouse ambiance.
All in all, this is a welcome addition to the suburban KC barbecue landscape.
Read more:
cupied by Char House
[google-map-v3 width="350″ height="350″ zoom="12″ maptype="roadmap" mapalign="center" directionhint="false" language="default" poweredby="false" maptypecontrol="true" pancontrol="true" zoomcontrol="true" scalecontrol="true" streetviewcontrol="true" scrollwheelcontrol="false" draggable="true" tiltfourtyfive="false" addmarkermashupbubble="false" addmarkermashupbubble="false" addmarkerlist="12200 Johnson Drive, Shawnee, KS{}restaurant.png{}Daniels Bar-B-Que" bubbleautopan="true" showbike="false" showtraffic="false" showpanoramio="false"]